Groundworks & Trench Shoring
Trench boxes and trench sheets are used for rapid shoring of trench runs. These, together with Drag Boxes and Manhole Boxes, provide a safe working environment for those on site, by safely withstanding the surrounding ground pressure.
Trench Boxes
Trench boxes are used for rapid shoring of trench runs. These, together with manhole boxes and drag boxesprovide a safe working environment for those on site, safely withstanding the surrounding ground pressure.
They are simple to assemble, and are fabricated from high grade steel to achieve maximum strength to weight ratio. They comply with BS EN13331 Parts 1 & 2 and are suitable for all trench and manhole excavation supports.
Backhoe Box
Designed for light duty work with a ground support pressure of 20kN/m2 maximum.
Backhoe Manhole Box
The backhoe manhole boxes are designed for use with our trench systems allowing rapid manhole installations.
Mini Box
The mini box is designed for medium duty work with a ground support pressure of 25kN/m2 maximum.
Standard Heavy Duty Box
The standard heavy duty box is designed for longer, deeper excavations. The standard box system is designed to give a safe working load of 43kN/m2.
Standard Manhole Boxes
Standard manhole boxes are designed to use the same parameters as the trench box. It is supplied in three different lengths to suit available standard pre-cast manhole sections and can be supplied with 3400mm internal clear widths.
Drag Box
The drag box is designed for self-supported excavations. The normal method of operation is for an excavator to drag the box by pulling on the front strut for rapid means of pipe laying.
Groundwork Accessories
Ladder Access Platform
Robust ladder access platform for use with excavation support systems. The system can be quickly and effectively clamped to trench boxes and trench sheets to provide a safe access platform for entry to the excavation via a steel ladder.
Spring Mushroom
Devised to allow articulation of the strut panel joint as an aid to driving panels into the ground during installation. 
Mushroom Pin
Steel pin used to fix the spring mushroom to the panel.
Fixed Strut
600mm and 700mm sizes available.
Trench Walers and Waling Frames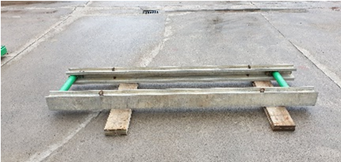 Aluminium Waling Frames
Aluminium waling frames are used with steel trench sheeting where cross services are encountered. They can be installed from outside the trench, removing the need to enter an unsupported excavation.
Waling Beam
The main support beam of the frames can be supplied as a separate part for use with other strutting systems if required.
Accessories
Hydraulic Cylinder
An aluminium cylinder used with waling beams to provide frames for support to excavations.
Pumps
A high specification pump with built-in reliability and safety, operating on shoring fluid.
A unique check valve controls hydraulic pressures and a lever changes direction of flow for double acting manhole braces. A sight glass shows fluid level. For use with both heavy duty and light duty man-hole braces and waling systems.
Hoses
Hoses can be quickly added or uncoupled for use with all of our Sunbelt Rentals systems. All hoses have quick-release fittings.
Five-way Manifold
Used to channel fluid from the pump hose to the hydraulic cylinders, it allows all cylinders to operate in one action, ensuring swift and safe installation. Five outlets are used on manhole braces and 3/4 outlets used on waling beam applications.
Hanging Chain
Grade 80, 10mm chain is used for heavy duty and light duty applications. This chain allows suspension of man-hole braces or walings from trench sheets prior to pressurising and fixing. It also permits suspension of additional lower brace frames and allows adjustment to suit vertical spacings.
Lifting Chain
10mm Grade 80 chain and four-leg sling for heavy duty applications.
Lock-off Spanner
Used to turn the lock-off valve to provide a closed hydraulic system for added safety.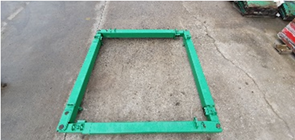 Manhole Braces
Manhole braces are used with standard or heavy duty trench sheeting, providing four way support to manhole and shaft excavations. They are available in both heavy duty (double acting) and light duty sections (single acting).
Easy and safe installation is possible from ground level by means of lifting chains. Special cylinder lock-off valves isolate the hydraulics, preventing accidental pressure loss.
All groundworks equipment is supplied with the necessary installation kits, ie double or single acting pumps, manifolds, hoses, lock-off spanners, lifting chains and hanging chains. Full instructions are provided for the correct installation procedure. Our design engineers will produce schemes from bore-hole data supplied.
Manhole frames are mainly used where services coming in from more than one direction, or where there is limited capacity for lifting machines. Double acting manhole frames will pump in and out and are used for larger excavations.
Man-hole Accessories
Man-hole Minibraces
Similar to the heavy and light duty units used in smaller excavations up to 2.5 m square.
Man-hole Component Parts
All braces can be supplied as individual parts for combinations required in special applications.
Steel Manhole Shutters
These manhole shutters are manufactured to the same dimensions as the polypropylene shutters. The unique two panel design and labour saving pin and wedge connections make them simple and quick to erect. Two lifting points are also fitted to each panel for easy movement on site.
Trench Sheets
Trench sheets are used to provide support to all trench and manhole excavations.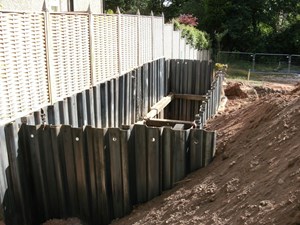 Standard and Heavy Duty Trench Sheets
Steel trench sheeting saves time and labour. It is available in a range of sizes and strengths and is easier to drive and withdraw than traditional timbering.
For larger, deeper excavations, we have a range of heavy duty sheets available to suit. This means fewer frames are required, providing a clearer working area. They are made of high grade steel and are suitable for all types of trench or manhole excavation support.
Trench Sheet Accessories
Driving Cap
Two types of driving cap are available for standard or KKD trench sheets, greatly reducing damage and assisting the drive of sheets through the ground.
Adjustable Trench Struts
Trench struts are manufactured with 75mm square end-plates with nail holes and turned out corners enabling them to be securely positioned onto horizontal waling members. Four sizes are available, giving a full range from 310mm to 1670mm.
Ground Release Shackle
Extremely useful in pitching heavy duty trench sheets. Ground release avoids the need for climbing ladders when detaching the shackle from the sheets.
Snatch Chain
Used to connect extractor to a lifting machine or trench box.
Extractor
Two types of extractor are available, in 5 tonne and 7 tonne to ensure safe working loads.
Ladder Access Platform
Our ladder access platform is used with excavation support systems. The system can be quickly and effectively clamped to trench boxes and trench sheets to provide a safe access platform for entry to the excavation. It is compatible with either a steel or timber ladder.
Edge Protection Solutions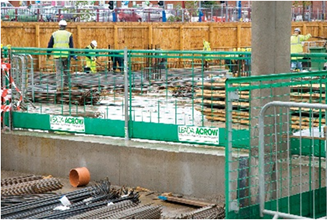 Edge Protection
Our edge protection has been designed and manufactured in the UK and complies with European conformity standard BS EN 13374.
The system provides suitable edging for formwork and falsework, and can be used for slab edge protection, as well as a debris guard barrier, for structural steelwork protection and safer site walkways.
Sunbelt Rentals is a member of the Temporary Works Forum, which promotes best practice in the construction industry, as well as CONSTRUCT, the professional trade association for those working in the concrete structures industry.