Hoists
Engineered solutions to meet your hoisting requirements
SUNBELT RENTALS HOISTS
Our skilled national hoist team is ready to support you in planning, configuring and supplying hoists to meet all your hoisting needs, both above and below ground.
We are proud to offer you the largest construction hoist fleet of personnel and materials hoists in Europe, so whether you need support in a solution to build the next Shard, or are assessing project plans to go safely underground, we're here to help.
With over 600 hoists in our fleet and hundreds of innovative solutions available we are guaranteed to be able to devise the perfect solution for your precise needs. Why not get in touch to talk through your project with our experts?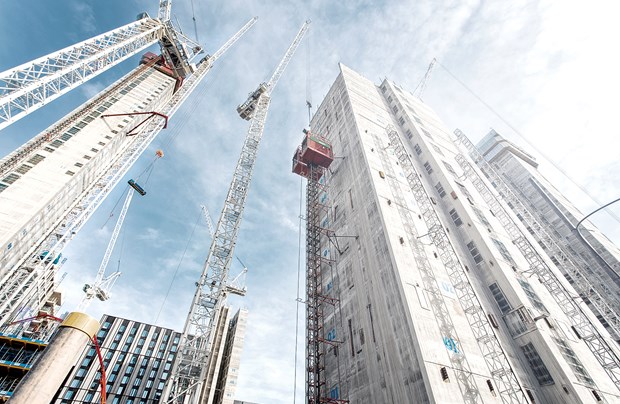 Contact
For technical support please use the contact details below.
Hoists North (Wigan): 01942 716 706
Hoists South (Oundle): 01832 272 408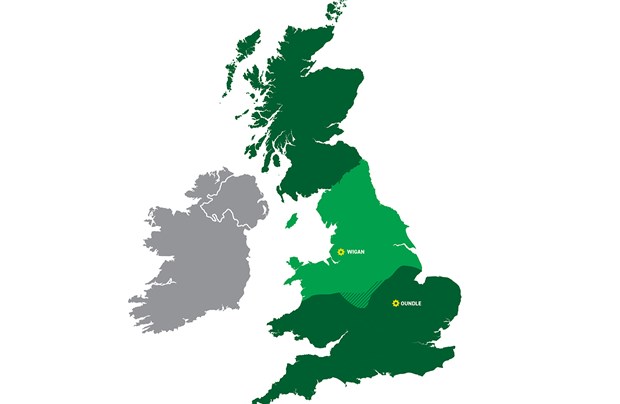 Passenger & Goods Hoists
Passenger & goods hoists are used to transport people and materials vertically up a building or structure, and down a shaft below ground level, with the ability to stop at a number of landings.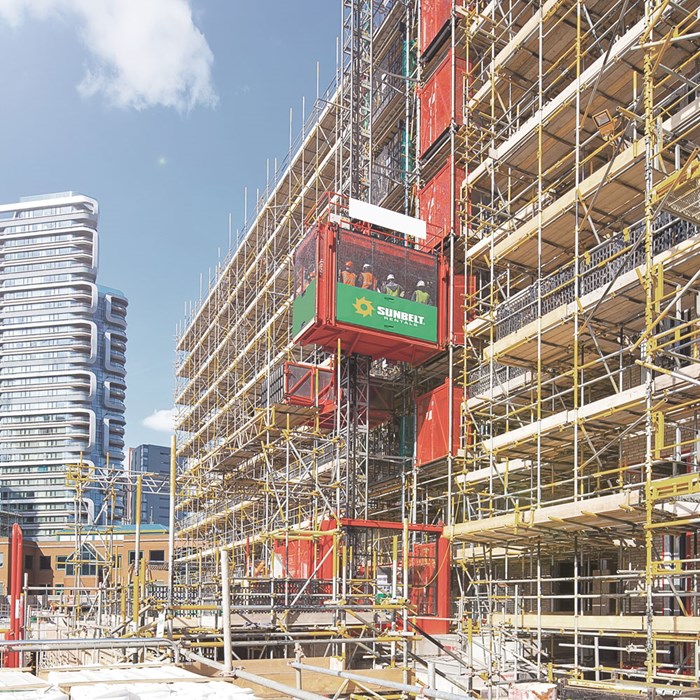 Goods Only Hoists
It is not permitted for passengers to ride in goods only hoists as they are not fitted with a roof. This does, however, enable the vertical transportation of larger items, as long as they are safely contained within the confines of the cage.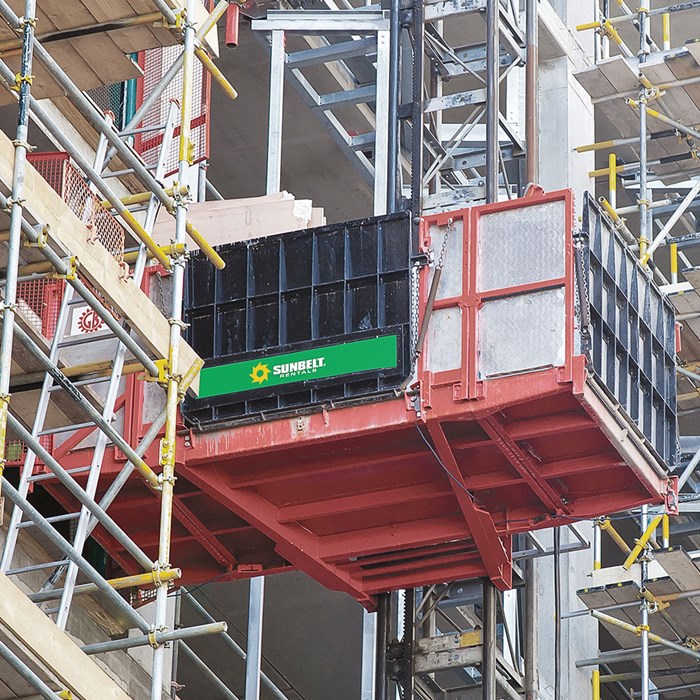 Transport Platforms
A Transport Platform is a hybrid between a Passenger and Goods Hoist, and a Goods Only Hoist. These platforms are more suited to larger or bulkier loads, where an enclosed hoist may not provide sufficient headroom such as glazing panels, large palletised materials and bathroom pods etc.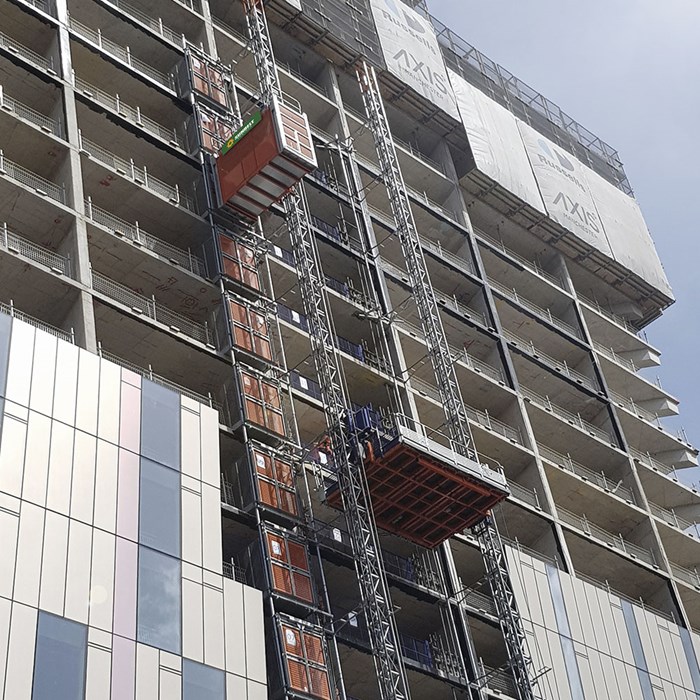 Bespoke Hoists
Bespoke hoists can be produced, or existing units modified in our manufacturing facility. We can engineer bespoke hoists, multiple units and common tower configurations to suit any lifting requirements you may have.
While most hoist applications can be fulfilled by configuration of standard hoist components, our fully equipped workshops can also modify hoist cages and accessories for those awkward requirements.
 
Hoist cages can be adapted to suit different sizes and shapes of existing lift shafts or finished in your desired brand colours.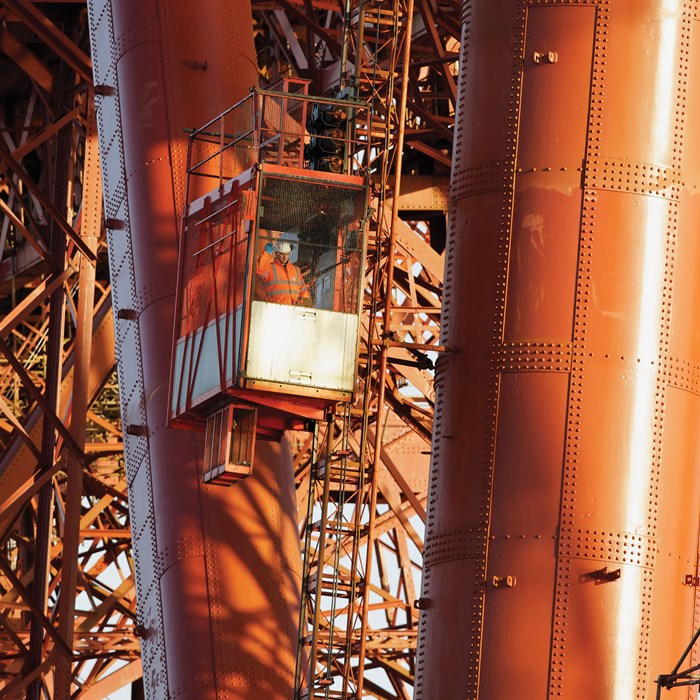 Beam Hoists
Beam hoists are most commonly found on city centre construction sites adjacent to main roads with no off-road unloading facilities.
These sites typically have a scaffold gantry built out over the pavement and delivery vehicles pull up alongside the gantry to be offloaded. The beam hoist is an 'I' section beam, mounted on the site scaffolding and extended past the outer edge of the gantry. A motorised trolley unit, which has an electric winch suspended from it, runs along the beam. This enables materials to be lifted from the delivery vehicle, transporting them via the trolley onto the gantry for distribution to the workplace.
Winch units are available with a variety of chain lengths and 1000 or 2000Kg lifting capacity. All of our winches operate at 415 volts, 3 phase to give added reliability,  and are controlled from an attached pendant. Please note that we only supply beam hoists as part of a package with a goods only or passenger & goods hoists.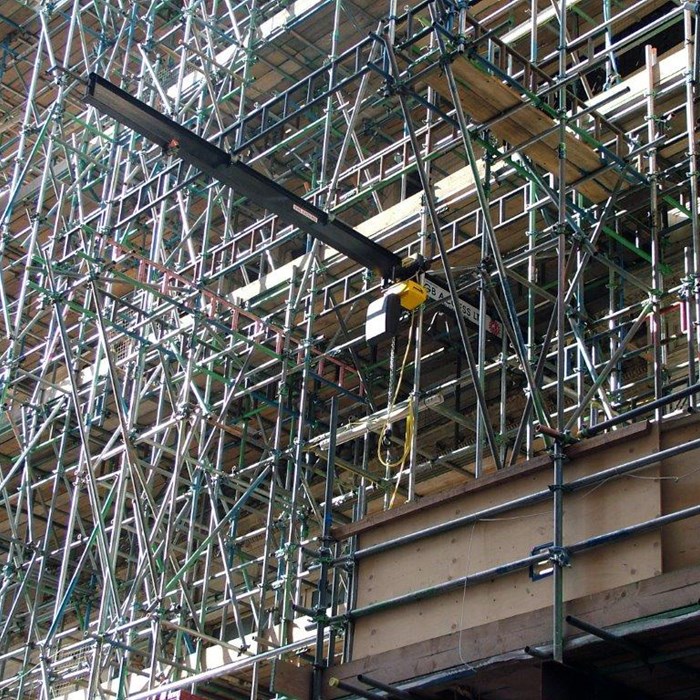 Accessories
To enable our standard hoist cages and industrial lifts to be configured for maximum safety and efficiency, we offer you a range of accessories for most hoists.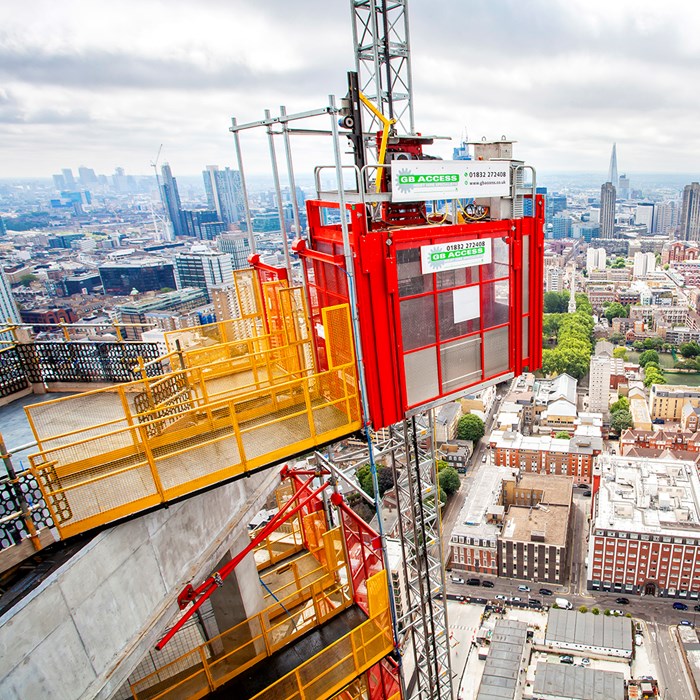 Temporary Works Department
We offer extensive support during the planning process for hoist installations with feasibility and planning studies, site-specific drawings, design, calculations, and technical assistance. Each and every project is planned out meticulously prior to the procurement of machinery and mobilisation on site.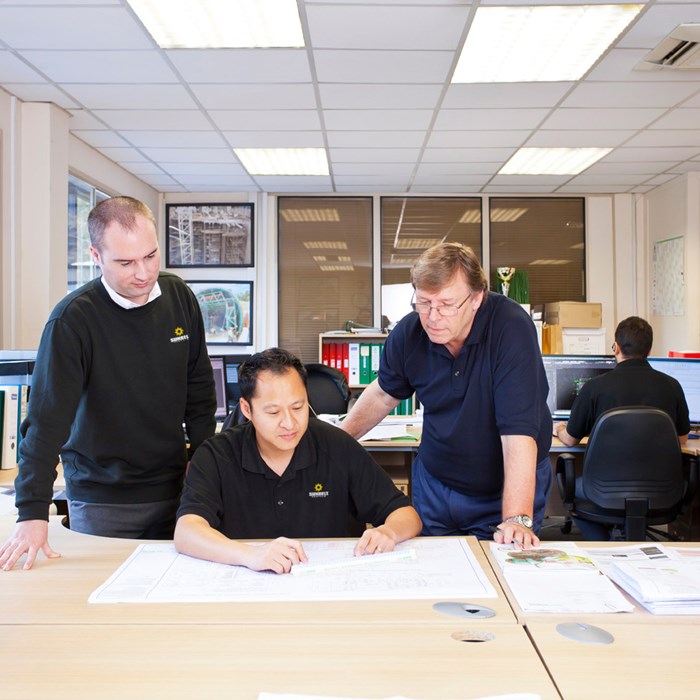 Delivery
Delivery of our rental hoists is typically made by one of our rigid lorries fitted with a palfinger lorry mounted crane, equipped with lifting accessories and driven by a trained driver / operator.
All deliveries of our hoist equipment to site are planned in advance to ensure minimum site disruption and inconvenience. Our delivery fleet of 8 wheel construction chassis vehicles can self-offload and position the hoist base assembly at up to 12 metres of the vehicle, depending on site conditions.
 
Our FORS registered HGV fleet is compliant to major project standards and fitted with the latest emissions controls, allowing deliveries anywhere in the UK.
 
Some of our larger hoist cage / base assemblies exceed 2.9 metres width and travel as 'abnormal loads'. When this is required, we will register the abnormal load movement and travel in accordance to the requirements of the movement order. Within the Metropolitan Police area, where the movement times of the vehicle are restricted we will advise sites of the early delivery time to ensure that it is open, ready to receive the delivery. 
 
Deliveries are met by our installation engineers and supervisors to guide the vehicle to the correct location and position the hoist according to prepared installation drawings. This will follow site indicated gridlines, where available.
 
Toolbox talks are carried out with the hiab operator and installation engineers to ensure all members of the team understand what is required and all safety matters are explained so the necessary control measures are in place prior to offloading and placing the delivery.
 
All mast sections, superstructure and ancillary items are offloaded adjacent to the installation site to minimise manual handling during the installation.
 
Where site tower cranes are available to place the hoist away from the access roads or for all slipform hoist installations, our installation engineers will liaise with the site banksman to ensure that the hoist equipment is slung correctly and placed according to the installation drawings and site preparation.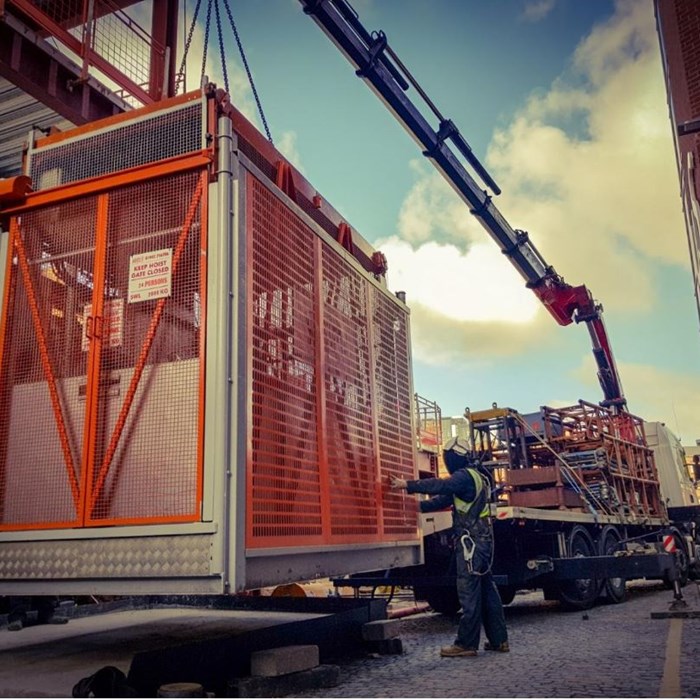 Installation
Installation of your own hoists is carried out by our experienced and competent site engineers from supplied drawings and site information. All work is carried out efficiently and at competitive rates
The safety of our installation team and that of everyone on site is of utmost priority, so we will plan and manage the installation in detail.
 
Before the installation takes place, our site supervisor will visit site and inspect the installation area, access routes and general site conditions. This information is fed into our systems to enable accurate installation drawings, method statements and risk assessments to be produced by trained, competent professionals.
 
The hoist mast height is extended either by using a 'self-erect' jib and winch, or byusing a site tower crane, reducing working at height risks.
 
The mast stick is secured to the building / structure through tie assemblies, configured to suit the hoist type and fixings into or onto the structure. Where hoists are installed onto new buildings, we encourage the use of tie embedment sockets connected to the slab rebar before the slab concrete is poured, to eliminate the need to drill the floor slab and fit mechanical anchors.
 
Due to the nature of our work it is essential that control measures are in place while working at height. All installation engineers are trained to work at height and provided with the correct Work at Height PPE including full body harnesses, fall arrest and work positioning lanyards, which are inspected in line with Work at Height Regulations.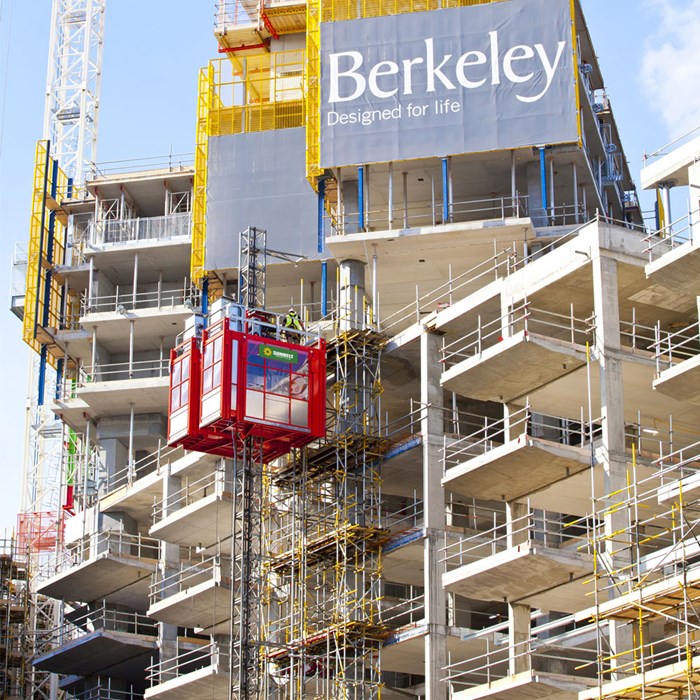 Testing
Testing of all hoist installations is required under LOLER regulations following installation, at regular intervals (six months for passenger / goods hoists and 12 months for goods only and beam hoists) or following modification. These tests are undertaken by our qualified Thorough Examiner.
Carrying out a thorough examination of the hoist following installation, partial dismantle, modification or significant mechanical damage is required under LOLER regulations. A visual inspection is made of the complete installation by a competent person trained to carry out the thorough examination, who will also check the integrity of all connections on the mast, superstructure and ties before carrying out a load test.
 
This consists of loading the hoist with 125% of its safe working load and driving the hoist up its full length of travel, stopping the cage near to the tie points to check both the structural integrity of the mast and superstructure as well as the holding ability of the drive motor brakes. When the hoist receives its routine test (at six monthly intervals for passenger goods hoists or 12 monthly intervals for goods only hoists) the load test is carried out with the hoist safe working load weight only.
 
Following a satisfactory load test, the hoist manufacturer's patented safety device is drop tested with the Safe Working Load of the hoist. This is designed to bring the descent of the hoist to a controlled stop within two metres, if the descent speed is greater than 125% of normal, ensuring the safety of the occupants. Following the load and drop test, the structure is inspected again to ensure that there has been no deterioration from the tests and that all aspects of the hoist operate correctly before we issue a Report of Thorough Examination.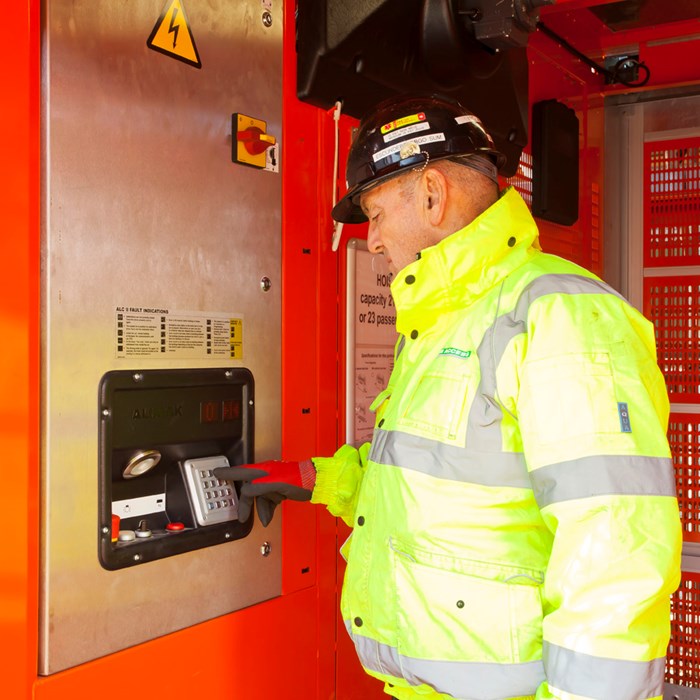 Maintenance
Maintenance and repair of your own rack and pinion lifts or hoists is carried out by our service and maintenance engineers at an agreed schedule and rate.
To ensure that your rack and pinion lift/hoist runs at optimal efficiency and safety, it is important to follow the manufacturer's maintenance schedule and have all works carried out by competent, trained engineers.
 
Our maintenance engineers are trained in all aspects of rack and pinion technology and can maintain, repair and carry out mandatory testing of your own equipment to an agreed schedule. All safety critical replacement parts are sourced from the manufacturer and fitted on site to best practice standards.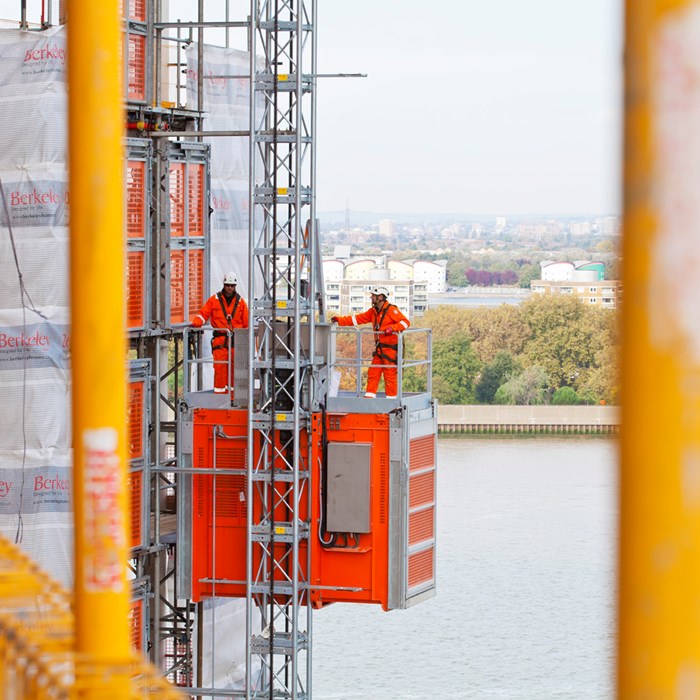 Dismantle
Dismantle of hoists often presents more challenges than the installation due to changing site conditions and access routes. A pre-dismantle site visit is usual before our trained engineers start the dismantle and removal of the hoist
We place as much importance on the dismantle and collection of hoists as on their delivery and installation. At a time when many sites are nearing completion, it is essential that the hoist is removed swiftly and safely after other trades have finished lifting all required materials.
 
If the dismantle and collection of the hoist is not straightforward, our site supervisor will carry out a site inspection and identify any problems or obstacles to getting the hoist out; for example there may have been a tower crane available for the installation which has since been dismantled and removed.
 
The dismantle of slipform hoists follows a set procedure whereby the tower crane is used to dismantle the mast sections and release the tie tubes from the mast down to ground level. A person riding basket is then attached to the crane and this is used to remove the tie tubes and plates from the core. Collection of the dismantled equipment is made using our palfinger equipped rigid vehicles at agreed times.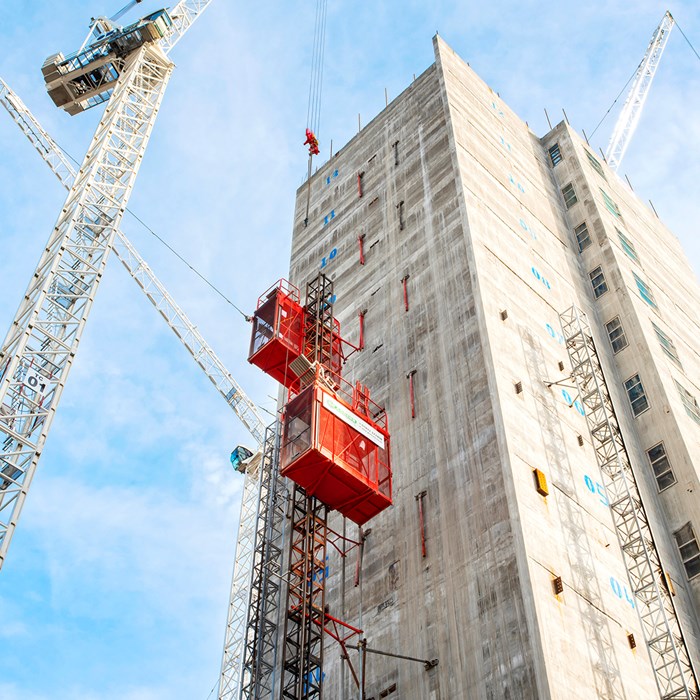 Customer Training
Training of hoist drivers is not always provided by hoist rental companies, whereas we offer you a site specific hoist operator training session, to ensure that the hoist is operated safely in accordance with manufacturers instructions and guidelines.
The safe operation of any construction hoist relies on the competence of the hoist operator(s). As well as driving the hoist, occupants and loads to the correct upper floor, they will normally carry out the daily inspection and, in some instances, the weekly inspection as well.
 
To enable the hoist operation and mandatory inspections to be completed to best possible practice, the operator should be trained on the actual site restraints and the particular hoist under his, or her, control. This is often in addition to holding a CPCS Hoist Operator card.
 
The operator should be aware of the legislation surrounding the use of the hoist, their responsibilities while this vital piece of equipment is in their care and the procedure to document the daily/weekly checks. They should also report any malfunction or maintenance concerns. These are all covered within a classroom session as part of our hoist operator training course.

If the hoist or the power supply fails during use, the operator is the person responsible for lowering the hoist, typically to the next available landing, so that the occupants can exit the cage. Our operator training includes a practical session where every operator is taught how to lower the hoist and carries out this procedure as part of the assessment.
 
Where potential operators do not meet the standards required, our trainer will fail them and explain the areas of  improvement required to pass the assessment.
 
We also carry out 'scaffolders handover training', where site scaffolders are trained to use a hoist without landing gates to reduce manual handling during scaffold installation or dismantle.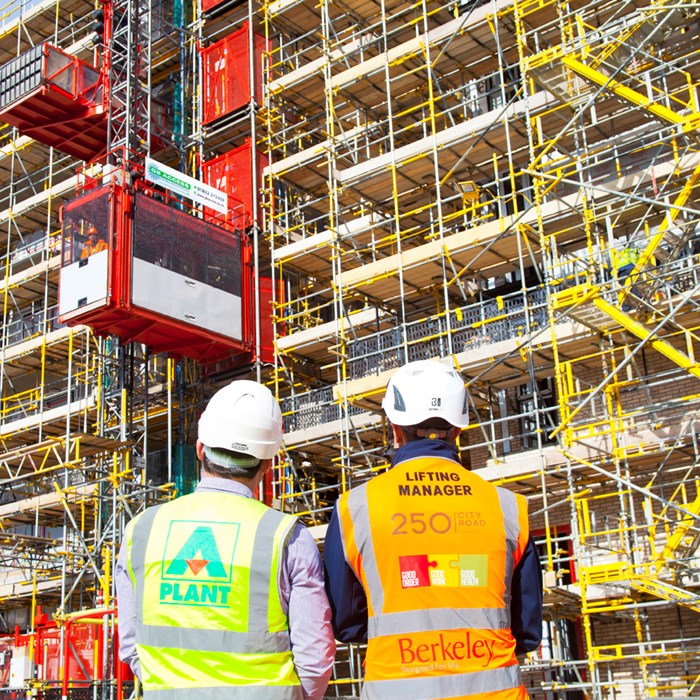 Safety
Our team of engineers undergo specialised training and have to pass a series of tests before they are deemed competent to undertake hoist duties on site. As a company, we actively promote Service Engineer Training within the construction industry.
The company has a fully compliant workforce with all personnel possessing CSCS Safety Training, CSCS (CRO) Occupation Training Cards, CCNSG Safety Passports, and other CITB Skills- related training along with various manufacturers training courses. Training is on-going and is continually reviewed, assessed, and managed accordingly.
Case Studies
Download Brochure
To download the Sunbelt Rentals Hoists brochure, please
Download Brochure
CHIG
Construction Hoist Interest Group
Read more
CHSG
Construction Health & Safety Group
Read more
Enquiries
For all enquiries please talk to our specialist team on 0330 433 1766
Email Us