Breaking New Ground with Low Carbon Electric Excavator Investment
news 14 Oct 2019
We have invested over £350k in a brand new fleet of electric excavators, continuing our commitment to provide you with the latest low and zero carbon equipment.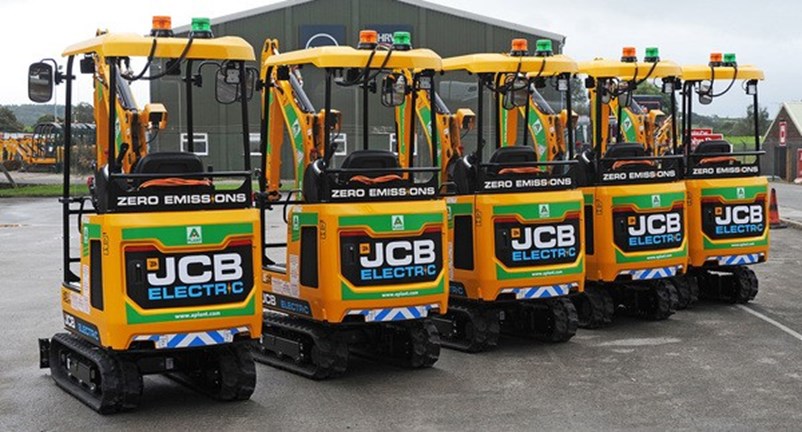 Available for you to hire from service centres nationwide, our new fleet of JCB 19C-1E mini excavators, utilise leading-edge automotive battery technology, delivering all of the performance of a conventional excavator with a reduction of both internal and external noise levels and zero exhaust emissions.
Designed to meet a growing need for low carbon construction equipment, the new fleet will allow contactors to work inside buildings, in emissions and noise-sensitive inner city areas and in tunnels or underground, without having to install exhaust extraction equipment.
Dave Harris, Sales & Marketing Director for Sunbelt Rentals, said the investment is indicative of the company's commitment to purchase a growing range of low or zero carbon products from key suppliers.
Sunbelt Rentals is at the forefront of equipment hire in the UK and we pride ourselves on offering the most comprehensive, innovative and sustainable equipment in the industry. Each year we invest millions of pounds in new innovative products to ensure that our customers hire the most reliable, safe and environmentally friendly equipment available and we are excited to be taking the lead on electrification with our new fleet of electric JCB excavators. Offering all of the performance of a conventional excavator, but with added eco-friendly credentials, we're sure the new fleet will be extremely popular with customers.
Dave Harris, Sales and Marketing Director for Sunbelt Rentals
With many of the UK's major contractors becoming increasingly environmentally conscious, Sunbelt Rentals has committed to helping its customers reduce their impact on the environment and move towards a zero carbon future.
Over the past year, we have witnessed significant customer demand for sustainable construction equipment and have made this a key focus of the company's investment strategy. This year we have invested over £4million low or zero carbon equipment and are proud to be able to deliver the latest, sustainable options to customers.
CB's electric mini excavator is taking the industry by storm and we are delighted that Sunbelt Rentals is leading the way by placing the largest order to date for this innovative product.
Yvette Henshall-Bell, JCB's Group Managing Director for Global Major Accounts
Key features of the new fleet include: Three or four lithium-ion battery packs providing a 15-20kWh storage capacity, load-sensing hydraulic system delivering powerful digging performance, a sophisticated battery management system ensuring full-shift availability, a convenient on-board charger with 110V input for 12-hour recharging capability, the option for 230V charging when required, with 8-hour recharging time and fast charge option allowing a full charge in under 2 hours.