Star Apprentice - congratulations to Joshua Foord!
news 12 Nov 2020
Congratulations to Joshua Foord, our Plant Maintenance Apprentice from our Barking depot. Joshua has won the prestigious title of 'Intermediate Apprentice of the Year' at the National Apprenticeship Awards for the London region.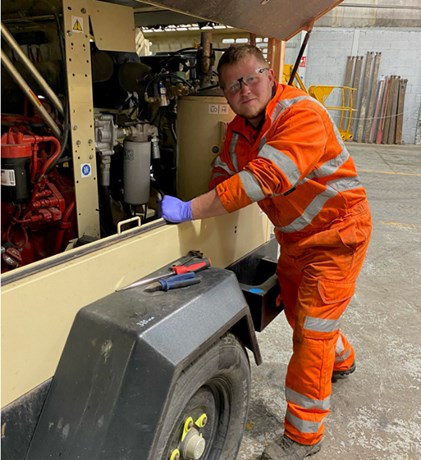 Joshua beat a phenomenal 1,000 other entrants for the award and the judges said they were very impressed with his dedication to take on special responsibilities such as helping to mentor a first-year apprentice. His accolade was announced at a virtual awards ceremony and he is now through to the national awards being held on 25 November 2020.
It's been an exciting few months for Joshua on the awards front. Back in September he was 'Highly Commended' at the Construction Plant-hire Association's (CPA) Star of the Future Awards. He was one of just five Level 2 apprentices selected by Reaseheath College to be nominated for the Plant Mechanic of the Year Regional Award. Joshua's college tutors had over 100 Level 2 apprentices to choose from and he received a high commendation. The CPA Stars of the Future event helps identify the future leaders of the construction plant sector.
Well done Joshua - this is amazing news once again. We're all wishing you luck for the national awards later this month!