Face Fit Testing
As people come in all shapes and sizes, it's unlikely that one type or size of RPE facepiece will fit all. Sunbelt Rentals are specialists in Face Fit Testing and have many strategically located FIT2FIT accredited Respiratory Technicians deployed across the UK. Our technicians are dedicated to the delivery of face fit testing to help organisations comply with the requirements of legislation and industry regulations. We've already helped support many organisations, including the NHS.
What is face fit testing?
Fit testing is a method for checking that a specific model and size of tight-fitting face piece matches the wearer's facial features and seals adequately to the wearer's face. It will also help to identify unsuitable face pieces which should not be used.
Who should provide Face fit testing?
Face Fit testing should be conducted by a competent person. Competence can be demonstrated by accreditation under the Fit2Fit RPE Fit Test Providers Accreditation Scheme. This scheme has been developed by the BSIF, together with industry stakeholders, and is supported by HSE.
Do you need nationwide face fit testing?
Our Fit2Fit accredited Respiratory Technicians carry out Face Fit testing across the UK. These tests only take 25 minutes and can be carried out remotely, or at our testing centres in Barking, Heathrow, Bristol, Exeter, Thrapston, Burton and Manchester.
What is Qualitative Face Fit Testing?
A subjective test based on the wearer's assessment of any leakage through the face seal region by detecting the introduction of bitter or sweet-tasting aerosol. This is suitable for disposable and reusable half masks only.
What is Quantitative Face Fit Testing?
An objective test based on numerical measuring to detect the fit factor of a mask. Methods include Ambient Particle Counting (APC) and Controlled Negative Pressure (CNP). This is suitable for full face masks, as well as disposable and reusable half masks.
Do WE OFFER ACCREDITED FACE FIT SOLUTIONS?
Our training courses are designed to teach you the knowledge and skills to perform face fit testing on your own colleagues. 
FIT2FIT accredited Quantitative Face Fit Testing
FIT2FIT accredited Qualitative Face Fit Testing
Qualitative Train The Tester courses
Quantitative Train the Tester courses
RPE User's Training
Confined Spaces Training
Masks and Filters
Powered Respirators
Qualitative Test kits and solutions
Quantitative Testing equipment spares.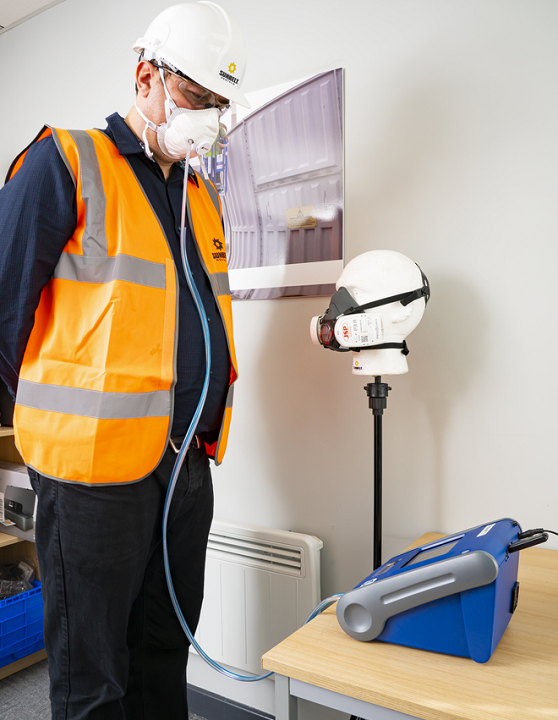 FAQs
Do you want to know more about face testing? Take a look at our information and FAQs blog or get in touch with our team.
FAQs
Contact Us
Contact Sunbelt Rentals for all your face fit testing requirements. We offer training and testing nationwide get in touch today.
Enquire Here