Local People & Skills
Local people and skills strategy
It all starts with recruiting local people.
Our local people and skills strategy aligns with UN Sustainable Development Goals 3, 4 and 5. Watch and find out more about how we are growing our current workforce and pipeline of future experts.



At Sunbelt Rentals UK we employ over 3,700 people, and the vast majority live in the local communities around their depots or offices.
Our people journey begins with our recruitment process. We are an equal opportunities employer - our careers website handles our entire recruitment process and allows us to collect socio-economic statistics and we believe our workforce is largely representative of the communities in which we work. We are currently attracting applications from all sectors of society. You can read our Gender Pay Report for 2019 here. 
We also work with several social enterprises to help encourage applications from certain groups of people or geographic areas. An example of this is our partnership with All Together Cumbria.
Apprentices and talent development
We have approximately 120 apprentices at any one point in time, across a variety of technical and support disciplines. These include:
Plant maintenance
Electro-technical
Fitter
Service technician
PEO
Accommodation maintenance
Mechanical engineering
Business administration
Hire desk
Payroll and finance
You can register your interest in an apprenticeship through our recruitment portal and we will send you a message when we start to recruit by clicking here.
Training and skills
Our in-house training team offers our people the opportunity for self-development and career progression at every step of their journey. From an initial induction through to a blend of classroom, onsite training and e-learning, our people have the ability to take control over their own learning.
Our in-house Training team is here to support our people throughout their careers. They also work closely with our Social Impact team on your projects to deliver training and promote learning through local community initiatives.
Our complete range of training courses is available to all of your people.
Ethical employment
The Living Wage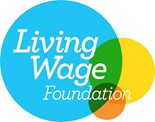 We were proud to be the first rental company in the UK to voluntarily pay our people the Real Living Wage.
The 5% Club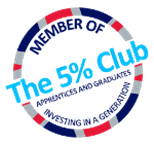 We are a member of The 5% Club – creating shared prosperity across the UK by driving 'earn and learn' skills training opportunities.
We commit that 5% of our workforce will always be earning whilst they are learning.
Skills and career partnerships
Southwark Construction Skills Centre
"Thank you to Sunbelt and Hilti for an outstanding day - our apprentices learned so much! It is so important to reinforce the message about 'safety first' – hearing hints and tips first-hand from the experts and being able to 'have a go' is invaluable. Our students all learnt how to get the best out of their equipment which will help them work more efficiently and safely on site!" John White MBE, Operations Director, The Skills Centre Limited.
Visit here for more information about the Southwark Construction Skills Centre
All Together Cumbria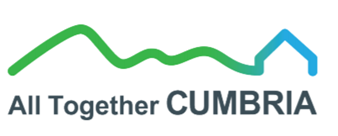 All Together Cumbria is an innovative social enterprise working in partnership with industry and the community.
It provides people in Cumbria with greater opportunity and access to employment, and aims to reduce the skills gaps that exist within Cumbria today and potentially in the future.
We are proud to be the first business partner within the rental sector to collaborate on providing employment opportunities from our depot locations at Whitehaven, Egremont, Carlisle and Penrith.
Wellacre Academy careers day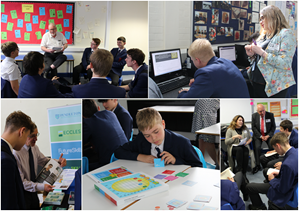 We were pleased to support 137 year 10s from Wellacre Academy in Trafford at their careers day with advice about pathways into the construction industry, as well as practice interview sessions.
We were thrilled that two of the boys emailed to gain a place on our apprenticeship scheme before the afternoon had finished. One told us, "I enjoyed it because I learnt some of the questions that I would be asked and how to answer them well when I go for a job."