Sustainability 2030
Our Commitment to Sustainability 
We are totally committed to acting responsibly and sustainably.
It's in our DNA - so much so that 'being responsible' is one of our core values.  Everything we do is the right thing for our people, for you, for our communities and our planet.
Our Sustainability Plan 2030 aligns with eight of the 17 UN Sustainable Development Goals. We are striving to create social impact, report social value and achieve lasting legacies through our day to day work. We are already making a big difference in these areas, but through our strategy are focused on achieving more.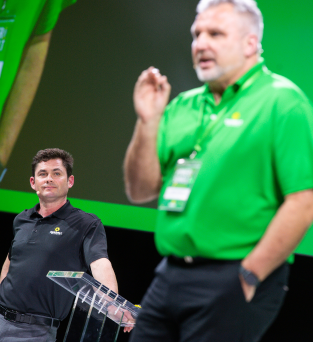 Sustainability 2030 Strategy
Our Sustainability 2030 Strategy video
Our 2030 strategy is called 'Towards a low carbon and sustainable future'.
The 'headline' video below shares with you highlights of the key sustainability projects we are currently delivering. Meet the team responsible for delivering each project, and find out how getting involved can be good for you and your business.
A short interview with Andy Wright, CEO, Sunbelt Rentals UK
Listen to our CEO Andy Wright, as he shares our unique perspective on what sustainability really means. Find out how we intend to use sustainability to not only progress our own business, but to help you and your business move forward on your own journey.
A short interview with Douglas McLuckie, Director of ESG, Ashtead Group PLC
Douglas was responsible for directing Sunbelt Rental's UK Governance strategy, and here he explains our parent company, Ashtead Group plc's thoughts on the importance of Environment, Social and Governance issues.
Sustainability 2030
Our Sustainability 2030 Strategy focuses on making a difference in four key areas:
1. Environment - helping you make responsible choices to reduce your carbon outputs, so we can leave our planet in the best possible shape for future generations
2. Community Engagement - contributing to the development of inclusive and well-functioning communities around our depots and your projects
3. Local People & Skills - creating career opportunities for local people to work for us, achieve their potential and live happy, healthy and fulfilling lives
4. Governance - ensuring the very highest standards of quality and performance standards.
We have developed a Social Impact Programme to bring all of our Sustainability 2030 benefits to you, helping leave a legacy in the communities in which your projects are located.
Supply Chain Sustainability School
We are a proud Partner of the Supply Chain Sustainability School.
The School helps us work collaboratively with the best minds and specialists in our industries to develop and push the boundaries of all aspects of sustainability.
We are active members of the Plant Group, developing industry-led best practice initiatives with our peers. We were pleased to help develop and sign the Plant Charter. We are looking forward to contributing to many more initiatives with the School this year.