103 Colmore Row, Birmingham
103 Colmore Row is Birmingham's tallest commercial building and the highest under construction in the UK outside London. It occupies the site of the former NatWest Tower building which was demolished between 2015 - 2017 to make for the new development.
Customer Name

BAM Construction UK

Project and Location

103 Colmore Row, Birmingham

Sector

Construction
Duration

60 Weeks

Products (Inc Quantity)

1 x  Alimak 12/30 Passenger Hoist (Slipform)

1 x  Alimak 12/17 Passenger Hoist (Basement)

1 x Alimak II 20/42 650 FC XL Passenger Goods Hoist

1 x Alimak 12/30 Passenger Hoist
Intro
At 108m high and 26-storeys tall, the £87m tower is currently being developed to provide 223,631 sq ft of office accommodation, plus a rooftop restaurant and cocktail bar. Construction of the building commenced in December 2018. Since then, BAM has installed 2,440 tonnes of steel, poured 25,000 tonnes of concrete and fitted 2,300 glazing panels. Situated at the heart of Birmingham's business district, 103 Colmore Row now dominates the skyline in Birmingham and forms a new landmark for the city.
On the back of the previous success of hoisting solutions for the nearby project at No 3 Snow Hill in Birmingham, Sunbelt Rentals were approached by BAM several years ago at the development stages of 103 Colmore Row to enquire about suitable hoist access solutions. At this point, the former NatWest Tower building was still being demolished, however due to numerous meetings, pre-planning and early engagement with the client, Sunbelt Rentals were able to quickly ascertain the customer's needs and advise the best hoist package for the project.
The Challenge 
The building is being constructed using large, bespoke sections of cladding. These are very heavy and awkward to transport - especially for a structure that is 26-storeys high. The size of the cladding panels determined the minimum size of the hoists needed.
Another consideration was limited floor space. 103 Colmore Row is located on the corner of Colmore Row and Newhall Street - a congested area of Birmingham - so foot space on-site is minimal. Although large cage hoists were needed, it was important that only minimal space was taken up at ground level. In addition to this, BAM needed to transport personnel efficiently over the 26-storey development. Being a major high-rise project, safety, reliability and equipment quality were all major factors.
The Solution 
Sunbelt Rentals provided a complete hoist access solution at 103 Colmore Row. In January 2019 Sunbelt Rentals provided an Alimak 12/30 Passenger Hoist to specialist formwork contractor AJ Morrisroe to facilitate the slipform construction of the building's concrete core. Over five months the hoist was rapidly installed to over 110m in height. This hoist was subsequently dismantled and removed to allow the frame of the building construction to commence. At this point the hoist became the highest in Birmingham, clearly visible from the M6 motorway and appearing higher than the nearby BT Tower, dominating the Birmingham skyline.
Sunbelt Rentals then provided an Alimak 12/17 Passenger/Goods Hoist for access to enable the construction of the basement. The hoist was lowered into position with support from BAM's Lifting Team and installed around 15m below ground. This hoist was subsequently removed to enable the basement to be handed over and allow further construction to progress.
In January 2020 Sunbelt Rentals commenced the main element of hoist works on site utilising a large Alimak II 20/42 650 FC XL Passenger/Goods Hoist. Offering an internal cage size of 2m wide, a length of 4.2m and an unrestricted opening height of 2.3m in height, this construction hoist can accommodate such a size load, but remains fully enclosed to protect the occupants and public whilst transporting materials at such a height.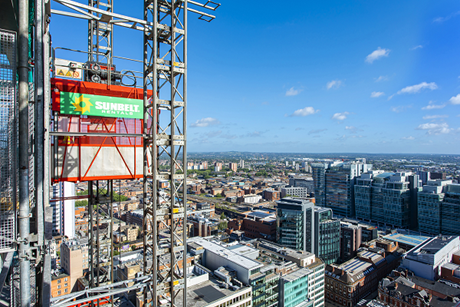 The size of the cages meant they had to be delivered on specialist transport, under abnormal load conditions. This was all arranged and delivered in house by Sunbelt Rentals' Operations Team and carried out using a new lorry purchased specifically for this task. Over the next eight months the hoist was subsequently climbed at a rapid schedule to a height of over 110m above the streets of Birmingham.
Due to the tight time and space constraints on-site, all deliveries were made on a 'Just in Time' basis, and the majority of the works conducted over weekends in order to minimise downtime during weekday operations. In June 2020, an additional Alimak 12/30 Passenger Hoist was added directly next to the XL Hoist to provide further personnel capacity over the building, as construction intensified and staff numbers on-site increased.
Both the Alimak II 20/42 650 FC XL Passenger/Goods Hoist and the Alimak 12/30 Passenger Hoist are currently at full operational height and will continue to be well into 2021 when a phased dismantle programme will commence.
The key to this and all major projects has been early engagement with both the client and all stakeholders.
By fully understanding the client's requirements and challenges from an early onset, Sunbelt Rentals were able to advise the best solution for the project and deliver operationally.