Logistic - Smart Delivery & Collection
Logistic is our smart e-delivery tracking system that seamlessly connects you to your order delivery status in real-time.
With over 200 depots and more than 30,000 customers all around the country, transportation and delivery of equipment is a big deal at Sunbelt Rentals. We have a fleet of over 1,800 commercial vehicles, and the delivery and collection of equipment must be carried out efficiently, rapidly and above all, safely.
Accurate Delivery, At Your Fingertips
As a customer, you'll be constantly kept up to date via text message, with an estimated arrival time as our driver is ready to depart. You'll receive another text when the driver is 3 miles away, allowing you to prepare for the arrival of your equipment.
On delivery, it's fully paperless and contactless. We take a picture of the equipment, attach it to the contract and immediately email these over to you. It's the same process on the collection, so you have instant visibility of the products you have hired or off hired.
All we ask from you, our customer, is to provide an accurate site contact when placing the order and an email address to send a copy of the contract to; we'll do the rest.
This investment in state-of-the-art workflow-management technology has allowed us to implement a complete step-change in service delivery, with more customer interaction and engagement than ever before.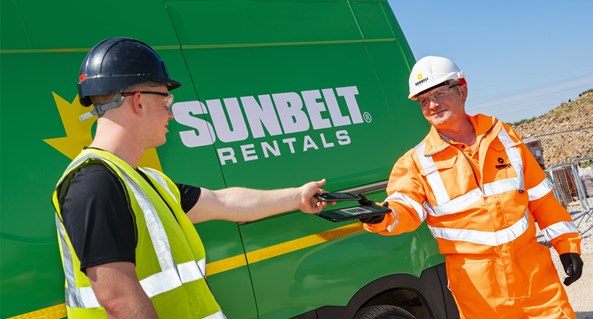 Transparent Communication - Connecting Our People And Our Customers
For our people, Logistic provides instant visibility of our vehicle fleet to maximise utilisation, improve response and create the most efficient routes for our drivers.
The platform allows for clear and transparent communication between our drivers and transport team; at any one point, our people can see where each driver is, what jobs are complete and what is still ahead of them.
The app allows our people to plan and schedule servicing, tachograph updates, and complete daily vehicle checks, which, if found, are reported back instantly, so they can be resolved quickly and efficiently, creating a safer environment for all.
In short, the ability to communicate clearly, and plan the delivery and collection of our equipment much more efficiently ensures our customers receive an exceptional and consistent level of service across the whole Sunbelt network.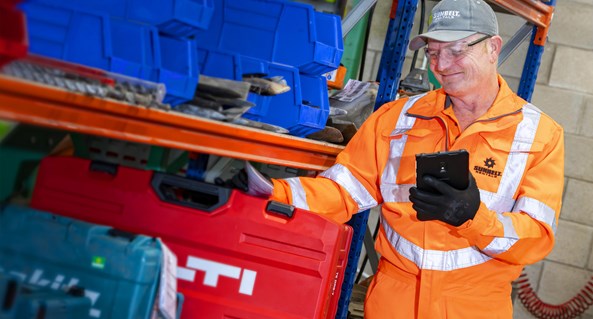 Doing the Right Thing
As a company, we complete over 1000 deliveries and collections a day; that's a lot of paper contracts.
Investment in this technology is helping us meet our sustainability objectives by reducing our paper and manual processes and saving time and fuel, covering fewer miles, and using fewer vehicles.
Our vision was to deliver a dramatic change to the way we plan, manage, schedule, track the delivery and collect our equipment. Making us more sustainable as a company, more consistent as a business, and easier for us all to work as one team.