Air quality controls are essential in creating and maintaining a healthy and safe environment for your workers, patients, customers and the general public.
It is estimated that the average person spends 90% of their time indoors and inhales over 11,000 litres of air every day, making poor air quality a leading cause of many short and long-term health complaints. From respiratory problems and allergies to deadly cancers and cardiovascular diseases.
Working with industry-leading manufacturers, we've built a fleet of the most innovative and effective air cleaning units, all available for hire. From the HEPACART® and STARC® ranges to ventilation and extraction equipment – we'll work with you and your unique environment to deliver a bespoke solution that protects everyone.
We provide industrial air cleaning equipment for a range of environments such as hospitals, education settings, office and commercial spaces, industrial and manufacturing plans, construction sites, as well as many more. Our solutions are recognised by industry bodies, including:
Feature card section
AIR QUALITY MANAGEMENT SOLUTIONS
We'll work with you to develop a tailored solution for your application, from highly sensitive healthcare environments to construction sites. With the UK's largest rental fleet, from plant and tools to test and monitoring equipment, we can combine specialist air quality equipment with a range of other products to provide a complete solution for your site.
Our partnership with award-winning manufacturers, such as HEPACART® UK, allows us to offer you rental options for best-in-class equipment. They're all available for delivery and installation nationwide from our strategically located depot network.
Expert Support

Best and Reliable Equipment

360 Solutions

Timely Product Delivery
Metrics Section
Every indoor environment managed
Every airborne hazard controlled
Every person protected
Award-winning innovative solutions
Talk to us today about your air quality control needs
YOU MAY ALSO BE INTERESTED IN ...

Frequently Asked Questions
We understand the concerns that working in environments that produce airborne hazards can cause. We've built our fleet of products to provide you with a solution to protect you from a wide range of hazards, including dust, fibres, fumes, smoke, mists, vapour gases, VOCs, bacteria, viruses and allergens. We can also provide solutions to support in environments with low oxygen concentration.

Yes, our team are highly trained to be able to provide a bespoke installation service if required. Familiarisation training will also be provided on delivery of all equipment and you'll get the chance to ask any questions you may have.

We have depots strategically located across the UK, which allows us to offer the fastest delivery service possible. How soon depends on the equipment and solution, but where possible, we will endeavour to deliver within 24 hours.  

If you need an air cleaning unit on site for a specific date, please let us know, and we'll accommodate this wherever possible.

Our fleet includes air cleaning units and industrial air cleaning solutions that can be used in almost every application where there is a risk of airborne hazards. These include industrial and manufacturing facilities, food processing, construction sites, educational and healthcare environments.

Please get in touch if you have a unique application, and our team of experts will be able to advise on the best and safest solution.
How We've Helped Our Customers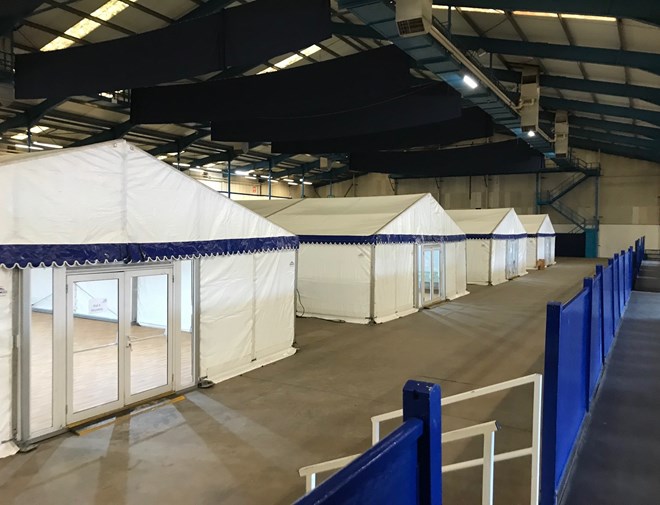 Taunton and Somerset NHS Foundation Trust
As part of the NHS Covid-19 vaccination roll out in 2021, the Bath and West Showground at Shepton Mallet is to become one of the main centres delivering vaccinations for people in Somerset.
The 240 acre site urgently requires heating, lighting and safety measures to be in place before it could open to the public.


Blogs Section
Why Dust Monitoring is Essential for your Business

The Health and Safety Executive (HSE) is stepping up efforts to increase awareness that dust can kill, with a month-long site inspection initiative.

During October, HSE site inspections are taking place across the UK to ensure that construction firms are protecting workers from respiratory risks and occupational lung disease caused by construction dust. Sites of all types and sizes are being visited to check that appropriate measures are in place to protect workers' lung health from exposure to dust.

READ MORE