The Experts in Hoists
Engineered solutions to meet your hoisting requirements
SUNBELT RENTALS HOISTS
Our highly skilled national hoist team has over 170 dedicated specialists ready to support you in planning, configuring and installing solutions to meet all your hoisting needs safely and efficiently. 
We are proud to offer you the largest construction hoist fleet of passenger and materials hoists in Europe from the world's leading manufacturers including Alimak, Stross, Maber and Geda. So whether you need support in a solution to build the next Shard, or are assessing project plans to go safely underground, we're here to help.
With a fleet of over 600 hoists we offer a vast range of innovative solutions available from our strategically placed depots in the north and south of the UK. We are guaranteed to engineer and deliver the perfect solution for your precise needs. Why not get in touch to talk through your project with our experts?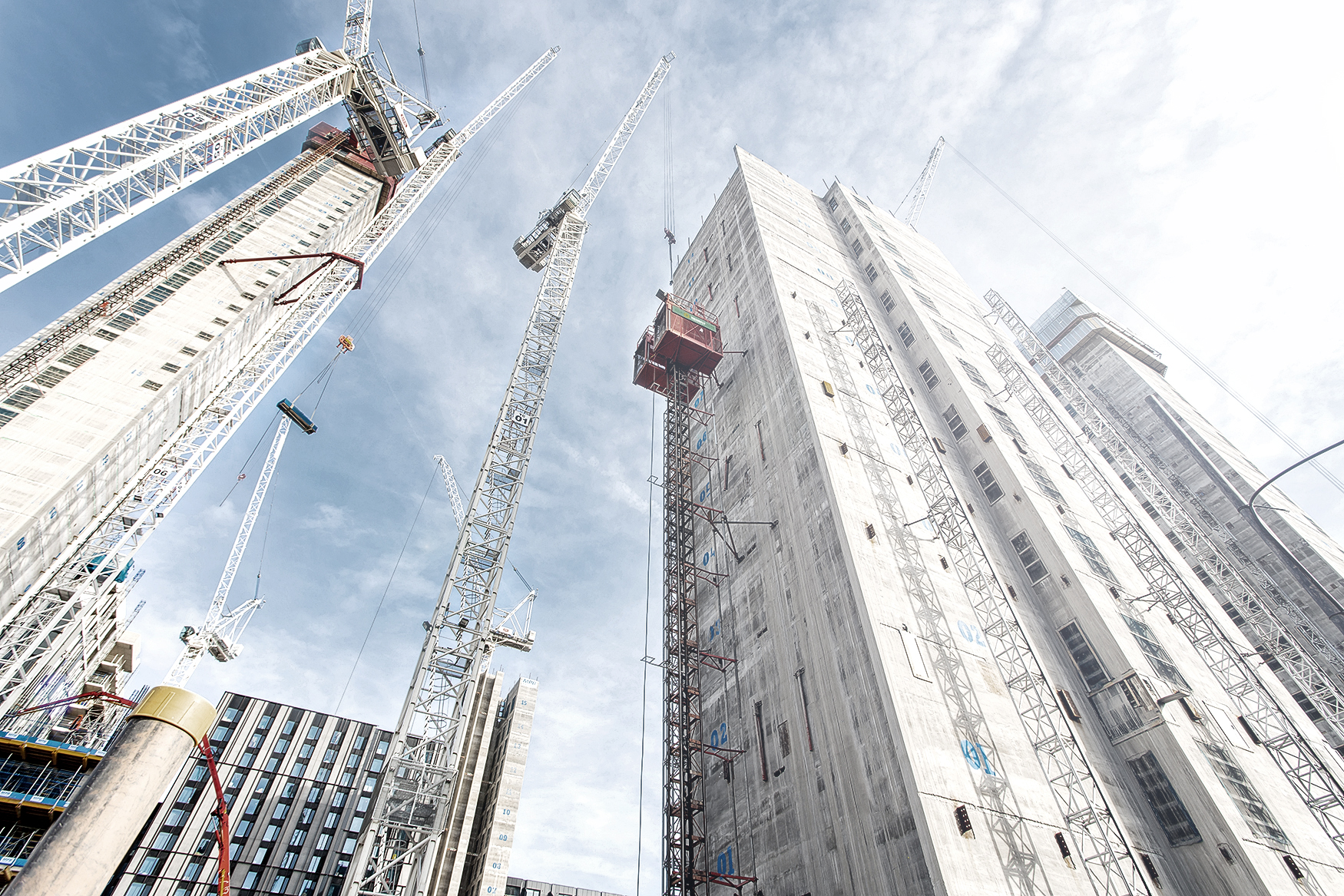 Contact
For technical support please use the contact details below.
Hoists North (Wigan): 01942 716 706
Hoists South (Oundle): 01832 272 408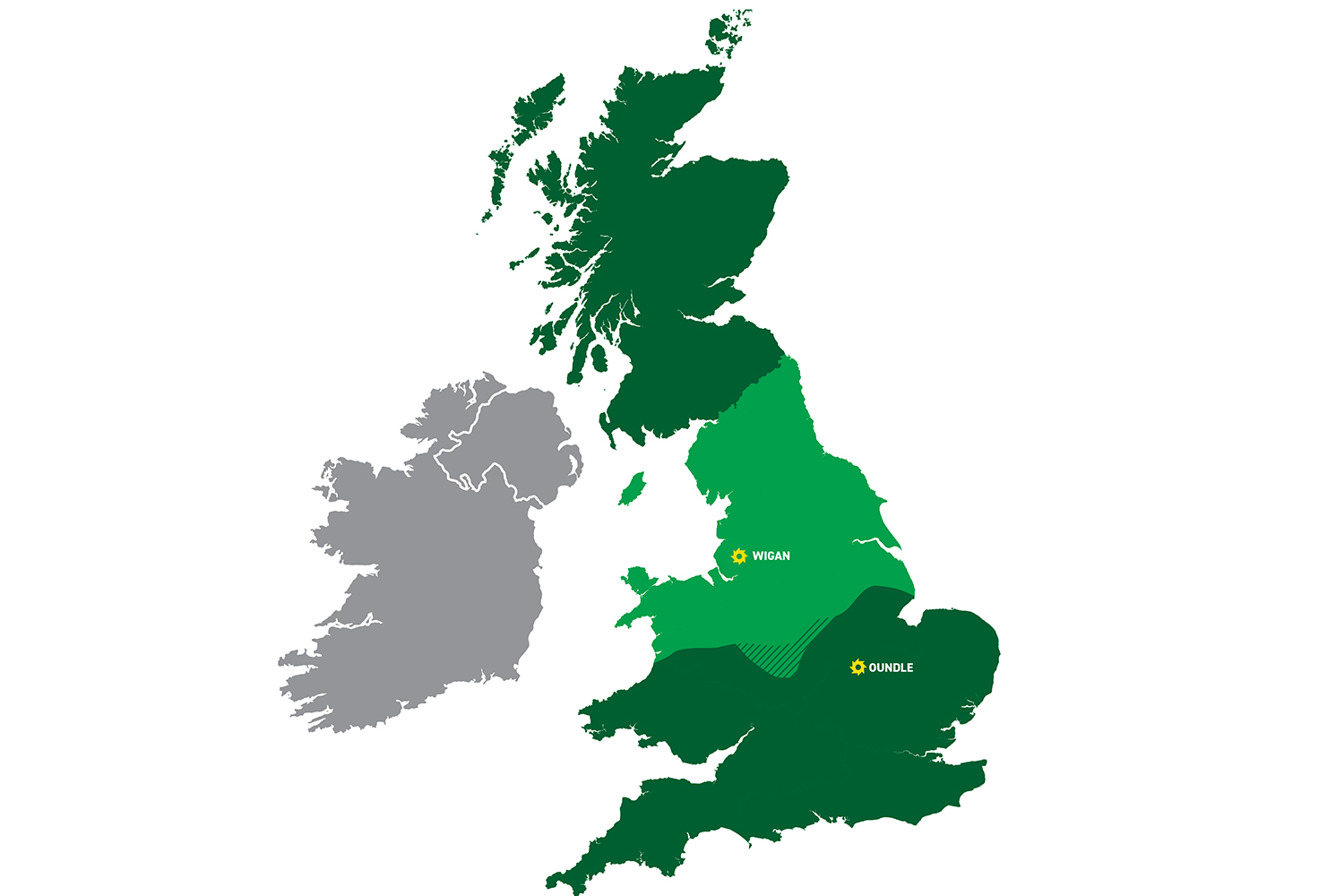 Passenger & Goods Hoists
Passenger & goods hoists are used to transport people and materials vertically up a building or structure, and down a shaft below ground level, with the ability to stop at a number of landings.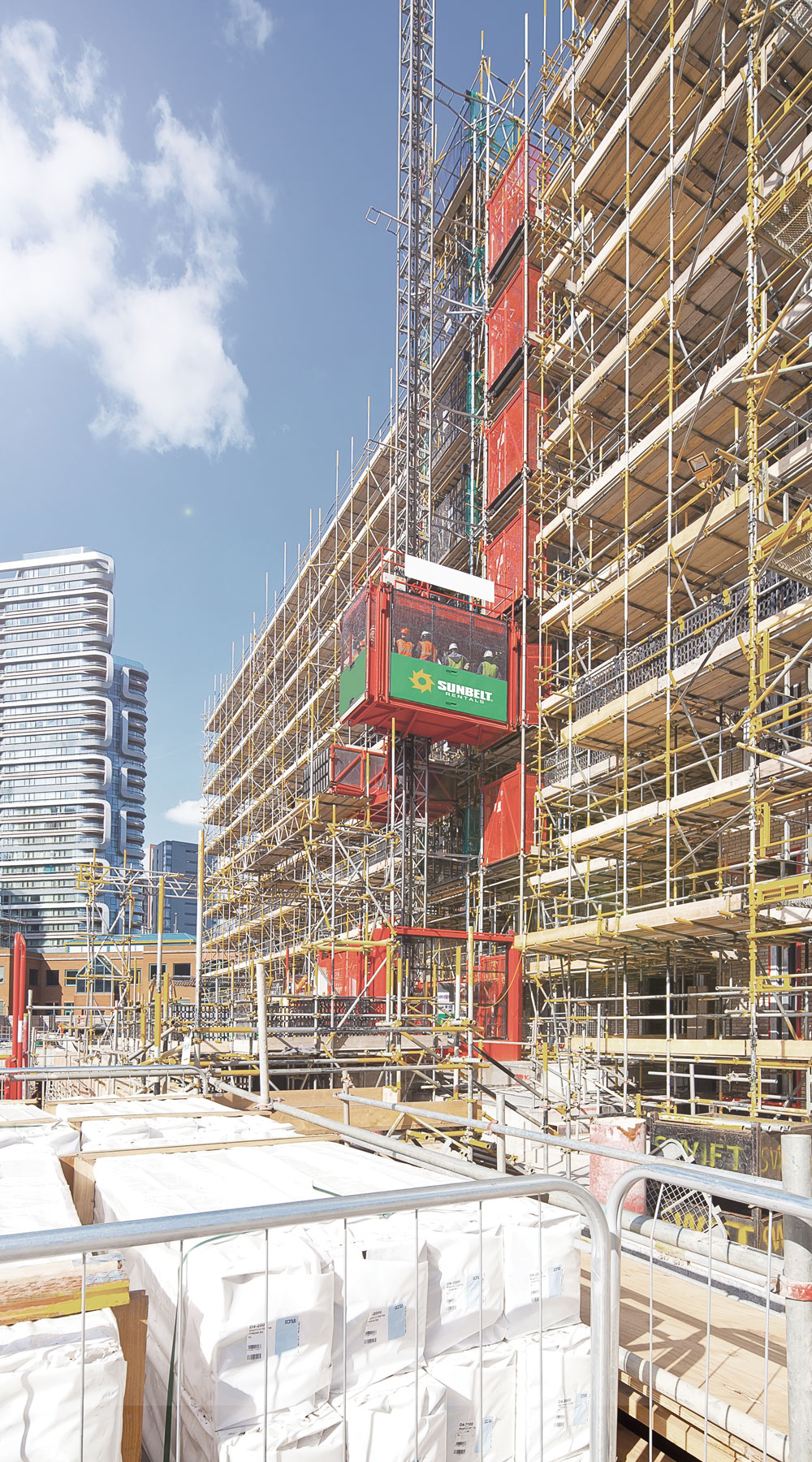 Goods Only Hoists
It is not permitted for passengers to ride in goods only hoists as they are not fitted with a roof. This does, however, enable the vertical transportation of larger items, as long as they are safely contained within the confines of the cage.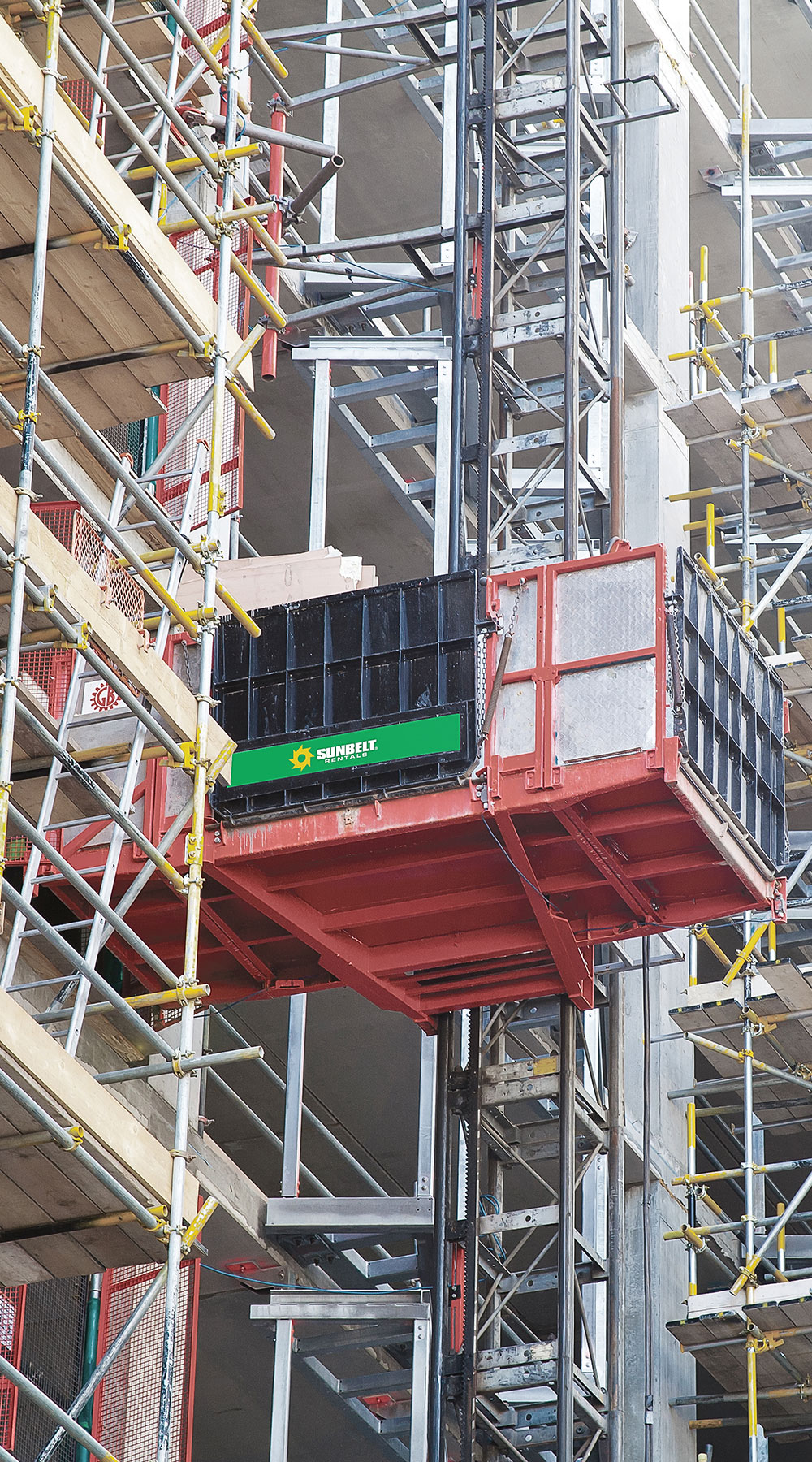 Transport Platforms
A Transport Platform is a hybrid between a Passenger and Goods Hoist, and a Goods Only Hoist. These platforms are more suited to larger or bulkier loads, where an enclosed hoist may not provide sufficient headroom such as glazing panels, large palletised materials and bathroom pods etc.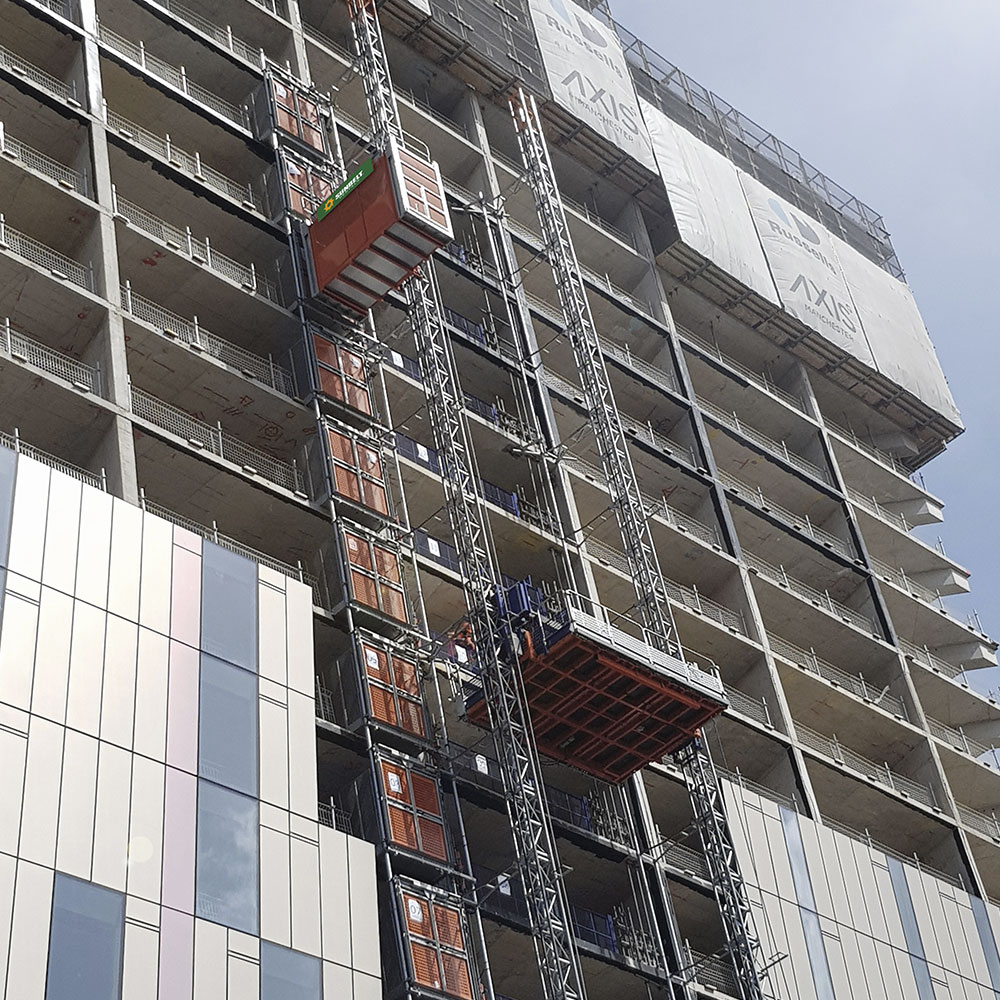 Bespoke Hoists
Bespoke hoists can be produced, or existing units modified in our manufacturing facility. We can engineer bespoke hoists, multiple units and common tower configurations to suit any lifting requirements you may have.
While most hoist applications can be fulfilled by configuration of standard hoist components, our fully equipped workshops can also modify hoist cages and accessories for those awkward requirements.
 
Hoist cages can be adapted to suit different sizes and shapes of existing lift shafts or finished in your desired brand colours.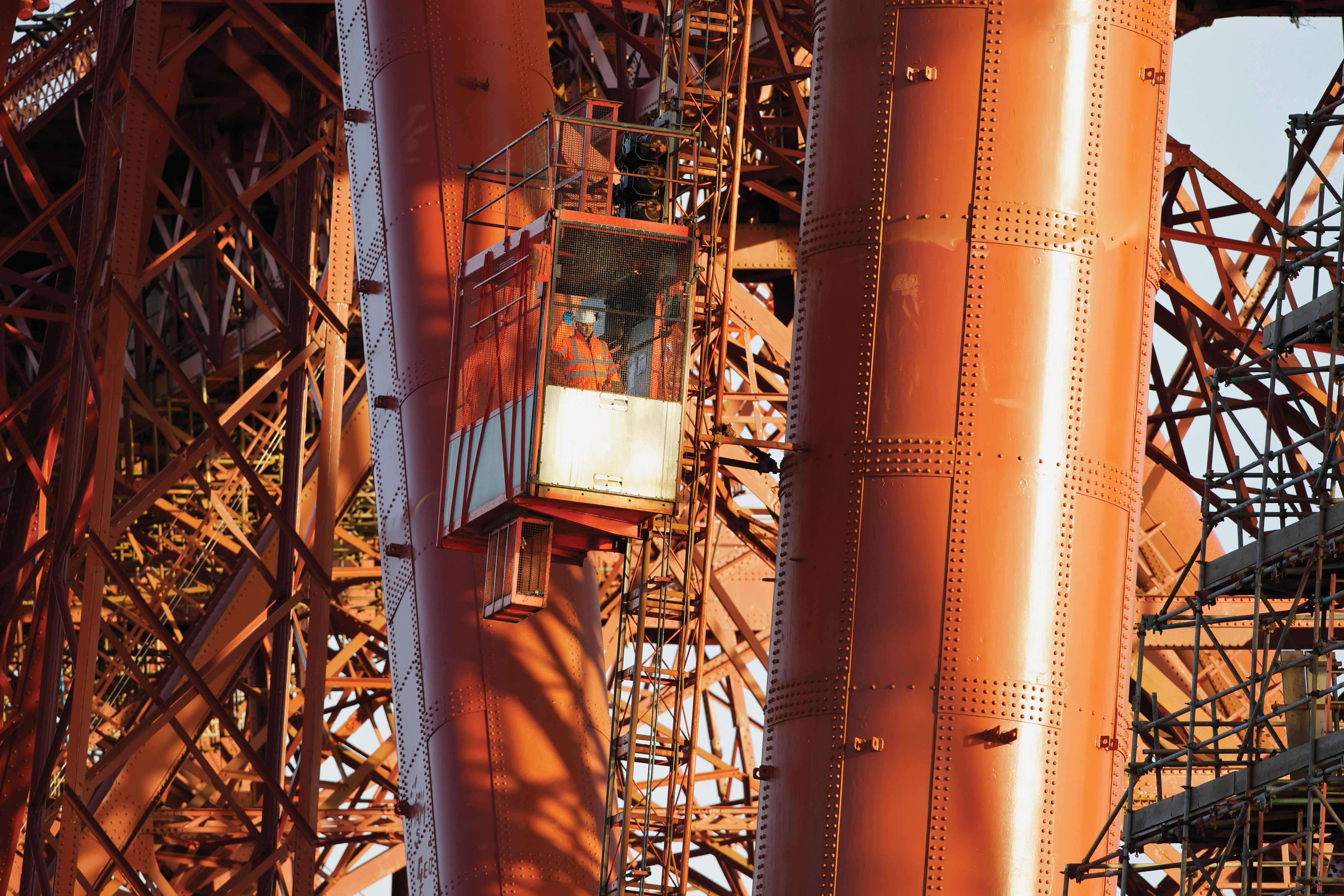 Beam Hoists
Beam hoists are most commonly found on city centre construction sites adjacent to main roads with no off-road unloading facilities.
These sites typically have a scaffold gantry built out over the pavement and delivery vehicles pull up alongside the gantry to be offloaded. The beam hoist is an 'I' section beam, mounted on the site scaffolding and extended past the outer edge of the gantry. A motorised trolley unit, which has an electric winch suspended from it, runs along the beam. This enables materials to be lifted from the delivery vehicle, transporting them via the trolley onto the gantry for distribution to the workplace.
Winch units are available with a variety of chain lengths and 1000 or 2000Kg lifting capacity. All of our winches operate at 415 volts, 3 phase to give added reliability,  and are controlled from an attached pendant. Please note that we only supply beam hoists as part of a package with a goods only or passenger & goods hoists.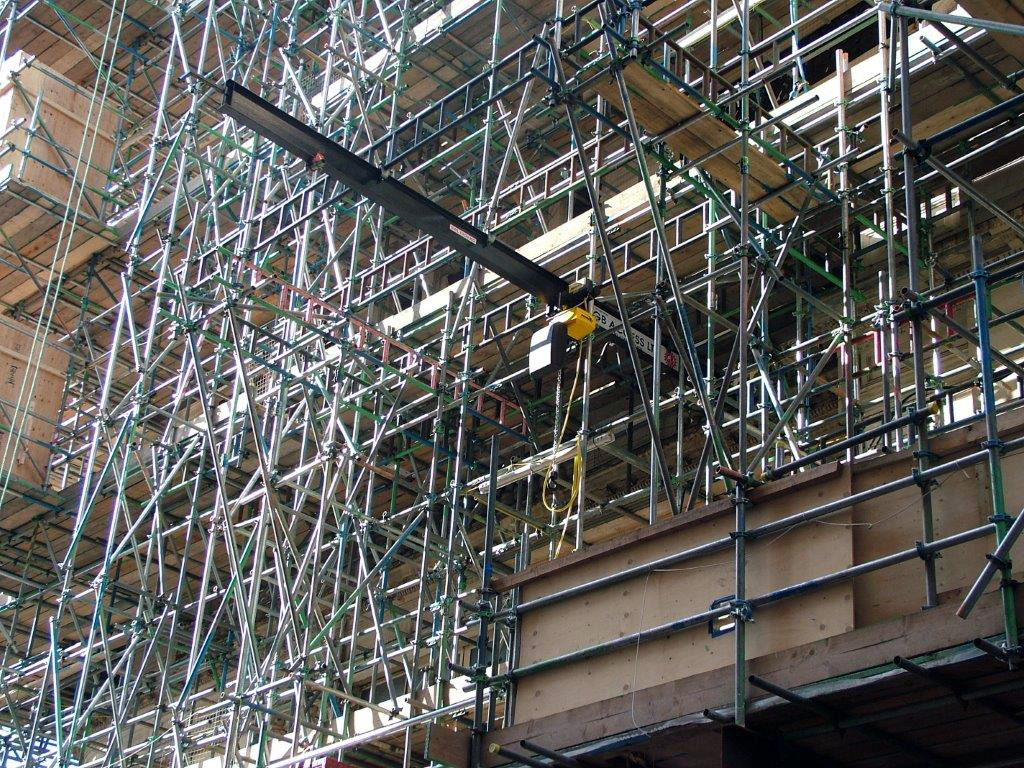 Accessories
To enable our standard hoist cages and industrial lifts to be configured for maximum safety and efficiency, we offer you a range of accessories for most hoists. 

Design & Planning
We offer extensive support during the planning process for hoist installations with feasibility and planning studies, site-specific drawings, design, calculations, and technical assistance. Each and every project is planned out meticulously prior to the procurement of machinery and mobilisation on site.
Delivery, Installation & Maintenance
For all information relating to delivery, installation and maintenance of our hoist solutions.
Safety & Testing
Safety is our number one priority. If it can't be done safely, it won't be done. For our people and for you, nothing matters more. Our team of engineers undergo specialised training before they are deemed competent to undertake hoist duties on site.
Testing of all hoist installations is required under LOLER regulations following installation, at regular intervals (six months for passenger / goods hoists and 12 months for goods only and beam hoists) or following modification. These tests are undertaken by our qualified Thorough Examiner.
Dismantling
We place as much importance on the dismantle and collection of hoists as on their delivery and installation. At a time when many sites are nearing completion, it is essential that the hoist is removed swiftly and safely after other trades have finished lifting all required materials.
Customer Training
To enable the hoist operation and mandatory inspections to be completed to best possible practice, the operator should be trained on the actual site restraints and the particular hoist under his, or her, control. This is often in addition to holding a CPCS Hoist Operator card.
Case Studies
Download Brochure
To download the Sunbelt Rentals Hoists brochure, please
Download Brochure
CHIG
Construction Hoist Interest Group
Read more
CHSG
Construction Health & Safety Group
Read more
Enquiries
For all enquiries please talk to our specialist team on 0330 433 1766
Email Us