Removing old floor coatings and preparing surfaces requires specialist equipment and knowledge.
Especially when you're dealing with hardened adhesives and heavy-duty floor coatings. Whatever the task at hand, our expert team will help you find the most efficient solution for this job and the next job - and every job after that.
No matter how different the requirements may be, the flexibility of our rental agreements means you can change the size and spec of your fleet in line with demand. It also makes it easy to upgrade your equipment when new technology is introduced – ensuring your business is always one step ahead.
Equipment you can rely on
Our market-leading fleet offers a solution for any and every application, from the small but powerful walk-behind machines to the heavy-duty ride-on units. Including a full range of specialist scraping equipment for the removal of bonded and soft floor coverings, such as linoleum, carpet, vinyl tiles, ceramics, resins and epoxy coatings.
Plus, a comprehensive choice of rugged and reliable floor strippers for the removal of a wide range of materials, including carpet, vinyl, rubber, wood and ceramic tiles
A partner you can believe in
All of our machines are handpicked from the best manufacturers in the business and maintained to the highest standards in the industry - maximising uptime. You also have the reassurance of 24/7 emergency support, providing total peace of mind.
Sunbelt Rentals is the only rental equipment provider in the UK that has the expertise and resources to offer a full end-to-end managed service on a national scale.
Whatever you need, we'll deliver it whenever you need it, and take it away when the job's done. So, you only have to pay for the machines you use when you're using them - freeing up cash to invest in other aspects of your business.
Just tell us what, when and where. Leave the how to us.
Feature card section
OUR SERVICES AND SOLUTIONS
Whatever you need, we'll deliver the right equipment for the job whenever you need it - and take it away when you no longer need it. So, you don't have to worry about paying to store and maintain machines you are not using.
All of our equipment is maintained to the highest standards in the industry, ours, and if something does go wrong, we'll provide a replacement machine before the next clean - maximising uptime.
Our flexible hire agreements even come with the added reassurance of 24/7 emergency support. When you partner with Sunbelt Rentals, we take care of everything, leaving you free to concentrate on your core business.
Flexible rental agreements

Nationwide same day / next day delivery

Industry leading equipment

24/7 expert support with no downtime
OUR FLOOR SCRAPING AND STRIPPING PRODUCTS
NEED HELP CHOOSING THE RIGHT FLOOR SCRAPING & STRIPPING EQUIPMENT? 
Our equipment has been designed to remove a wide variety of soft goods from various surfaces, including; glued-down floors, gummy commercial carpet, VCT, sheet vinyl rubber tile, linoleum, indoor and outdoor sports surfaces, roofing material and more.

Most of our fleet uses battery power to run, however for those more heavy-duty demolition projects we do stock the NFE 8000 that uses propane. Please speak to the team if you have any specific requirements or restrictions and we'll be happy to find a solution that fits your exact needs.

Hiring floor scraping and stripping equipment provides a flexible and low-risk route to growing your business. Our tailored rental agreements can be flexed to suit your business needs and you'll only have to pay for the machines whilst your using them. With no upfront capital investment required it also provides a route to scale your business without taking on any additional financial risk. Plus, there are no mobilisation, maintenance or storage costs.
VIEW OUR OTHER FLOOR CARE & MAINTENANCE PRODUCTS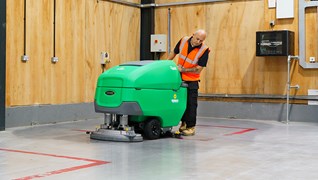 Floor Cleaning and Carpet Care
We offer sweeping and scrubbing solutions for all kinds of environments from commercial and industrial facilities to retail spaces and car parks.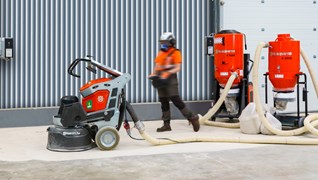 Floor Grinders and Polishers
Our range of grinding and polishing machines offers a choice of equipment for preparing and maintaining concrete floors of all types and sizes.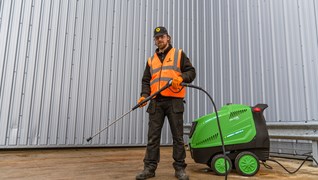 Pressure Washers
Our industrial pressure washers offer a powerful cleaning solution for various applications, from construction sites to factories, providing efficient and thorough cleaning.
Metrics Section
Prep, clean and maintain
Any floor, any size, anywhere
No hassle, no risk
Talk to us today about your floor care and maintenance needs.