Delivering proven healthcare solutions across the UK
Sunbelt Rentals is proud to be the UK's largest and greenest equipment rental and temporary infrastructure provider, trusted by NHS Trusts and Hospitals to deliver proven healthcare solutions.
Offering a secure and approved procurement route via the Crown Commercial Service, we have developed partnerships with NHS Trusts across the UK, providing a wide range of essential services and support.
From end-to-end estates and facilities management to specialist air purification and infection control, we'll help you keep your staff and patients safe, while increasing efficiency across your sites.
Having installed, maintained and managed the test and trace programme on behalf of the UKHSA - including over 500 Covid test centres UK-wide, using over 300,000 items of equipment - we have proven we can be relied on to take on any job, big or small, and deliver a world class service.
We are also experts in Face Fit testing for some of the largest NHS Trusts in the country and have many strategically located FIT2FIT accredited respiratory technicians deployed across the UK.
With long-standing relationships developed with all the leading manufacturers, we can be your one-stop shop for all your temporary infrastructure needs.
Why work with Sunbelt Rentals?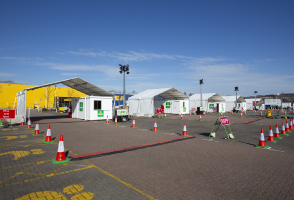 Temporary Infrastructure Provision
Whatever the challenge, we supply the infrastructure. The Covid pandemic was the biggest challenge of our times, but we continued the management and running of the test and trace programme on behalf of UKHSA, including site audits and improvement reviews, to match the needs as the crisis evolved.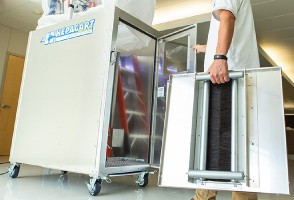 Specialist Healthcare Products
As exclusive providers of the market-leading HEPACART infection control solutions, and with a vast range of products at our disposal, our specialist healthcare products are unrivalled in the sector. With years of knowledge in the health arena, we're well stocked with the products you will need.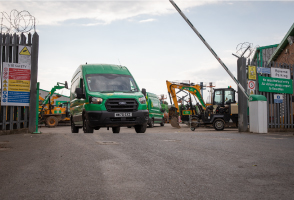 Secure Procurement
Thanks to our agreements with a range of frameworks, we can offer a secure procurement route for all of your rental requirements, ensuring you can confidently use all of Sunbelt's products and services.
We're Experts in Healthcare Solutions
Check out our comprehensive range of services and solutions, all designed to keep your staff and patients safe at all times.
Our Healthcare Case Studies