WE'VE SUPPLIED TEMPORARY ACCESS SOLUTIONS ACROSS DIFFERENT SECTORS FOR OVER 60 YEARS.
With our wide range of temporary roadway options, we can provide temporary vehicle and pedestrian access with zero structural adjustments necessary.
Our industry experience and expertise allow us to overcome and provide a solution for even the most challenging projects. Whether it's height restrictions, time-critical installs, issues with access or even extreme ground conditions. We've got it.
Our knowledgeable team of engineers are always on hand throughout your project, ready to advise and oversee it from start to finish.
When you hire our temporary roadways, we will create and provide you with a site-specific job pack. It includes details of all the commercial, operational and safety information required to ensure the safe and successful delivery of our products to your site.
Our products are maintained to the highest standards, and we continually invest in our equipment to ensure we can offer you the 'best in market' quality.
Our Trakway systems can also be combined with other products, such as pedestrian walkways and bridges. Scroll down to learn more about our Trakway products, or contact us.
OUR TEMPORARY ROADWAYS PRODUCTS
TIGER TRAK

Our heavy-duty turf and ground protection system provides vehicular and pedestrian access in one go.

HYBRID PANEL

Versatile road mats for heavy equipment are suitable for stable, flat ground as well as contoured, rugged terrain.

EVENT PANEL

Our road mats for hire is a roadway and walkway system for private and public events, big or small.

EUROMAT

Easily create temporary roadway access for rubber-tyred vehicles with our man-handleable, plastic medium-duty system.

LION PANEL

Our dual-sided temporary roadway system is fit for pedestrian and heavy-duty vehicle use and works on all terrains.
NEED HELP CHOOSING THE RIGHT TEMPORARY ROADWAY PRODUCT?
Temporary roadways are portable surfaces that can be used to create safe and accessible roads in a variety of environments. They are ideal for use on construction sites, outdoor events, disaster relief zones, and other areas where permanent roads are not available or feasible.

Temporary roadways offer a number of benefits, including:

- They are safe and easy to install and remove.
- They are durable and can withstand heavy traffic.
- They are versatile and can be used in a variety of environments.
- They are cost-effective and affordable to rent.

Temporary roadways are available in a variety of materials, including aluminium, plastic, and timber. Each type of roadway has its own advantages and disadvantages.

Aluminium roadways are lightweight and easy to transport, but they are not as durable as plastic or timber roadways. Plastic roadways are durable and versatile, but they can be more expensive than aluminium roadways. Timber roadways are the most durable type of roadway, but they are also the heaviest and most difficult to transport.

 

Temporary roadways can be used for a variety of applications, including:

- Construction site access
- Outdoor event flooring
- Remote access roads
- Mining roads
- Disaster relief access
- Pedestrian crossings
- Heavy vehicle access
- Machinery access
- Wetland protection

Sunbelt Rentals offers a wide range of temporary roadway solutions to rent. We can help you choose the right solution for your needs and budget. Contact us today for a free quote.

The cost of renting temporary roadways depends on a number of factors, including the type of roadway, the quantity required, and the duration of the rental. Sunbelt Rentals offers competitive rates on all of our temporary roadway equipment.

Sunbelt Rentals can provide you with detailed instructions on how to install your temporary roadways. We also offer installation services if required.

Temporary roadways are easy to clean and maintain. Simply sweep or brush away any dirt or debris, and rinse with water. You can also use a mild detergent if necessary.
Metrics Section
Nearly 1 million square meters of Trakway
Over 300 engineers and installation crew
7 dedicated depots across Europe
Emergency response
Talk to us today about your Trakway needs
YOU MAY ALSO BE INTERESTED IN...
PEDESTRIAN ACCESS & TEMPORARY WALKWAYS
Sunbelt Rentals' temporary roadway solutions are versatile and durable, making them ideal for a wide range of projects. Whether you need to create a temporary access road for a construction site, a safe pedestrian crossing for an outdoor event, or a durable surface for a remote mining operation, we have a solution that can meet your needs.
Our case studies showcase how our temporary roadways have been used to overcome a variety of challenges and achieve success. From providing safe and efficient access for heavy vehicles and machinery to protecting delicate ecosystems, our roadways have proven to be a valuable asset for our customers.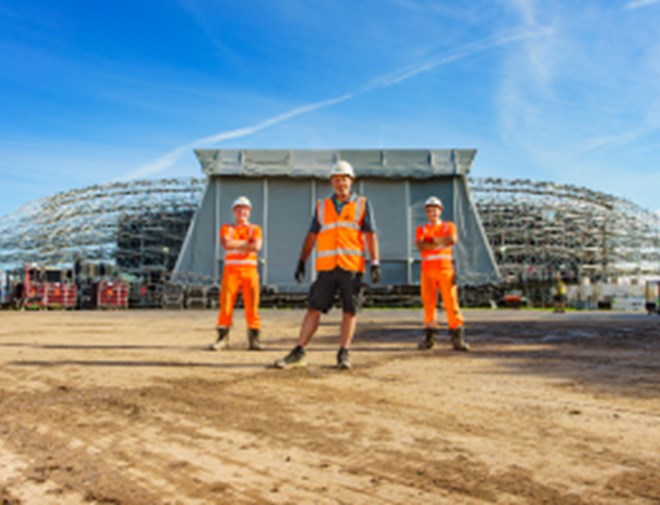 Creamfields Festival
Temporarily constructed for 4 days of fun, just how do you make a festival like this happen? You choose expert partners who specialise in defining, designing, and delivering event solutions.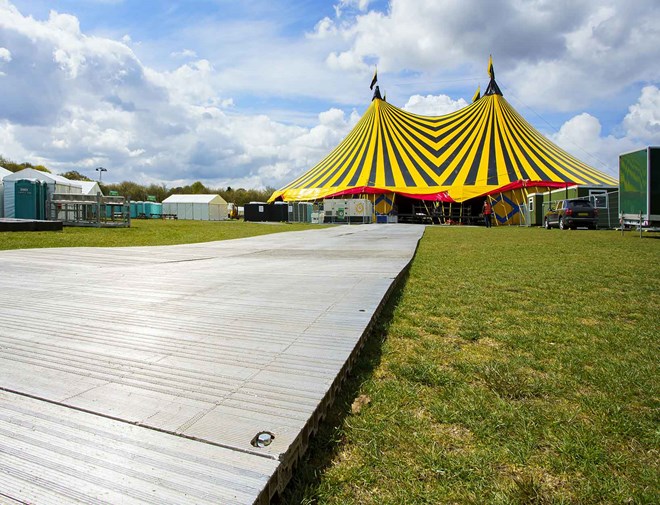 Sefton Park Test Pilot Event
The Liverpool Pilot Event was the UK's first post-lockdown outdoor gig. Hosted on 2nd May 2021 at Liverpool's Sefton Park under a huge Big Top tent, the event formed part of a scientific experiment to help get the live music industry back up and running in a safe and secure way.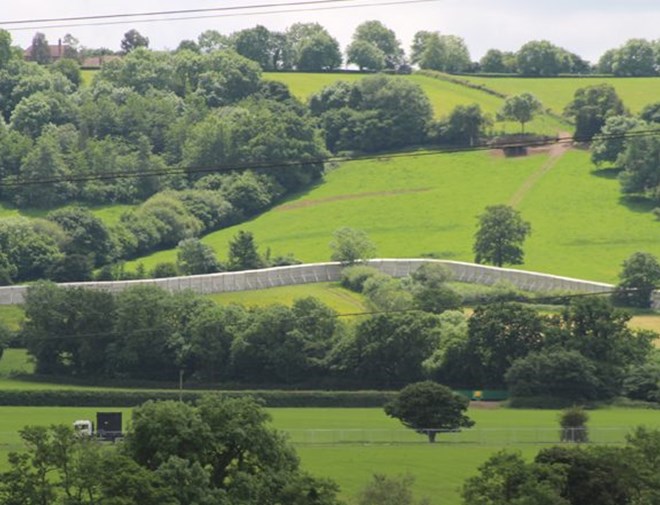 Glastonbury Festival
As the largest greenfield music and performing arts festival in the world, Glastonbury was established in 1970, becoming an annual fixture in the 1980's and growing to become the major event in British culture it is today.
Glastonbury does have fallow years. These are taken mostly at five-year intervals and are intended to give the land and local population a break as the festival attracts hundreds of thousands of visitors each time, with the peak set at 300,000.