Our fleet of modern, fully-equipped welfare vans is meticulously maintained and furnished to cater to the requirements of your team.
From comfortable seating and plenty of workspace to kitchen facilities and restroom amenities, we ensure that your team has everything they need 24/7.
Our vans are equipped with heating, air conditioning and proper ventilation systems, allowing you to work efficiently regardless of the weather conditions outside. We prioritise safety by incorporating features such as fire extinguishers, first aid kits, and secure storage compartments for valuable equipment.
Whether you want to hire a welfare van for a day, a week, or longer, we offer flexible rental options to accommodate your requirements. Our team of experienced professionals will work closely with you to understand your needs and recommend the best welfare van solution tailored to your project.
OUR WELFARE VANS' FACILITIES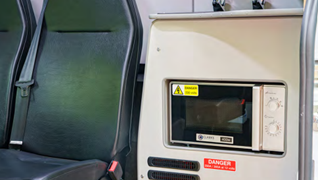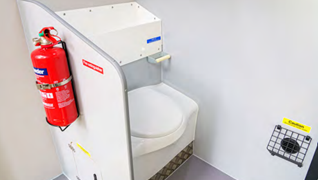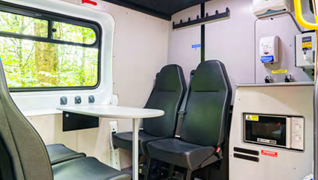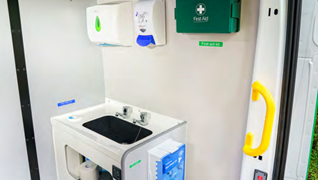 Feature card section
OUR ACCOMMODATION SERVICES
All of our specialist Accommodation depots have a paint oven facility which allows us to spray cabins in your corporate colours, wherever your site may be located.
Based in Chesterfield, our Customer Centre team are your dedicated point of contact, where you only have to make one call and we'll sort it all! We deal with the whole process - from the initial enquiry through to receiving the order and dealing with the relevant Accommodation service centres. Or even manage the entire project for you.
Sunbelt Rentals Project Managers have the experience and knowledge required to plan project activities, evaluate progress and implement a successful installation. Genuine specialists in what they do, our PMs can prepare risk assessments and lifting plans for your project ensuring all targets are achieved efficiently and safely.
Customer Livery

24/7 Customer Support

Project Management

National UK Supplier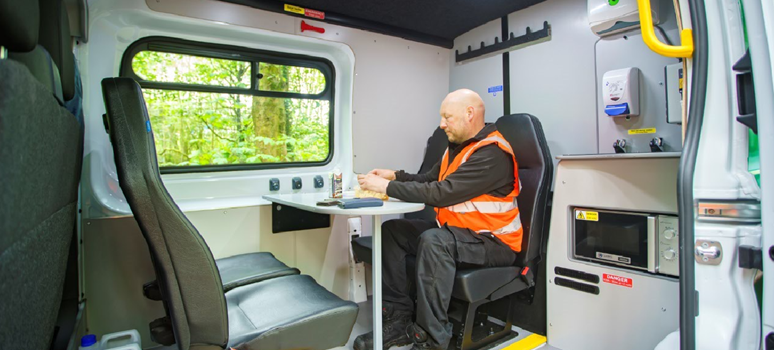 Recent additions to our 100+ fleet include vehicles run on HVO fuel
Modern engine specifications to minimise C02 emissions
Cooking facilities, washing facilities and toilet as standard
Safety and welfare equipment includes first aid kit, grab handlers, anti-slip flooring, fire exit, reversing cameras and parking sensors
Hot and cold running water in crew and toilet areas
Spray-lined toilet area, fully sealed and washable
Metrics Section
25,000 units in our welfare and accommodation fleet
270 specialist employees
20 lorry mounted cranes
10 depots across the UK
Talk to us today about your accommodation needs
Please talk to our specialist team on 0330 433 1766 or 
DOWNLOAD - Our Welfare Vans' technical specification sheets
YOU MAY ALSO BE INTERESTED IN ...

FIND A LOCAL DEPOT

With depots across the UK & Ireland, we can support you with all of your project needs, wherever you are working.

Use your location

CONTACT US

Thank you for your interest in Sunbelt Rentals. Our customer care teams are available to assist with any enquiries you may have.