From construction sites, warehouses, commercial and retail outlets to outdoor events and emergency situations, Sunbelt Rentals has decades of experience in delivering and installing industry-leading heating equipment across all market sectors.
When the cold weather starts, temporary heating equipment plays a vital role in providing essential warmth and comfort in environments that lack or have inadequate heating systems.
We can deploy our equipment to provide immediate relief and help you maintain optimal temperatures for health, well-being, and productivity. We can also support in emergencies such as natural disasters or power outages to prevent health risks associated with extreme cold.
Temporary heating equipment offers greater flexibility, eliminating the need for permanent installations and the associated expenses and ensuring you only pay for what you need when needed.
FAN HEATERS

Instant warmth wherever you need it with adjustable settings and sturdy design for maximum durability.

ELECTRIC HEATERS

Portable electric heaters for a wide variety of spaces. Models available from 1.5kW to 3kW.

INFRARED HEATERS

Safe and clean heaters for people and spaces with an effective range of up to 6 metres.

PORTABLE HEATERS

Portable electric heaters for a wide variety of spaces. Models available from 1.5kW to 3kW.

INDUSTRIAL HEATING & DRYING FANS

Highly efficient for heating large indoor and outdoor spaces. Models available from 9kW to 36kW.

EMERGENCY HEATERS

24/7 Support for emergencies whenever you've lost heat in your facility.

GAS HEATERS

We offer various energy-efficient gas heaters to provide comfort and warmth in different settings
Info Section
Download - Heating products brochure
Our decades of industry experience puts us in a unique position to meet your heating needs.
NEED HELP CHOOSING THE RIGHT HEATER?


We recommend 1kW of power per 25 cubic metres. To calculate what size heater you need to keep your environment warm, you need to look at the dimensions of your room (length, width and height) to give you your total room size. You then need to consider how well-insulated your room is and the temperature you'd like your room to be at.

You can also use our simple online calculator or get in touch. A team member will be able to do the calculations for you.

This will depend on the solution you install. Our heating equipment typically runs on fuel sources such as electricity, HVO, LPG or Butane. Our team of experts will be able to provide you with guidance on the most suitable solution for your space.

We pride ourselves on supplying energy-efficient oil-fired heaters. As a rough example, a 3kW oil-fired heater will use 3kW (3,000 watts) per hour and cost around £0.43p to run (depending on the cost per unit of electricity) or £3.43* for 8 hours. The power rating (watts/kWs) will dictate the running costs; the higher the watts, the more it will cost to run.

With our nationwide depot network, we can deliver, install and demonstrate heaters the next day after placing an order in most cases.

For the winter months, we recommend getting in touch as soon as possible so we can get your equipment set up before the cold weather kicks in.

Yes, if you need immediate heating get in touch today, and our team will work with you to rapidly deploy an effective solution anywhere nationwide.
Metrics Section
40+ years experience in temporary cooling and heating solutions
4 hour delivery to critical sites, 24/7 365 days a year
24/7 heating and cooling uptime
10 strategically placed climate control depots across the UK
Talk to us today about your heating needs
OUR CASE STUDIES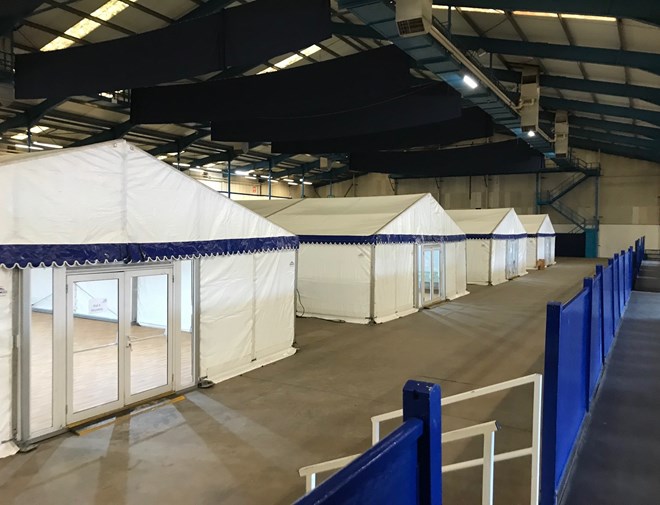 Taunton and Somerset NHS Foundation Trust
As part of the NHS Covid-19 vaccination roll out in 2021, the Bath and West Showground at Shepton Mallet is to become one of the main centres delivering vaccinations for people in Somerset.
The 240 acre site urgently requires heating, lighting and safety measures to be in place before it could open to the public.


YOU MAY ALSO BE INTERESTED IN ...