IN A WORLD RELIANT ON DATA, WE UNDERSTAND THE IMPORTANCE OF SUPPORTING THE POWER DEMANDS OUR DATA CENTRES FACE WORLDWIDE.
We are experts in providing 24/7 Data Centre support and have a wealth of experience in providing solutions that support our clients from the construction phase to Loadbank testing for commissions, on-going maintenance including UPS support to heat load testing, cooling and contingency planning.
Through our comprehensive range of equipment including UPS systems, Generators, and Loadbank hire to LV/HV Transformers and heat load testing we provide comprehensive critical energy support to Data Centres worldwide.
Our team of experts will provide peace of mind through technical support and complete project management to ensure your Data Centre maintains their power and temperature control requirements.
When it comes to Energy Solutions for Data Centres you can Leave The How to Us.
To speak to our experts or to find out more about our Critical Power Services, call 0800 231 5758 or
CRITICAL POWER SUPPORT FOR EVERY DATA CENTRE, IN EVERY SCENARIO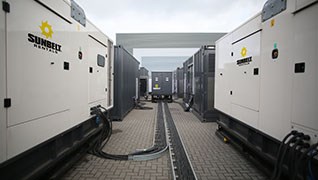 Generator Hire for Data Centres
If your site cannot be connected to the grid during any periods of commissioning or expansion, we will provide you with a comprehensive generator hire solution to avoid costly delays.
Our generators along with our range of Clean Energy Solutions can also supplement grid supply if extra power is needed.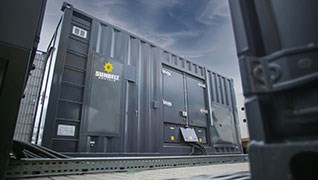 UPS Hire for Data Centres
Our UPS hire service can cover UPS failures, UPS replacements or upgrades and we will provide stand-by sets whilst any maintenance is carried out on any on-site generators.
If your energy demands exceed the capacity of your existing UPS or reduces the available redundancy of N+ systems a temporary UPS could be the solution. Speak to our team of experts about single or modular UPS solutions to support the critical power requirements of your Data Centre.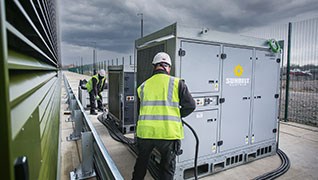 Loadbanks for Data Centres
Our DC and AC Reactive/Resistive Loadbanks are used by data centres for the periodic testing of the UPS discharge times to ensure that they can take the required load on site.
They can be utilised to commission the LV/HV generators and UPS units during the commissioning phase (IST), as well as to test the generators in line with the recommended Pre Planned Maintenance (PPM) schedule.
Loadbanks will also support the discharging of batteries to ensure the UPS can recharge the units within an acceptable timeframe.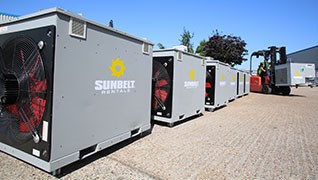 Heat Loadbanks for Data Centres
Our heat Loadbanks are designed to simulate an actual heat load created by the servers to test the data hall air conditioning system at commission phase.
Single or multiple units can be used to simulate heat load if the data hall is expanding or if you're site is refurbishing existing servers.
In addition, the UPS and/or embedded site generation can be tested to ensure that they can hold the AC load.