WHEN IT COMES TO ENERGY AND TEMPORARY POWER OUR TEAM OFFER A WIDE RANGE OF SOLUTIONS TO REDUCE EMISSIONS AND IMPROVE AIR QUALITY FOR ALL.
These include fitting DPF filters and SCR systems to power equipment with a combustion engine. The wall-flow diesel particulate filter bricks simultaneously promote passive soot regeneration and reduction of NOx; with heat from the engine exhaust burning off the particulates in a continuous manner, requiring no auxiliary exhaust heating components. 
Simultaneously, the SCR catalyst provides NOx reduction when urea (AdBlu) is injected upstream using standard SCR urea dosing and mixing strategy.  This system is project-specific and designed according to the engine and emission reduction requirements. In some designs a secondary layer of SCR catalyst is combined with the wall-flow DPF module.
In addition, our Energy team can advise on the use of fossil free fuels (such as HVO) to reduce emissions, and the use of Cleaner Energy Solutions to not only reduce emissions, but in some cases introducing Battery, Solar or Smart technologies can provide significant financial savings through reduced energy and fuel consumption.
To speak to our experts or to find out more about our Critical Power Services: 0800 231 5758
HOW CAN YOU REDUCE YOUR EMISSIONS?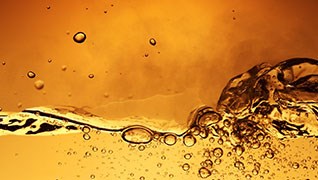 Fossil Free Fuel (HVO)
If you're looking for a fossil free, sustainable fuel that's compatible with your existing equipment then speak to our team about HVO. 
HVO (Hydrotreated Vegetable Oil) is a fossil free alternative that can reduce CO2 emissions by up to net 90% and is a 'drop in' fuel, so there's no need to drain or change fuel tanks.
Find out more about HVO - HVO Fuel Solutions | Sunbelt Rentals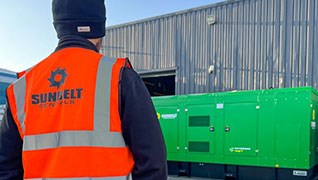 Stage V Technology
Stage V is the latest stage of engine emission legislation designed to further reduce pollution generated by off-road engines.
At Sunbelt Rentals UK we've invested millions in Stage V compliant equipment from a range of leading manufacturers including the latest generators from leading manufacturer Bruno.
Equipment that meets the Stage V standard can help improve air quality, reduce carbon emissions and PM (by filtering out particulate matter before it reaches the exhaust) and can offer greater fuel efficiency.
Our Stage V plant equipment can be used with HVO fuel to reduce emissions even further.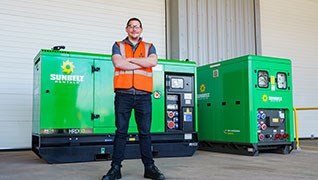 Clean Energy Solutions
Our Clean Energy team work alongside our Critical and Power Generation Teams to bring clean energy solutions to customers whenever there is opportunity to do so. This maybe through creating hybrid power systems with BSUs, Smart distribution Boards that help control energy consumption or Peak Power Support systems to help support dynamic loads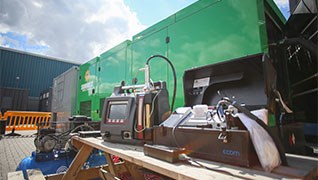 Diesel Particulate Filters (DPF)
DPFs are aftertreatment devices that act as a physical barrier removing particulate matter from the exhaust. Our emissions experts can work with you to identify if a DPF can be fitted to your Critical Power Solution to further reduce emissions and improve air quality.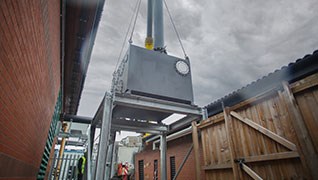 Selective Catalytic Reduction (SCR)
SCR systems will reduce NOx emissions by combining exhaust gases with AdBlue and passing it over a catalyst and therefore improve air quality. Our emissions experts can work with you to identify if an SCR system can be fitted to your Critical Power Solution to further reduce emissions and improve air quality.