Our market-leading range of grinding and polishing machines offer a choice of equipment for preparing and maintaining concrete floors of all types and sizes.
We understand that when comes to grinding and polishing concrete floors no two jobs are the same. That's why flexibility is built into our tailored rental agreements from day one. The ability to change and adapt your fleet to meet different requirements without having to worry about finding funds for capital investment means you always have the right equipment for the job, whatever the job. Continued investment in the UK's largest rental fleet takes this even further, ensuring you have access to the newest and most advanced equipment available, today and tomorrow.
The best choice for you and your operators
We include the latest generation of remotely operated equipment, which takes the strain off operators, reducing the risk of vibration-related health conditions.
Only pay for what you use, when you use it
Whatever the task, we'll help you find the best solution for the job and make sure it is delivered wherever you need it, whenever you need it. Well also make sure it's taken away - straightaway when the job is done. So, you never have to worry about paying to store and maintain machines you are not using. Expert equipment selection advice and prompt on-hire and off-hire scheduling are just part of an end-to-end white glove service, which covers everything from site surveys to 24/7 support, leaving you free to concentrate on what you do best. Leave the how to us.
Feature card section
OUR SERVICES AND SOLUTIONS
Whatever you need, we'll deliver the right equipment for the job whenever you need it - and take it away when you no longer need it. So, you don't have to worry about paying to store and maintain machines you are not using.
All of our equipment is maintained to the highest standards in the industry, ours, and if something does go wrong, we'll provide a replacement machine before the next clean - maximising uptime.
Our flexible hire agreements even come with the added reassurance of 24/7 emergency support. When you partner with Sunbelt Rentals, we take care of everything, leaving you free to concentrate on your core business.
Flexible rental agreements

Nationwide same day / next day delivery

Remote controlled equipment

24/7 expert support with no downtime
OUR FLOOR GRINDING AND POLISHING PRODUCTS
NEED HELP CHOOSING THE RIGHT FLOOR GRINDING & POLISHING EQUIMENT? 
Yes, we stock a range of remote-controlled planetary grinders. We're always looking to help our customers to improve safety on site and by using a remote-control operators can significantly reduce the health risks of vibration-related conditions. If required all of our machines can also be operated in walk-behind mode.

We stock all of the tooling that you will require for your project. Please speak to our team of experts and explain the finish you need to achieve and they will walk you through the tooling journey you will need to travel to achieve this.  

Yes, our range of grinders and polishers require a power source to be operated. Through the Power of Sunbelt we can supply temporary, clean energy solutions for your site to power both your flooring solutions as well as any other equipment or services you need to run.
VIEW OUR OTHER FLOOR CARE & MAINTENANCE PRODUCTS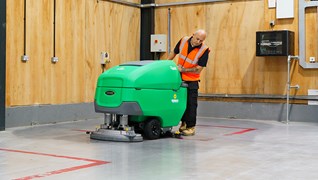 Floor Cleaning and Carpet Care
We offer sweeping and scrubbing solutions for all kinds of environments from commercial and industrial facilities to retail spaces and car parks.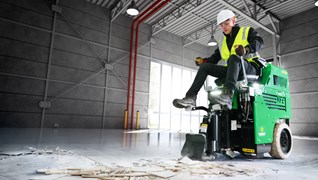 Floor Scrapers and Strippers
Our market-leading fleet offers a solution for any and every application, from the small but powerful walk-behind machines to the heavy-duty ride-on units.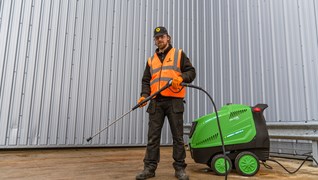 Pressure Washers
Our industrial pressure washers offer a powerful cleaning solution for various applications, from construction sites to factories, providing efficient and thorough cleaning.
Metrics Section
Prep, clean and maintain
Any floor, any size, anywhere
No hassle, no risk
Talk to us today about your floor care and maintenance needs.
Blogs Section
5 Critical Steps for Concrete Floor Preparation and Care

Concrete floors are an attractive and sustainable flooring option for any space and offer a multitude of advantages over traditional carpet, vinyl, and tiles. But whether it is their durability and reduced maintenance expenses that hold such an appeal, the evident environmental advantages, or the fact that they can match any décor, there are five important steps that must be considered when investing in concrete flooring. Let us talk you through them.

READ MORE