Our white glove service and tailored rental agreements make it easy to access the most efficient floor cleaning and carpet care equipment for all your floor cleaning hire needs.
Cleaning and maintaining heavily trafficked floors can be time-consuming and labour-intensive. But it doesn't have to be. Our white glove service and tailored rental agreements make it easy to access the most efficient floor cleaning and carpet care technology
Flexibility is built in from day one, making it easy to change the size and spec of your fleet in line with demand. Unlike traditional leasing, you're not tied to a long-term contract, so you don't have to worry about the cost of storing and maintaining machines you are not using. 
With a wide range of floor cleaner hire options, from industrial floor cleaner hire to general floor cleaning machine hire, we have a wide range of products to suit your requirement.
Always the best and most efficient choice
We offer sweeping and scrubbing solutions for all kinds of environments from commercial and industrial facilities to retail spaces and car parks. Including a powerful range of ride-on and walk-behind machines that allow large areas to be cleaned quickly and easily.
Telematics-enabled machines provide real time equipment health and usage reports, maximising uptime and optimising utilisation. Plus, autonomous equipment that frees up resources for other tasks, and remote solutions that boost efficiency and provide a safer working environment for operators.
One partner. One point of contact.
Every machine in our self-owned fleet is maintained to the highest standards, and if anything unforeseen should happen we'll replace it before the next clean. You also have the reassurance of 24/7 support. All part of an end-to-end service that covers everything from expert equipment selection advice and same-day/next-day delivery to on-site operator familiarisation, professional equipment servicing and predictive maintenance. Just tell us what you need to achieve. Leave the how to us.
Feature card section
OUR SERVICES AND SOLUTIONS
Whatever you need, we'll deliver the right equipment for the job whenever you need it - and take it away when you no longer need it. So, you don't have to worry about paying to store and maintain machines you are not using.
All of our equipment is maintained to the highest standards in the industry. And if something does go wrong, we'll provide a replacement machine before the next shift - maximising uptime.
Our flexible hire agreements even come with the added reassurance of 24/7 emergency support. When you partner with Sunbelt Rentals, we take care of everything, leaving you free to concentrate on your core business.
Flexible rental agreements

Nationwide same day / next day delivery

Real time IRIS telematics enabled machines

24/7 expert support with no downtime
OUR FLOOR CLEANING AND CARPET CARE PRODUCT RANGE
NEED HELP CHOOSING THE RIGHT FLOOR CLEANING AND CARPET CARE EQUIPOMENT?
We stock a wide range of machine sizes within our fleet, from compact but powerful walk-behinds with a cleaning path of 380mm ideal for smaller and hard-to-reach areas through to larger ride-on machines that can cover vast areas within a short period of time. Tell us about your space, application and requirements and our team of experts will be able to recommend the right machine to meet your needs.

We'll work with you to find the most cost-effective solution depending on your requirements. We pride ourselves on providing our customers with a genuine alternative to restrictive lease agreements that don't deliver the flexibility you need. Our rental agreements are built around you and your business, with no hassle or long-term financial risk. Plus, when you hire from Sunbelt Rentals there are no mobilisation or maintenance costs, leaving you to focus on your core business.

Our cleaning equipment is intuitive and easy-to-use with a number of built-in features to improve operator experience. It doesn't require any specific training to be able to use it, however as part of our White Glove Handover we provide a demonstration and familiarisation session so you're confident to operate it.

All of our equipment will be serviced and maintained to manufacturer standards before it goes on hire, giving you one less thing to worry about. As an operator you will be required to carry out daily checks, to make this process simple we'll provide clear instruction on how to complete this. For long-term hires we'll work with you to carry out any scheduled maintenance without causing disruption to your operations and if anything does go wrong, we'll repair or replace the machine before your next clean.

Yes. We stock a range of cleaning solutions and chemicals. Please speak to team about the type of cleaning you're carrying out and we'll be able to advise on the best solution.

Whilst the equipment is on hire you may need to replace the pads on the machine, depending on usage. Our expert team will be able to support with the purchasing and changing over of the pads when required. We can also provide a 'Just in time' delivery package so you never go without.
VIEW OUR OTHER FLOOR CARE AND MAINTENANCE PRODUCTS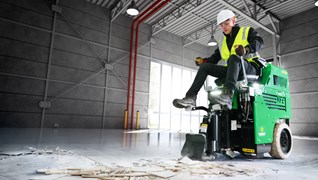 Floor Scrapers and Strippers
Our market-leading fleet offers a solution for any and every application, from the small but powerful walk-behind machines to the heavy-duty ride-on units.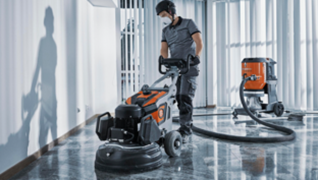 FLOOR GRINDERS AND POLISHERS
Our range of grinding and polishing machines offers a choice of equipment for preparing and maintaining concrete floors of all types and sizes.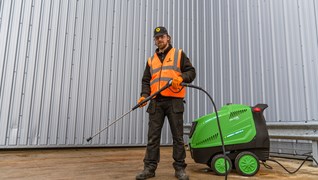 PRESSURE WASHERS
Our industrial pressure washers offer a powerful cleaning solution for various applications, from construction sites to factories, providing efficient and thorough cleaning.
Metrics Section
Prep, clean and maintain
Any floor, any size, anywhere
No hassle, no risk
Talk to us today about your floor care and maintenance needs.
Blogs Section
Why Robotic Cleaning Machines?

Companies of all kinds are discovering the advantages of robotic machines. From increased productivity to more efficient operations, these machines are providing organisations and employees with clear benefits.

READ MORE