SUNBELT RENTALS IS THE UK'S LEADING PROVIDER OF WELFARE UNIT HIRE, OFFERING A WIDE RANGE OF SELF-CONTAINED AND MOBILE WELFARE UNITS TO ACCOMMODATE TEAMS OF ALL SIZES.
Our welfare units are designed to meet all the necessary regulations and requirements for construction sites, and we provide top-quality units that are essential for ensuring the health, safety, and comfort of workers.
We understand the importance of having proper welfare facilities available for your staff, and we strive to make the process of setting up welfare units as seamless and efficient as possible.
We offer a variety of welfare units to choose from, including:
Static welfare units
Mobile welfare units
Towable welfare units
Eco-rated welfare units
Depending on your requirements, our welfare units are equipped with all the essential amenities, such as:
Toilets and showers
Kitchens and break areas
Changing rooms
First aid facilities
Office space
STATIC WELFARE UNITS

A practical, all-in-one solution for fixed sites or mobile project teams, essential for the health, safety, and comfort of your workforce.

TOWABLE WELFARE UNITS

A lightweight and compact mobile alternative that meets HSE requirements and provides your on-site needs in one small package.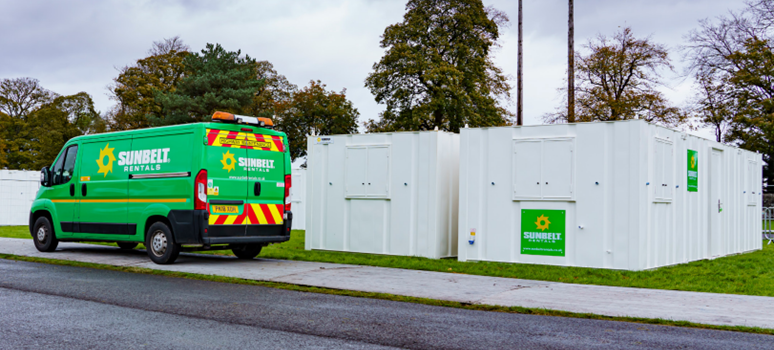 OUR ECO-RATED WELFARE UNITS
Our eco-units are built to reduce carbon footprint and incorporate energy-efficient systems, such as solar panels and water-saving fixtures.
Join us on the journey towards a greener tomorrow. With our eco-friendly welfare units, you can make a positive difference without sacrificing convenience or style.
If you want to reduce fuel costs, generator run hire, noise pollution and CO2 emissions, choose Sunbelt Rentals for your eco-rated welfare units.
Feature card section
OUR ACCOMMODATION SERVICES
All of our specialist Accommodation depots have a paint oven facility which allows us to spray cabins in your corporate colours, wherever your site may be located.
Based in Chesterfield, our Customer Centre team are your dedicated point of contact, where you only have to make one call and we'll sort it all! We deal with the whole process - from the initial enquiry through to receiving the order and dealing with the relevant Accommodation service centres. Or even manage the entire project for you.
Sunbelt Rentals Project Managers have the experience and knowledge required to plan project activities, evaluate progress and implement a successful installation. Genuine specialists in what they do, our PMs can prepare risk assessments and lifting plans for your project ensuring all targets are achieved efficiently and safely.
Customer Livery

24/7 Customer Support

Project Management

National UK Supplier
NEED HELP CHOOSING THE RIGHT WELFARE UNIT?
No.  All of our welfare units are fully self-contained with an integrated generator.

Yes, we can schedule a weekly toilet empty for all welfare units, with the cost of the service included in the hire rate.  This does not apply to the premium Eco units as they have a larger tank and do not require servicing weekly when used as per manufacturer guidelines.

Our larger mobile and static welfare units tend to have full flushing toilets
Traditionally, temporary welfare units are powered by a fuel generator, but we can offer a more sustainable solution. We have a range of power solutions to reduce not only your emissions, but significantly reduce running costs as well.
From Battery Storage Units (BSU) and Energy Management Systems (EMS) to providing you with HVO Fuel Systems, our range of clean energy equipment can help you reduce your carbon footprint.
These carbon saving solutions are designed to integrate with more traditional power equipment such as generators, and when used in the right configuration on your site or at your event they are proven to reduce costs and emissions by up to 80%.
Metrics Section
25,000 units in our welfare and accommodation fleet
270 specialist employees
20 lorry mounted cranes
10 depots across the UK
Talk to us today about your accommodation needs
Please talk to our specialist team on 0330 433 1766 or 
Info Section
Download - Welfare unit comparison chart
Use our comparison chart to learn more about our Welfare Units and see how much you can save with our eco-options.
YOU MAY ALSO BE INTERESTED IN...

OUR CASE STUDIES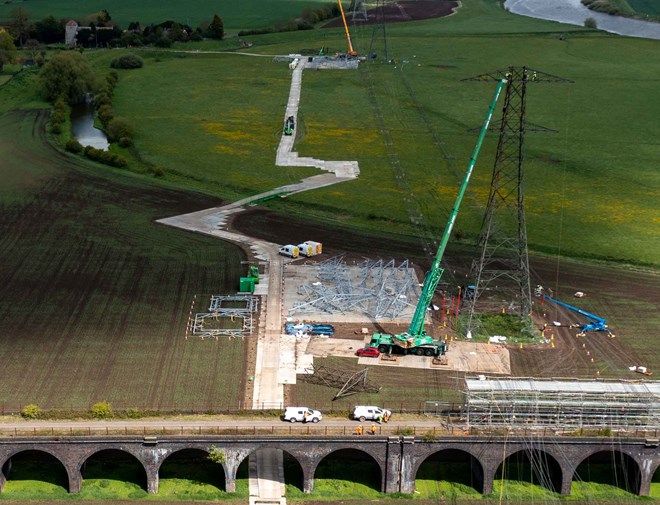 High Marnham Overhead Line Refurbishment Project
Balfour Beatty was appointed by National Grid to carry out the refurbishment of an overhead line running between Cottam and High Marnham near Newark in Nottinghamshire. In service since the mid 1960's, essential refurbishment work was required to ensure that the line continues to provide a reliable supply of electricity to homes and businesses in the area in the years to come.