OUR CRITICAL POWER SERVICES SUPPORT BUSINESSES AND ORGANISATIONS WHEN THEY NEED IT THE MOST.
Our expert team operates throughout the UK and mainland Europe providing clients with a full back up energy solution in situations where losing power isn't an option.
Through our comprehensive range of Loadbanks, Generators, Uninterrupted Power Supply's (UPS) and HV Transformers, the team can provide a full solution so your business can continue to carry out its critical services.
Our team will offer a range of services including; design, installation, site management, contingency planning and emergency support.
Critical Power will provide an end-to-end service, from design and planning a shut-down, providing the equipment and LV/HV support services, project managing the installation, onsite support real-time and final decommission and removal.
Our Critical Power and Clean Energy teams will work together to ensure you not only receive the latest innovative and expert advice, but they'll also discuss and offer the most sustainable energy solution for your specific needs.
To speak to our experts or to find out more about our Critical Power Services, call 0800 231 5758 or
OUR CRITICAL POWER SERVICES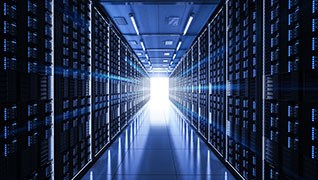 Data Centre Support
We understand the importance of supporting the power demands our Data Centres face worldwide.
We are experts in providing 24/7 Data Centre support and have a wealth of experience in providing solutions that support our clients from the construction phase to Loadbank testing for commissioning, ongoing maintenance including UPS support to heat load testing, cooling and contingency planning.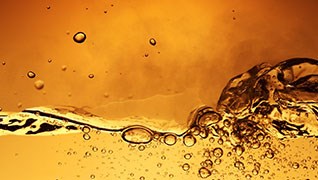 Reducing Emissions
Our specialists will work with you to identify where additional fuel and emission savings can be made through your Critical Power Solution.
This can be through alternative fuels, Clean Energy Solutions, Stage V engine technology, the fitting of Diesel Particle Filters (DPFs) or Selective Catalytic Reduction (SCR) systems.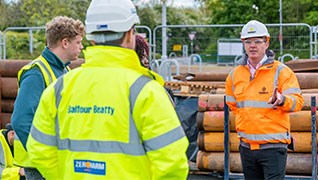 Project Management and On-Site Support
We're here to support our clients every step of the way, from site surveys to design, installation and project management. And with an Engineer and Technical Sales Advisor on call 24/7, our experts will support your Critical Power project every step of the way.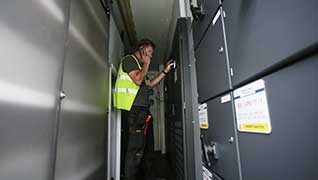 Emergency Cover
We provide 24/7 support 365 days a year.
Emergency cover requirements can differ with every client and our team will discuss your specific emergency cover with you.
They are proactive and will maintain your power systems to avoid downtime as well as offering reactive emergency response solutions.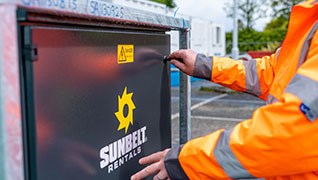 High Voltage Services
We specialise in High Voltage applications across every sector, including Data Centres, Construction, FM and Manufacturing Facilities to Healthcare, Oil and Gas Facilities and other Utilities sites. Our HV equipment is backed by experts to support you with HV prime and backup power, distribution, and contingency planning. If you need support with HV power contact our team now.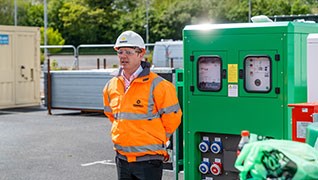 Reporting
We understand the importance of data and reporting on your Energy services to enable you to make informed decisions as well as monitor performance. Our Team can provide a range of reporting facilities across our Critical Power services.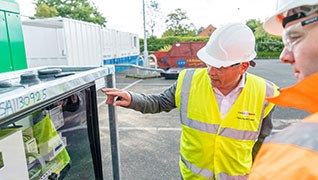 Equipment Rental
A comprehensive rental fleet backs up the services we offer.
Our hire fleet includes Generators, Temperature Control Equipment, HV/MV Transformers, UPS modules from 30kVA to 1000kVA and resistive/reactive Loadbank rental packages at LV or HV from 230v to 22kV and single units from 18kW to 5000kW as well as fuel systems and services.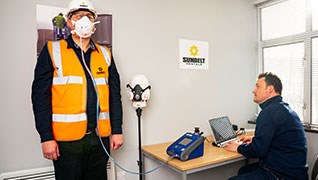 Healthcare Sector Support
The continuation of power throughout any interruption to normal supply, planned maintenance or throughout an unplanned emergency is critical to many businesses and sectors, but none more so than the Healthcare sector..
We've supported the Critical Power needs for dozens of clients within the Healthcare industry for many decades, providing solutions that ensure the continuation of power in hospitals, speciality units and hospices.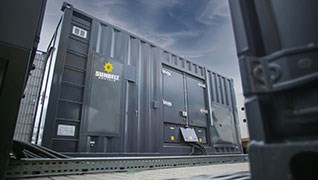 UPS Systems
We understand that Critical Energy Support starts with a comprehensive UPS system that can provide near-instantaneous protection should your primary power supply fail. Providing an essential service before your emergency power system can fully engage and support your energy needs.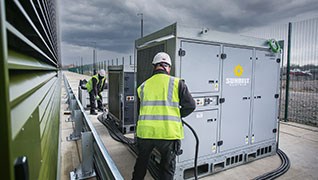 Loadbanks
When it comes to Critical Energy the Loadbank plays a crucial part in simulating the electrical load to test your power solutions without connecting it to its operating load.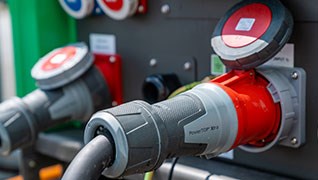 Cabling and Distribution
As part of our Energy Solutions our electrical engineers can design and install a comprehensive cable and distribution service. From HV cables to distribution boards and everything in between our team will work with you to help design your complete temporary power solution.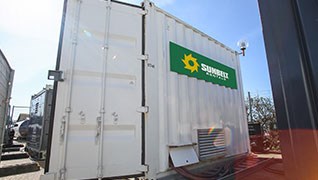 HV Transformers
Our fleet of HV Transformers are backed by experience and expertise, because when it comes to high voltage you need a solution and a team you can rely on.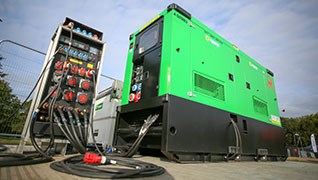 Generators
We are experts in Generator hire with units ranging from 30kVA to 2000kVA. From the supply of a single Generator to fully integrated energy solutions our expert team will work with you to identify the most efficient, sustainable and cost-effective solution for your business.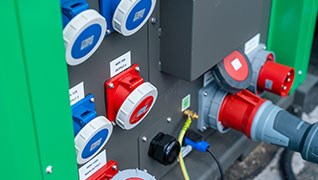 Distribution Boards
From a 16amp single phase to 3 phase 4000amp mains distribution boards our team has a range of solutions and will work with you to design and install the right solution for your project.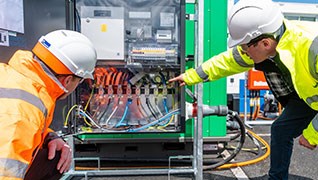 Smart Distribution Boards (Energy Management System)
What if a distribution board could help control the energy needs and distribution on your site? Our Energy Management System can do just that.
Our engineers will work with you installing an EMS as part of your Energy Solution it can be programmed to turn off devices when not in use, saving you money in reduced fuel consumption and reducing your CO2 emissions.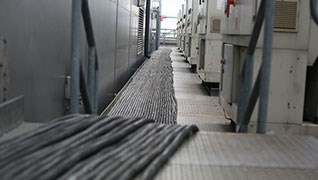 Cable Hire
We offer one of the largest stocks of single core, multi-core and HV cables in the UK and can fulfil any temporary power cable requirement. From a single 16amp single-phase extension lead through to multiple cable runs in varying lengths, we provide a full cable installation service including final connection and certification. When it comes to cable and distribution supply and installations, we are the experts so leave the how to us.