OUR DEDICATION TO THE ENVIRONMENT GOES BEYOND OUR BRAND COLOUR.
We are relentless in our commitment to finding better ways to overcome environmental challenges, and our investment in equipment that reduce environmental impact and lower emissions.
Together, they have enabled us to lead the curve in providing tools that deliver a sustainable way of working to suit every site, customer, and budget.
Our range of greener solutions improves efficiencies using renewable technologies. They help you meet your sustainability goals, lower emissions, reduce energy costs, and strengthen your ESG credentials.
These extensive solutions cover battery and solar-powered energy, electric plant, eco- and solar-powered welfare units and the UK's largest fleet of solar and hybrid tower lights. All backed with onboard telemetry to provide valuable data, help monitor performance and enable you to make informed decisions with real-time statistics such as fuel consumption and uptime.
Our investment in new technologies never stands still. From wind and solar to hydrogen, our dedicated team continue to research and trial fuels and technologies of the future, so we can continue to bring the latest innovations to our customers and help Our Planet.
Our expert team are committed to helping all our customers switch to more sustainable solutions wherever possible. Whatever your business sector, whether it's construction, film and TV or events, we have a dedicated team who can review your needs and offer solutions that won't just help our planet. They'll deliver commercial savings too.
But don't just take our word for it. Have a look at the savings some of our customers have made by going greener.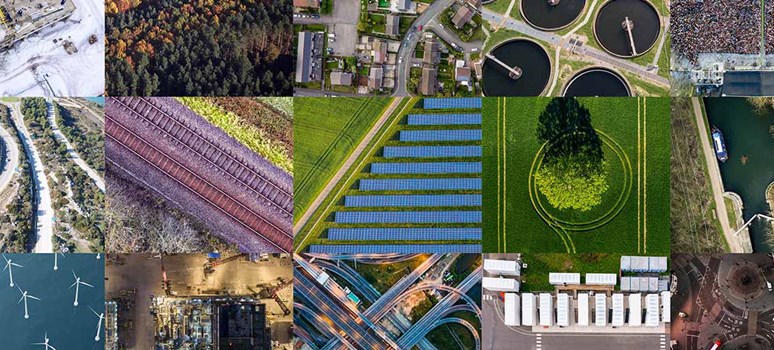 Our Planet is an action plan for a greener, brighter future at the heart of everything we do.
This plan will steer us towards a greener climate, help communities thrive and build lasting customer relationships as we help businesses go greener faster.

With our commitment to Our Planet, we are the ideal partner to help meet your sustainability goals and strengthen your community impact.
With our extensive range of equipment we are leading the curve in rental solutions and providing our customers with an extensive range of greener equipment...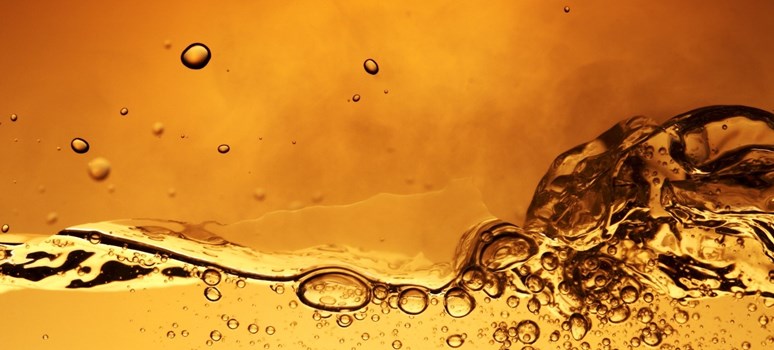 While electric power isn't an option across large plant, you can still reduce your emissions with Stage V.
Our Stage V-compliant equipment includes excavators, dumpers, generators, butt fusion machines and powered access equipment.
To reduce your emissions further, we supply HVO fuel and endorse its use across our range of equipment.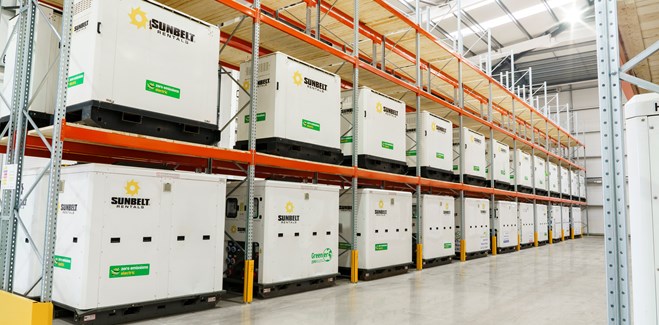 Cleaner Energy Solutions
Temporary power solutions are often one of the largest contributors to noise and greenhouse gas emissions on sites, film sets and at events. But it doesn't have to be this way.
With our cleaner energy solutions and proven expertise, you can lower emissions, reduce fuel consumption, and optimise your energy usage.
Our experts will guide you through our hybrid, solar and smart energy solutions. With Sunbelt, the power to go greener is well and truly in your hands.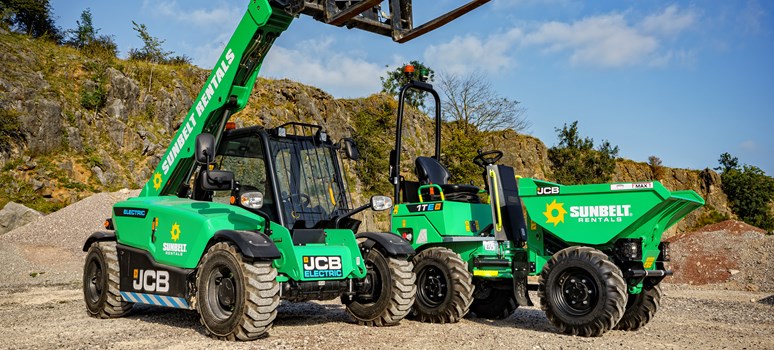 ELECTRIC AND STAGE V PLANT
We're continually investing in the latest electric and Stage V technology and are proud to offer the UK's largest rental fleet of greener plant.
The power requirements of larger excavators, coupled with battery capacity, mean that electric plant is only offered across the smaller range of excavators, dumpers and telehandlers right now.
However, if you're after a greener solution in a larger plant, we offer Stage V-compliant telehandlers, excavators and dumpers, all HVO fuel-compatible in compliance for work in low-emission zones.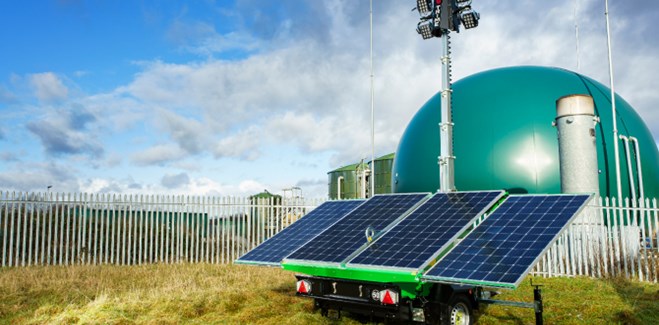 Solar, Battery and Hybrid Lighting
When it comes to temporary lighting, we have the solution.
In recent years we've invested over £20 million in the latest solar, hybrid, eco and battery-powered tower lights and our tower light comparison chart can quickly help you identify the most efficient and economical lighting solution for your site.
In addition, all our eco tower lights are HVO-compatible, allowing you to opt for a fossil-free fuel solution and further reduce your emissions. 
ELECTRIC, HYBRID and STAGE V ACCESS SOLUTIONS
Electric powered access solutions have long been available for use in enclosed spaces.
But in recent years, the range of electric and hybrid-powered access solutions has expanded. So we've invested heavily in stage v, hybrid and electric scissor lifts, vertical lifts, and booms, making the latest access equipment available to all.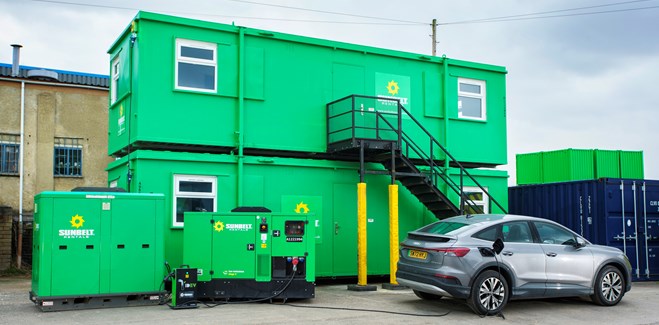 Site Welfare Facilities
Our eco-friendly welfare units are designed to be more energy efficient while using renewable technologies such as solar and battery power.
They can help you save costs while significantly reducing your compound's carbon footprint.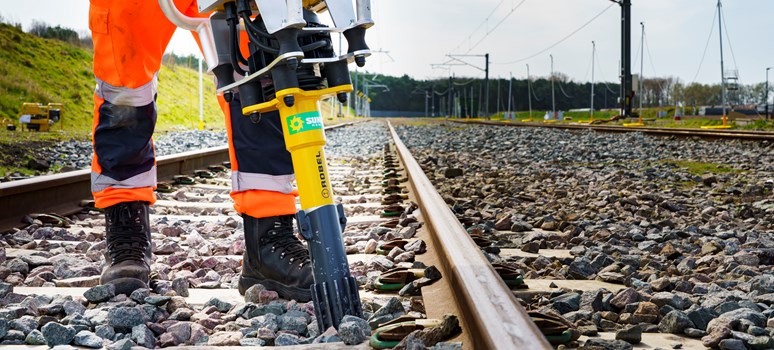 Battery-powered tools have long been available, and we offer these as standard across our tool hire fleet.
We also offer a range of specialist battery-powered tools through our specialist Rail team, certified for use in the UK Rail industry, enabling you to work more sustainably.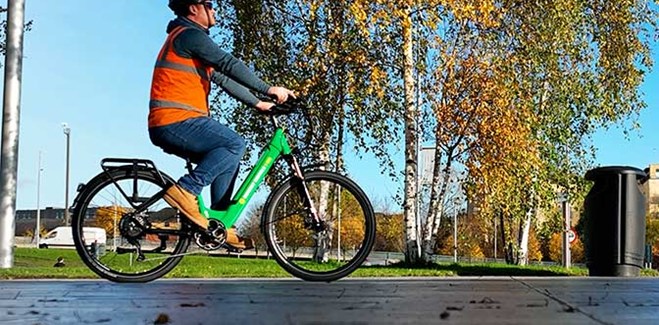 All Greener Products
In addition to the obvious greener choices in plant, power, welfare, lighting, tools, and powered access, we offer equipment that can help you monitor and report on the impact your site or event is having on the environment. As well as other innovative solutions that can help you work more sustainably and reduce your impact on our planet.
From e-bikes to solar-powered CCTV, environmental monitors to ground protection equipment, there are many greener solutions for your site.
However you choose to start your journey to a greener way of working, our experts will help you every step of the way to select the right greener solutions for you.
Along with services to help you further reduce and monitor your environmental impact, our green solutions come with value-added services aimed at enhancing our customers' experience...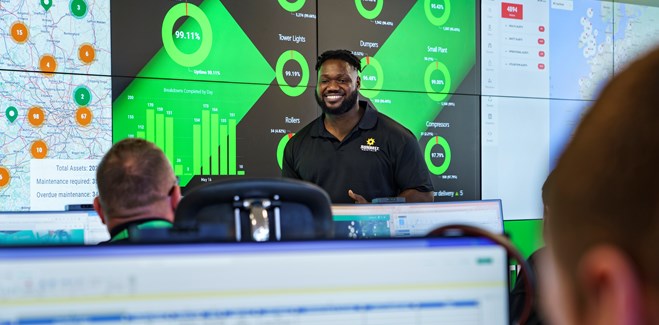 Technologies to help you work smarter
Our market-leading technology can help you work more efficiently and reduce your carbon footprint. Our vast BIM library allows you to build a virtual model of your project.
With this, you can create the most energy-efficient layout and identify where ultra-low carbon and zero carbon solutions can be deployed before your project has even started.
You can download digital products from our BIM library.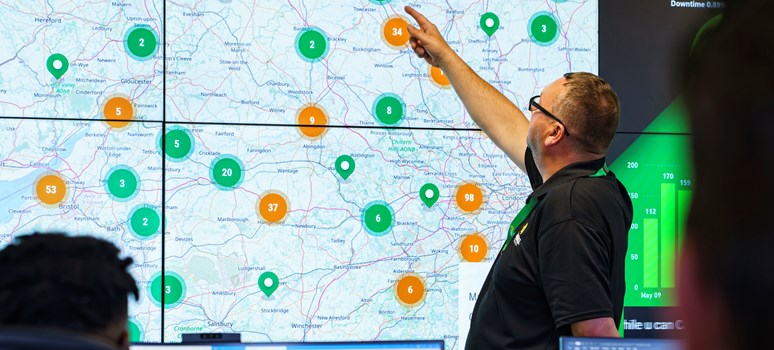 EQUIPMENT TO MONITOR AND REPORT
Our state-of-the-art telematics provides instant access to live data from individual machines, helping you make better decisions where you can:
View fuel usage & CO2 emissions
Track utilisation and idle time
Safety alerts
Speak to one of our customer service advisors about telemetry and accessing our Command Centre today.
At Sunbelt Rentals, we are not just investing in the latest equipment. We are also seeking experts who can identify and advise which solutions will make a real difference for our customers...
Meet Christian, Our Head of Clean Energy
Christian Spence is our Head of Clean Energy and is very much at the heart of seeking out and trialling new energy technologies.
We sat down with Christian to discuss his role and the work of our green team.
Through our investment in greener equipment, we've helped small and big businesses in the UK lower their emissions and costs. Here are a couple of ways we've made it happen...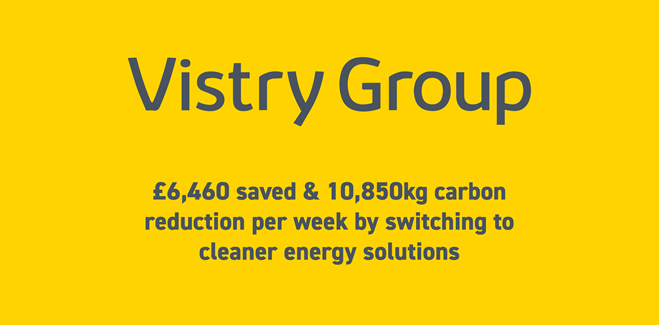 Vistry Group - Meridian Water Project
Find out how The Vistry Group are using cleaner energy solutions to save £thousands each month in fuel costs and significantly reducing their emissions on a major house building project in Greater London.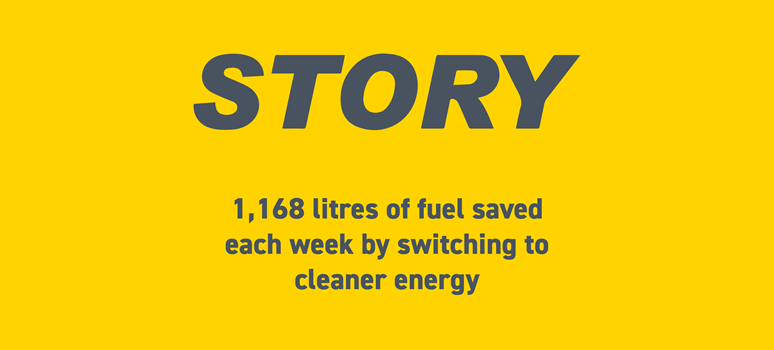 Story Contracting - Clean Energy Solution
As champions of sustainability, Story Contracting are always seeking out greener ways of working.
Check out how some simple swaps to cleaner energy solutions reduced fuel consumption and emissions by almost 70% on one of their recent projects in Scotland.
Download our Greener Solutions Brochure
We have the experience and knowledge to plan and deliver your project and help you achieve your sustainability goals. Click below to download our brochure.
Need help Choosing a Greener Solution?
How do I know if a cleaner energy solution will work for me?
There are many opportunities to incorporate cleaner energy solutions into your temporary power setup. We have a team of specialists who can talk you through the options at 0300 373 1193 or energy@sunbeltrentals.co.uk.

Industry publications and personal research are excellent places to learn about the latest green development in your sector. The quickest way is to call or send us an enquiry.

As the UK's largest rental company, we have experts across different sectors. We will work with you to determine how to maximize greener technologies on your site and meet your business' sustainability goals.

There are also a few simple factors to look out for which provide the perfect environment for clean energy and deliver both cost and environmental savings;

24-Hour Power: If your site requires round-the-clock power, but the loads vary between day and night, then adding a battery (energy) storage unit (BSU) could save you at least 50% in fuel costs and lower emissions.

This works by installing a BSU alongside your generator. The generator powers the site when demands are high, but when the load drops, the BSU takes over, turning off the generator and providing silent, emission and fuel-free power.

Most commonly, this would be overnight and on weekends — but our team can look at your specific requirements and advise the best option.

Powering Welfare and Accommodation Units: When you're powering 6 or more welfare units, an energy management system (EMS) can save you money by turning off devices when not in use and managing the peak power load.

Energy management systems can save £thousands by enabling you to power your site more efficiently and stop energy (and fuel) wastage.

Again, our expert team can advise whether this is a commercially viable option for your site.

Powering Hoists and Tower Cranes: When powering dynamic loads that need short but large bursts of energy, installing our peak power support Unit (punch-flywheel) alongside a generator can help you downsize the generator, saving fuel and allowing your generator to work more efficiently.

It's a large energy storage wheel, delivering that extra punch of power when needed for crane and hoist lifts and in the right application can save money and reduce emissions.

£135 million invested in greener technologies

The largest rental fleet of greener equipment solutions

A dedicated team of greener champions


Next Day Delivery, 365 days a Year
FIND A LOCAL DEPOT

With depots across the UK & Ireland, we can support you with all of your project needs, wherever you are working.

Use your location

CONTACT US

Thank you for your interest in Sunbelt Rentals. Our customer care teams are available to assist with any enquiries you may have.