360 Solutions

BETTER SOLUTIONS, ALL ROUND
Whatever your situation, however big or small, whether planned or emergency response, we can help to make it happen - whatever it takes. We are uniquely placed as the only rental company in the UK to offer a complete infrastructure solution.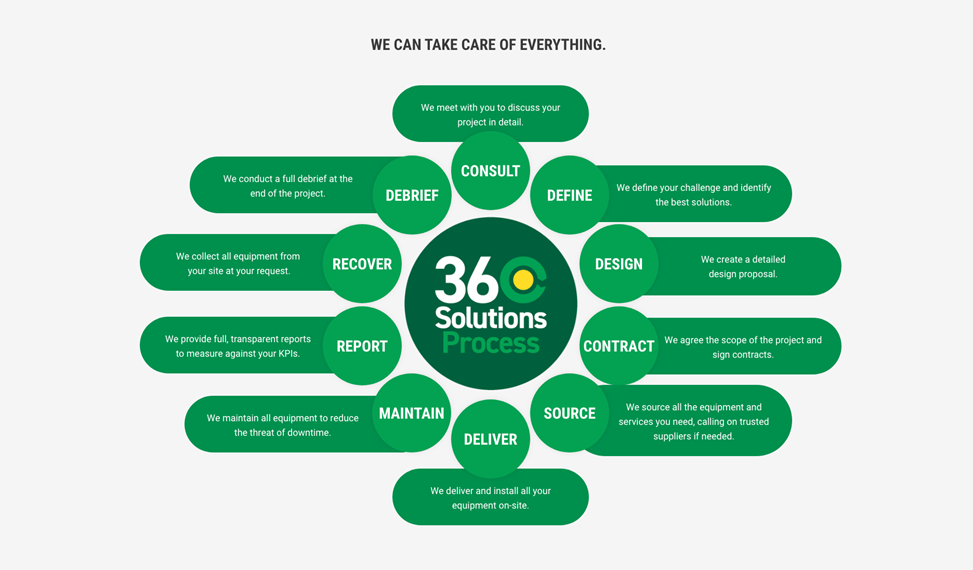 DEFINE
Our team of experts will consult with you in order to gain a detailed understanding of your Project. From this, we will define requirements and create a phased proposal.
DESIGN
Our experienced Design team will use the latest CAD & Drone technology to assess the site locations and create a comprehensive project plan. They will present this to you, along with an itemised cost matrix.
DELIVER
Our operations team will co-ordinate, deliver, install & manage all products and services to bring your project to life. They will work with our extensive network of strategic partners in order to offer any service that may be required – from waste management to security, catering to linen hire. With efficiency at the heart of our service, we will streamline deliveries and other vehicular activity; minimising the impact on our planet.
TAILORED TO YOU
We assess your requirements to design a complete, tailored solution shaped around your needs.
24/7 365
For complete flexibility, you can access our solutions every minute of every day.
ALL IN ONE
Alongside our own specialisms, we use trusted partners to deliver a one-stop-shop solution.
TURNKEY SOLUTIONS
We install, monitor, and maintain your infrastructure and services.
MEASURED RESULTS
We provide transparent information enabling you to measure service levels, costs and emissions.
Find your nearest location
With over 200 depots across the UK, Ireland & Germany, we can support you with all of your project needs, wherever you are working.
Find a Depot