7 Top Tips to Protect Your Generator Hire from Theft & Vandalism
news 10 Sep 2019
Expensive equipment such as generators are often the target of theft. They are often stored on trailers to enable easy relocation around site, and so, if the right safety precautions are not taken, they are vulnerable to theft. 
Generators come in all sizes and specifications, and whilst the smaller ones are much more susceptible to theft, it is not uncommon for the larger pieces of equipment to be targeted too. It is worth considering your generator storage and generator security options, especially if you are planning to store your generator outside or in an exposed location. Losing your generator to theft or vandalism can disrupt projects and impact on your productivity and is, quite simply, an expensive inconvenience!
This blog will cover our top security tips to help reduce the temptation for opportunistic thieves and to protect your site from the negative effects of generator theft.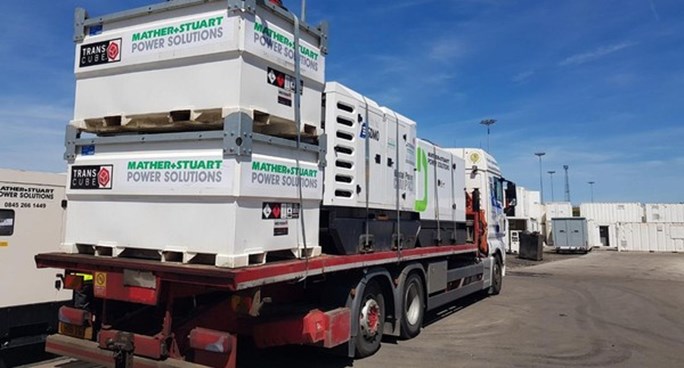 1. Have a plan in place before your generator arrives at site
Often generators arrive on a trailer, meaning if you don't unload it immediately, you are effectively storing your generator in the perfect getaway vehicle! If you are storing your generator outside, it is especially important to unload immediately and place it in a predetermined secure location.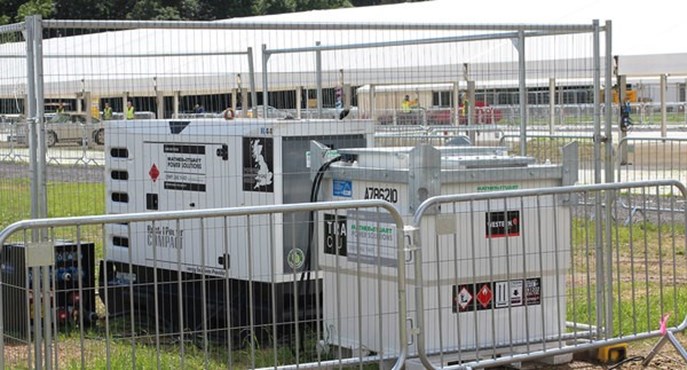 2. Fence it in
Keeping unwanted intruders out of your site is essential to protect your equipment. Hiring good quality security fencing to protect your site and in turn protect your generator, will make it much more difficult for thieves to enter and will act as a great deterrent. Speak to our team about which type of security fencing is right for your project. 
Having an account with Mather+Stuart means you have access to the full range of equipment available to hire from A-Plant. A-Plant has a wide range of temporary security fencing available for hire, with solutions offered by A-Plant, Tool Hire Express and Live.
3. Assess your general site security arrangements
This includes arrangements for security cameras and site lighting. The more security measures taken, the more you will deter thieves from targeting your site. We recommend security lighting that activates if intruders are detected. The more effectively you light your site, the less likely that thieves will feel confident to target!
Again, being part of A-Plant we can help with all your site lighting hire requirements.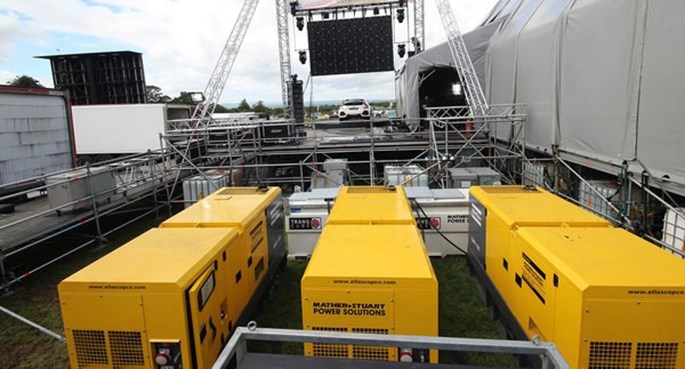 4. Consider the location
Block the generator in to make it as difficult as possible to remove from site. Generators are bulky pieces of equipment and not easy to move, so if you place it behind a site cabin or behind stored materials for example, it will increase the effort required to move it and act as a great deterrent.
5. Tag it and track it
Fit the generator with GPS satellite tracking, such as A-Trak. This technology will allow you to track your equipment via an online portal and will also help you to locate the generator if it is stolen. This sophisticated software allows you to set a 'virtual fence' around the equipment which will alert you if the equipment goes beyond the boundary. Telematics technology provides a wide range of useful information on the equipment and can be used to help drive efficiency and enable remote management.
6. Protect your fuel!
Don't leave fuel in a generator which is not currently being used. Whilst it would be frustrating to lose a generator to theft, losing a full tank of fuel would only add to the inconvenience! We would also advise using security signs to highlight that fuel has been removed to further deter opportunistic thieves.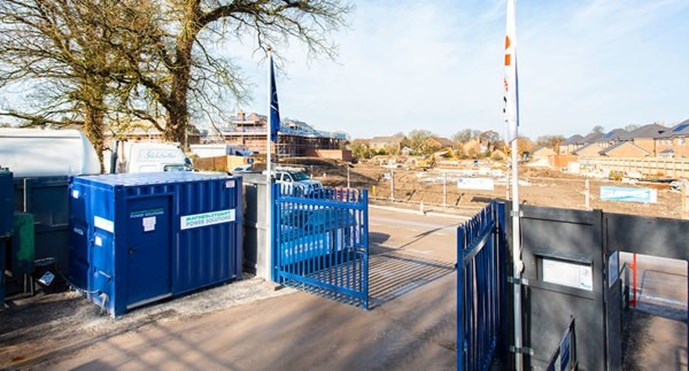 7. Hire Volt Safe - The Ultimate Security Solution!
Volt Safe is a complete generator container which holds the electrical distribution board and the fuel tank within a secure, steel unit. Everything is contained within the container which means that the system is kept safe and cannot be tampered with, and unauthorised access to the fuel is prevented.
Hiring the Volt Safe provides customers with many security (and environmental!) benefits, including:
The strong container and lockable doors stop thieves from being able to access the generator.
The system is fitted with GPS tracking to alert the customer if it leaves site and will enable a higher chance of retrieval after theft.
The Volt Safe can be monitored remotely, making it perfectly suited for unmanned sites which maybe don't have security arrangements in place. It provides the confidence that the generator will consistently provide safe and secure power without supervision. 
Through the online portal, the Mather+Stuart team can view, manage and monitor engine performance, phase balance, peak/low load, CO2, fuel consumption and much more!
The Volt Safe is currently one of the quietest machines available to hire across Europe, with just 68dB(A) at 1 metre. This makes it ideal if noise pollution needs to be controlled at your work locations. 
The Volt Safe offers triple bunded protection against spillages of engine oil, anti-freeze and diesel, which makes it ideal for sensitive locations such as by water courses. These measures provide confidence that the risk of pollution is controlled.
How to hire a Volt Safe from Mather+Stuart
Volt Safe Generators are available to hire starting at 20kVA and up to 1250 kVA.
To hire a Volt Safe, you will need a Mather+Stuart credit account, a simple process that can be completed over the phone or in a service centre location. You will need to provide references and confirmation of insurances and then your credit account can be approved and activated within 24 to 48 hours.  
Once your account is set up, you can hire from any of the 10 Mather+Stuart service centres located throughout the UK and access the thousands of other products available to hire from across the specialist A-Plant divisions.  
Call our experienced team to discuss your exact requirements and ensure you access the best and most economical temporary power solution for your project! 
For more information about the Volt Safe and our investment in Volt Safe equipment, please click here.