A day in the life of an Army Recruit
blog 25 Jul 2022
In June, Sunbelt Rentals Finance Director, Phil Hardy and Asset Director, Andrew Winlow, experienced a day in the life of an army recruit at MOD Holcombe Barracks.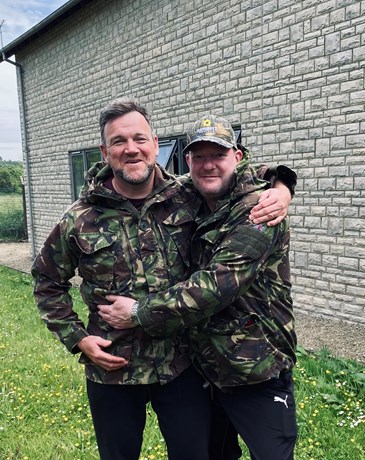 The day was set up to educate non-serving military civilians about what it's like to be an army recruit. It was important for the directors to experience this day as Sunbelt Rentals works hard to recruit and support service leavers, reservists, cadet force adult volunteers and military veterans.
Recently, Sunbelt Rentals received the MOD Armed Forces Covenant Gold Award and have identified over 110 veterans within the business.
Phil and Andrew were able to experience a small part of what their serving teammates have been through.
How they got on…
The course started with a full briefing on objectives of what Phil and Andrew were going to experience across the training.
This was followed by the group being split into teams to experience the different regiments of the army, this included the following tasks:
Infantry: A simulation of an assault with paintball guns down a river course with targets
Royal Logistics Corps: Introduction to some of the equipment they use and how logistics division supports the army
Parachute regiment: An exercise about observation and patrols/spotting
North West HQ: An inflatable obstacle course and separate exercise on field medics how to apply basic first aid like Tourniquet and field bandage
Military Intelligence: A code breaking exercise and show and tell
Duke of Lancaster's Regiment: Introduction to the weapons used with BB pistol range and an interactive mortar stand
After a long day of training, it ended with a quick hike up a hill, which was about a 5km round trip with a scent of approx. 1000ft. Luckily for them a BBQ followed, with an opportunity to catch up with some Army representatives.
The following morning, it was an early start to learn various command tasks which concentrated on leadership, communication and organisation. Then to finish off the experience, it was a final commander task, which was based on the Military Gun Run, carrying an assembled gun around a 2km course.
Phil Hardy, Finance Director at Sunbelt Rentals commented on his experience: "The Army went to great lengths to put on an authentic experience for the participants in a really inclusive and safe environment. It was quite a diverse group attending the course and I think that everyone attending would agree that at certain times we were all stretched outside of our 'comfort zone'.
"Whether this be physical exertion, mental agility activities, the pressure of tasks under time constraints, competitive environments or simply for some being required to lead or follow others instruction whilst being thrown together in a team.
"We learnt about the Army's values and how they encourage leadership through both a classroom session and then got to experience it through the various exercises that we did.
"Personally, I think the most rewarding part of the event was getting the opportunity to speak to so many facilitators from the Army that were generous in sharing their personal experiences and time with us in a very honest manner.
"I took away from this short introduction to the Army that the leadership skills being taught throughout the military are based on the same principles that we are trying to encourage at Sunbelt: That leaders are made (not born); leaders demonstrate high personal standards to lead by example; leaders are enthusiastic, encouraging and demonstrate empathy to their teammates.
"I think the most powerful message for me was about high performing teams being founded on 'trust'. Trust in the leadership, trusting each other to do their jobs, trusting each other to look out for one another. As everyone I spoke to showed genuine concern for their teammates."
Andrew Winlow, Asset Director at Sunbelt Rentals also added: "I initially agreed to do this with trepidation and anxiety, but I am so glad I did it.  I was expecting a full-on physical exposure to the army routine, but this was not the case. I was surprised and encouraged that the work our armed forces conduct day to day is not just one of "Physical" fighting.
"There is so much more to the art of war that I was not aware of. (War = Business, Transferable skills). The main ethos of the Army is "Team" and when you spend time with them you understand just what that means. It was a truly fantastic experience and dare I say it, but it has made a positive change to my life and work."
Find out more about Sunbelt Rentals' Our Planet Plan for a low carbon and Sustainable Future, plus the Armed Forces Covenant on our website: https://www.sunbeltrentals.co.uk/sustainability/our-planet/