Exciting new innovations from Leica
news 17 Jun 2022
Last week, the Sunbelt Rentals Survey team attended Leica's Customer Roadshow in Perth, Scotland, to discover what exciting technology to expect from Leica in the future and to get up close and personal with some of their newest products.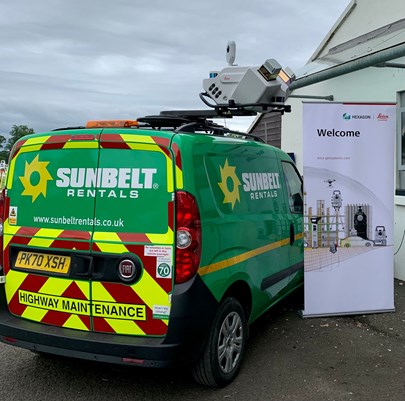 Leica's full team of technical experts were on hand to present, demonstrate and take questions from existing and potential new customers. The main theme for the day was autonomous reality capture and with Sunbelt Rentals being a Leica BLK Premium Partner, we were invited to see what was being showcased. 
We enjoyed the chance to get to grips with several of the latest innovations from Leica.
There was the Leica AP20 – the device that not only has tilt technology, but also automates your detail pole height while maintaining a lock to your prism in the most challenging conditions. That means less time is spent in the field, allowing projects to move forward even faster.
The future is looking autonomous, with the remaining two ranges featuring this technology heavily. This will significantly change ways of working across multiple sectors, giving improved data quality and quantity, with benefits to both time and site safety.
Next up is the BLK range – a whole host of reality capture products, with the recently launched BLK2FLY and BLK ARC allowing for remote scanning from the ground using a robotic carrier or the air, in UAV form.
Finally, the Pegasus models are looking sleeker and simpler than ever in the Pegasus TRK range. Historically mobile mapping came with heavy baggage in the form of busy, complicated, and challenging processing software. The Pegasus TRK is an absolute game changer. Not only have Leica reduced the weight and size of the unit and made it easier to install with a specialised hydraulic rig, they have created a much cleaner, smoother data manager, so the full registration can be done in one place with easy-to-follow workflows. That includes live automated processes alongside data capture, including blurring number plates and faces. Not only does this help you keep your data compliant with GDPR and Privacy legislation, but it saves a huge amount of time, covering 5 images per second while it scans.
The industry is making huge strides in integrating the newest technologies into workflows, allowing for highly efficient and precise work. Autonomy is very much looking like it's only just taking off, and the technology will only get more sophisticated the more companies like Leica explore, and we're happy to play a part of the process.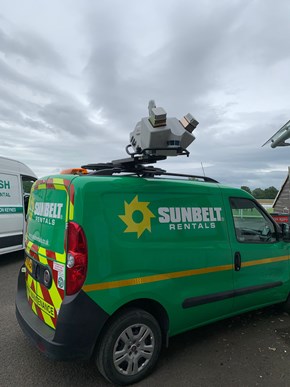 Sunbelt Rentals been a supplier of the range of Leica Geosystems products for many years, and in that time our relationship has only continued to grow. Leica's innovative products, coupled with our expertise means that we can deliver exemplary service, including thorough Leica-Approved training, servicing and support. We're also a Leica BLK Premium Partner, which means we can deliver the whole Leica BLK product range and work with Leica to give you a bespoke service that fully utilises the equipment for your needs.
We'd like to thank our friends at Leica Geosystems for inviting us to this event. With Hxgn Live 2022 just around the corner, we're excited to see what more Leica have to offer.