Giving Back to Local Communities - Children In Need DIY SOS – Blackburn, September 2019.
news 13 Nov 2019
Back in the summer, the Sunbelt Rentals Preston team found out about the 2019 DIY SOS Big Build for Children In Need, which this year was supporting a local charity, Nightsafe in Blackburn. Nightsafe gives young people aged 16-24 that are homeless and at risk a place they can call home - somewhere that they can be safe and helped. Home is a place we can too often take for granted, but there are so many young people out there that have no home.  After meeting with the BBC team and understanding what needed to be done and how important it was, we at Sunbelt Rentals Preston knew we had to be a part of it.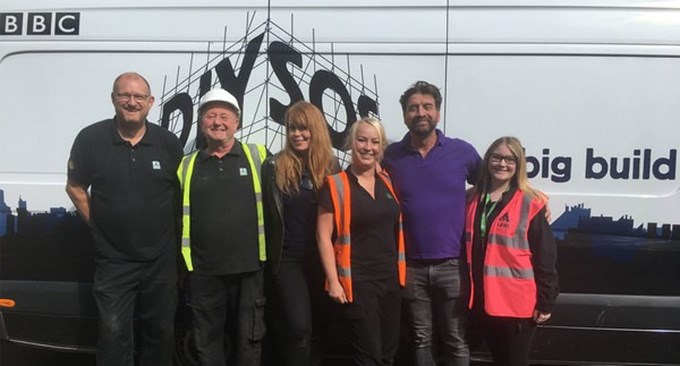 Once we had the list of equipment required, the staff at Preston 546 put everything together and over two days delivered over 230 individual items to site, supported by our Manchester Accommodation and Mather+Stuart colleagues over at Wigan. The kit we donated included generators, 200 litres of fuel, sound barriers, dust suppression bottles, whacker plates, pedestrian barriers, traffic cones, infra-red heaters, transformers, leads, podium steps, ladders, splitter boxes, work lights, plasterers lights, dehumidifiers, staging boards, scaffold boards, wall paper steamers, acrows, strong boys, floor fans, genie lift, scaffold towers, saws, trolleys, and fuel mates. We also supplied welfare facilities as well.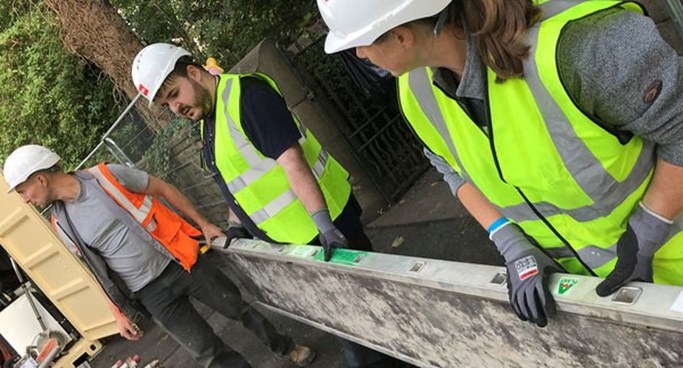 As you can imagine, the first few days on site were a challenge with everything being delivered from all over, combined with suppliers, tradesman and equipment everywhere. Three members of our marketing team (Hannah Dudley, Luke Gale and Jackie Cuthbert) went down to become volunteer labour on site, moving goods and building materials, helping keep the site straight and generally helping out with whatever needed doing.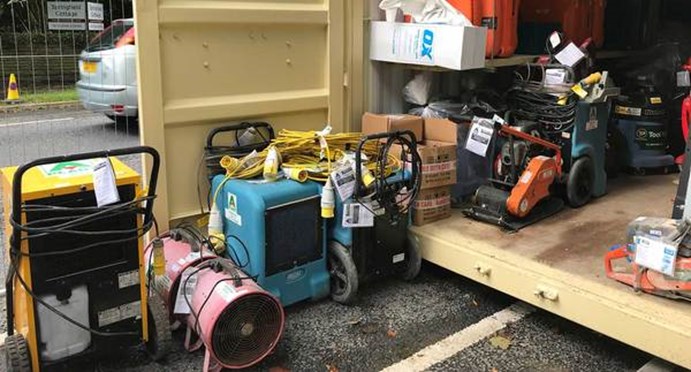 There were a few times where it was looking a challenge to complete the project on time but a few words of encouragement from Nick Knowles brought it all back on target. Over the next two weeks everybody rallied around together and an old Church Hall was transformed into a much needed emergency accommodation centre for the young homeless people of Blackburn.
The difference this project has made will in the words of the staff at Nightsafe "save lives". All we had to do to play our part was to supply a bit of time and equipment to make a massive difference to so many young people.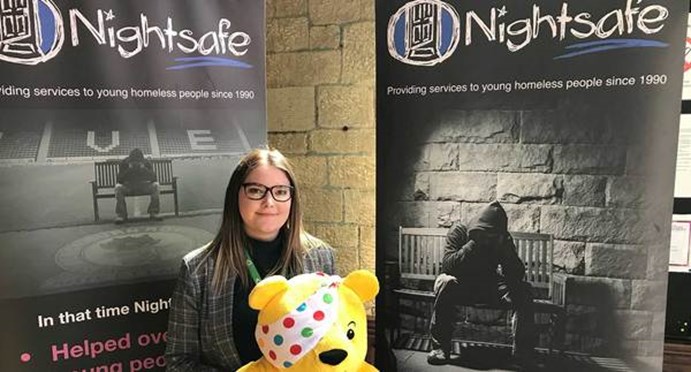 Just to give you an understanding of what Nightsafe has achieved so far (These figures will already have increased by the time you read this):
      Young people helped – 14,500
      Nights off the street – 42,257
      Meals served – 145,000
As with all DIY SOS projects there is the reveal, and it was there that we met one of the tradesmen that had worked on the project. He had once had to use Nightsafe as a young man and his story was remarkable – he told of how the charity had saved his life and helped him back on his feet. It was very humbling for us all to hear his story and put into perspective what we had all been a part of. We were all very proud to see what together we had achieved for young people in the future.
I want to say a really big thank you to all the staff at Preston 546, and a special shout out to Terry Burdis, Stephanie Wilson and Michael Langton for making this happen – for their work on site and also supporting back at the depot throughout the build.  We are looking forward to watching it air tonight and have already spotted some of our equipment in the trailer!
Simon Damant, Preston Service Centre Manager
You can have a sneak peek here! https://www.bbc.co.uk/programmes/p07tq9pl