Meeting the Need for Long Duration Breathing Apparatus
news 07 Sep 2020
When repair and maintenance work is carried out in industrial facilities and locations such as petrochemical plants, water treatment plants and cable tunnels, the use of suitable self-contained breathing apparatus (SCBA) is often a necessity to ensure that work can be carried out safely.

Working in Confined Spaces
This is even more critical when work is being carried out in an enclosed area. This can be any space of an enclosed nature where there is a risk of death or serious injury from hazardous substances or dangerous conditions such as a lack of oxygen. Some confined spaces are fairly easy to identify such as enclosures with limited openings, enclosed drains, silos and sewers, but others may be less obvious yet equally dangerous, including open-topped chambers, vats, ductwork and unventilated or poorly ventilated rooms.
In some cases, the use of self-contained breathing apparatus alone is insufficient because of the duration of the work being carried out. In these cases, external breathing air apparatus with significantly bigger breathing air capacity is required. Long duration breathing apparatus generally provides users with breathable air for a sustained period of time, usually fed via an airline.
Breathing Air Systems - Essential
Apollo Breathing Air Trolley
To meet the demand for high performance breathing air apparatus for repair and maintenance tasks, Sunbelt Rentals' Safety & Communication Specialists business has invested in a range of mobile breathing air facilities manufactured by VTN. Central to the range is the Apollo breathing air trolley which is designed to be highly manoeuvrable without losing the stability required.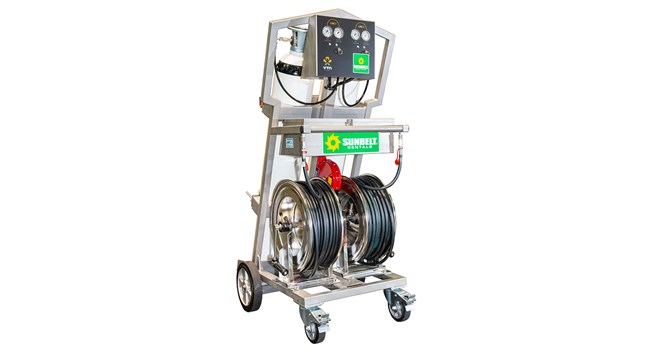 With a stainless steel frame, the Apollo is equipped with two breathing air cylinders of 50 litres, 300 bar each, making the total available volume of breathing air 30,000 litres. This makes it possible to supply external breathing air to two people for around 6.5 hours when used simultaneously.
The trolley has an approved, certified lifting eye fitted with a D-closing and pin. Like all of the VTN mobile breathing air facilities supplied by Sunbelt Rentals, it has an official CE approval mark through Lloyd's Register and meets the Pressure Equipment Directive 2014/68/EU. The Apollo has two manually controlled stainless steel reels, each of which is supplied with a 3/8" Trelleborg breathing air hose of 50 metres in accordance with EN 14593/14594.
Features:
Stainless steel frame, powder coating optional
Fitted with approved lifting eye
Solid-core wheels, rear wheels with brakes
2 x 50 litre, 300 bar breathing air cylinders
Comes with two stainless steel reels, each with 50 metre breathing air hose
Includes steel coated grounding reel with clamp
CE approved by TÜV/Lloyd's Register
Optional extras include control panel, fixed refilling connector and/or steel storage box
SIR category B2
Breathing Air Cylinder Trailers
Sunbelt Rentals also offers self-contained, high pressure cylinder breathing air trailers which are designed to supply up to 4 people wearing positive pressure demand-type or constant flow breathing apparatus.
Breathing air trailers are ideal for use in areas where breathing air compressors are unsuitable due to explosion risk or where the air quality is likely to be poor. They are suitable for daily use in severe conditions across a range of industries including industrial, nuclear, petrochemical, oil and gas, water, marine, shutdowns and drainage}. If the air supply drops below the minimum air pressure, it automatically switched over to emergency back-up cylinder or can also be done manually.
Titan XL
The Titan XL is a compact, easy-to-operate breathing air unit with a high volume of breathing air installed in a compact trailer. By using two 140 litre, 300 bar breathing air cylinders with a total volume of 84,000 litres of breathing air, this breathing air unit has considerably more air available compared to the traditionally used 50 litre breathing air cylinders. It is also equipped with a back-up cylinder and is ideal for use during rapid deployments and in situations where large life support systems with compressors cannot or may not be used, but that do require a prolonged supply of breathing air.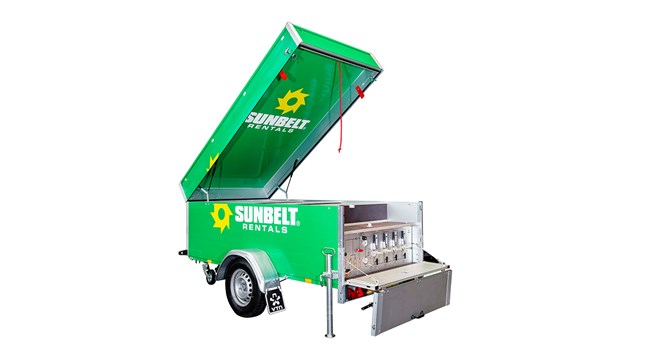 Titan XXXL
The Titan XXXL breathing air trailer is equipped with 6 x 140 litre, 300 bar breathing air cylinders, which means it can provide up to 252,000 litres of breathing air. This enormous amount of breathing air provides two users with a consumption of 40 litres of breathing air per minute for more than 52 consecutive hours. The whole system is enclosed within a box trailer with lockable access doors and the control panel displays all the relevant information, making it easy to operate.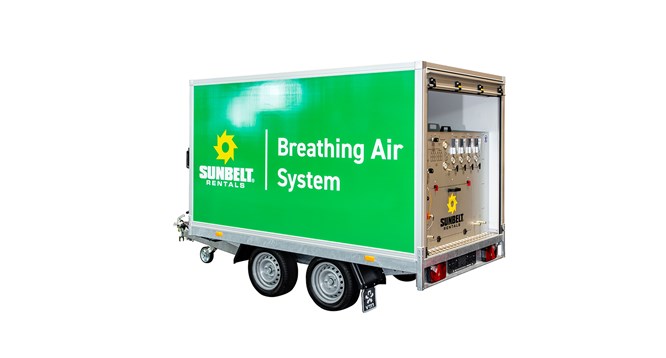 Do you need to hire specialist breathing equipment?
Speak to a member of our team today on 0330 433 1766 or email us today
Email Us