Never Underestimate the Importance of Our 'Lumps of Metal'
news 02 Apr 2020
These unprecedented circumstances we now find ourselves in have taught me to look at our equipment in a new way.  After nine years in the industry I've often found myself struggling to write interesting descriptions of and stories about hydraulic excavator attachments.
The past couple of weeks have taught me that they do a lot more than just break rock and drill holes!
First of all, as contractors scrambled to turn London's Excel centre into a 4,000 bed hospital, they hit an issue with power. In a nutshell, there WAS no power! The problem lay under several feet of concrete and the quickest way to reach that problem and fix it required a hydraulic breaker and excavator.
Our Basildon team had the breaker fitted on site within two hours, so the essential work could continue. What was the alternative? Several people with spades and pickaxes working round the clock for several days perhaps? The breaker took just minutes to reach the problem, and did it safely.
Then you have the scenario of the whole nation desperately trying to work from home and stay in touch with friends and family. We can't meet face to face, so instead we are all skype-ing, face-timing, what'sapp-ing and tik-tok-ing more than ever before - to keep the economy going and also to keep us sane and connected!
Contractors are constantly trying to improve our communication networks – and they need to respond to repairs quicker than ever.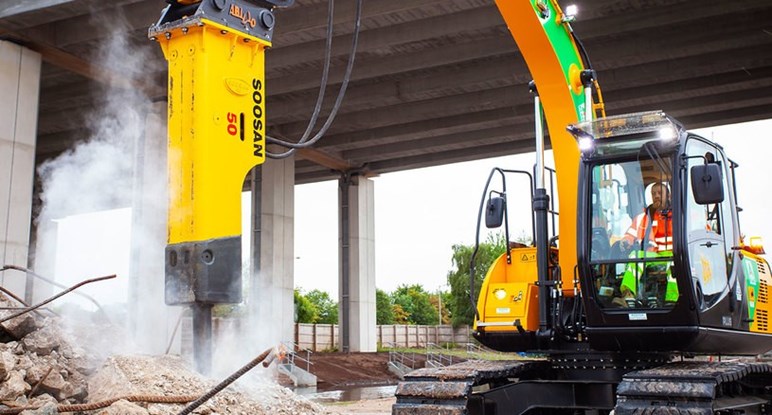 An Astra Attachment Solutions breaker in action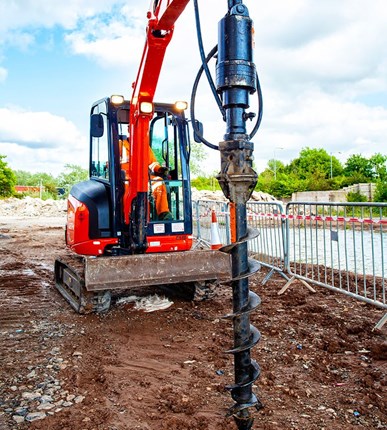 Augers are vital in erecting telecommunication towers and Astra has continued to meet the demands of subcontractors across the country, desperately trying to improve and expand our 5G network.
Our equipment has been delivered to sites from Bristol to Edinburgh, helping drill foundations for temporary telecom-masts to support our emergency services during these times where staying connected is more vital than ever before.
It makes me proud to see our company's response to Covid-19, many businesses in our industry have stopped trading for now. But we haven't. We've evolved, adapted and responded so the nation can continue to function throughout this crisis.
We've made sure our people are safe; made sure that the most vulnerable and at risk are able to isolate at home, we have rota systems and safe distancing procedures in place for those who can still work.
So, keep going team, I'm proud to be part of it.
Charlotte Evans, Astra Attachment Solutions