Strongman - Josh Norton
blog 02 Aug 2022
We caught up with Josh Norton, Sunbelt Rentals Hoist Installer and competitive Strongman, ahead of his bid to win England's Strongest Man.
At 27 years old, Josh Norton has the weight of the world on his shoulders.
Well, not quite, but certainly more weight than most people would ever lift in their lifetime.
Josh, one of Sunbelt Rentals' very own Hoist Installers, will this month compete against the strongest people in the whole of England for the title of England's Strongest Man.
'Strongman', otherwise known as Strength Athletics, is a sport in which competitors are tested not just on sheer strength but also physical endurance. Some exercises are unconventional and not what you would see in a typical gym.
Competitors are pitted against one another in a range of disciplines, from the classic deadlift, to large vehicle pulls and the infamous 'Atlas Stones'.
How does somebody become a Strongman?
Josh's journey to competing in Strength Athletics is somewhat reminiscent of strongman legend Eddie Hall.
Josh also began as a competitive swimmer in his youth, before starting in the gym. What followed is a rapid progression through various forms of fitness competitions. Firstly, CrossFit where Josh competed for two years. Moving forward, Josh then trained in Olympic lifting - a strict regime of specific exercises and strength moves. Penultimately, he started getting involved with powerlifting, which has strong ties to what Josh now competes in - Strongman.
Josh's current regime consists of five days of training per week, with two 'rest' days for recovery. Those 'rest' days hardly include actual rest, as one of these days features a sports massage which is most definitely not resting! Josh's evenings consist of finishing work, heading to the gym for three hours each night before returning home to cook the crucial meals needed for recovery. He notes that batch cooking is a saving grace in that regard.
Pushing yourself to the limit naturally increases the risk of injury. Fortunately for Josh, his only noted injury was a back injury, which was fixed by a chiropractor and had him back on form in a relatively short time. That's not to say it's been easy, a regular challenge faced by Josh is DOMS (delayed onset muscle soreness). To minimise this, Josh uses cold water therapy which involves laying in a bath part ice and water, lowering body temperature to ease muscular pain.
What motivates a Strongman?
Josh took a moment before answering this loaded question, "The thought of changing your body and adapting, to keep pushing through limits and lifting higher and higher" was his answer. He said this with a look of curiosity, as though he is almost shocked to reach this point but with a sense of excitement at seeing just how far he can go.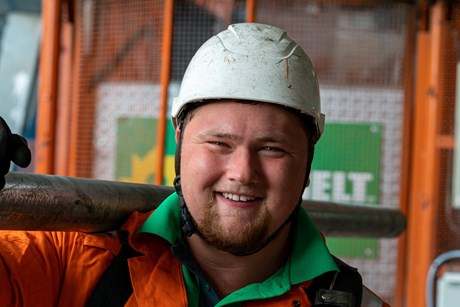 "What motivates me is the thought of changing your body and adapting, to keep pushing through limits and lifting higher and higher"
Reaching "Giants Live" is the goal Josh has his sights on presently. When asked about short-term & long-term goals, he notes, "Short term there are personal bests, long term there are world records", giving a sense of scale to Josh's ambition.
His confidence in his potential is not unfounded, Josh has progressed up the rankings rapidly, having only competed so far in two competitions before making it into England's Strongest Man. His first competition, England's Most Powerful, set him out on the right foot with a 1st place medal. This gained him entry into England's Strongest Man qualifiers where he placed 2nd and led him to today, preparing for England's Strongest Man for his third competition.
How do you prepare mentally for Strongman?
You can train your body, plan, and implement regimes but preparing mentally is a difficult task, there's no set methodology, one size fits all approach to it. Comparing to others, Josh notes Brian Shaw (4x World's Strongest Man) as a role model in that regard, "He's that strategic that everything he does is because of what he thinks - he knows he'll get it and he gets it, and it's because he builds that mentality to achieve it." This is something that Josh emulates, he already knows his capability from trialling and testing in the gym, and as much as competitions push him physically, he knows exactly what he is aiming for.
Performing on the day is a crucial element of it. All the many hours of training Josh completes preparing for competitions is done so in a relatively isolated way, bar the sessions with his coaches he mostly trains on his own. Compare that to competition day, where he has hundreds of onlookers watching him put his hard work into practice - it's a daunting thought that isn't lost on Josh. He openly admits to feeling the pressure, struggling to eat on competition day and feeling the adrenaline it brings.
The support from his partner, family and friends is what he believes helps him to overcome this. The muscle memory of many of the exercises helps somewhat but the familiar faces cheering him on in the crowd is the key element to his competitive mentality on competition-day.