Sunbelt Rentals welcomes Rt. Hon Kwasi Kwarteng MP to specialist London hub
blog 20 Aug 2021
We were pleased to welcome the local MP for Spelthorne and Secretary of State for Business, Energy and Industrial Strategy, Rt. Hon Kwasi Kwarteng, to our Heathrow depot.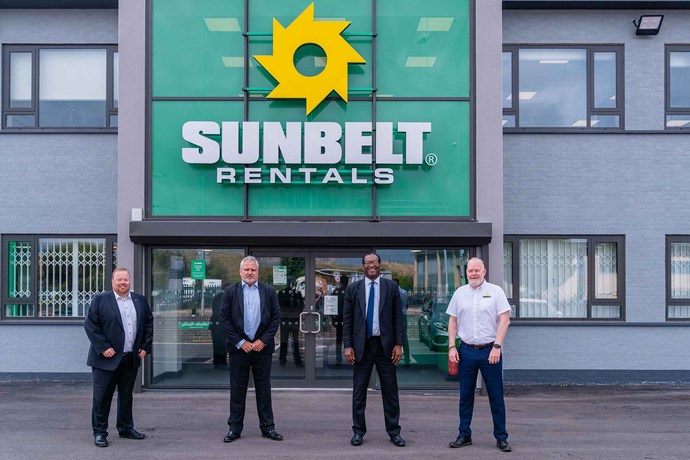 Opened earlier this year, the depot supplies London's major projects with highly specialised, technology-based, and zero-carbon plant and equipment. It is home to a wide range of specialist businesses' including Rail, Safety & Communications, Test & Calibration, Climate Control and Survey.
Mr Kwarteng was invited to visit the depot on Friday 6th August to learn more about the ongoing investments being made in the local community, and to see first-hand how the range of products and solutions support customers across the constituency, as well as nationally.
Andy Wright, Sunbelt Rentals CEO, commented on the visit, "It was a pleasure to welcome Mr Kwarteng to our Heathrow depot. We have invested over £3million into the facility to ensure we have the latest technology and best possible facilities to support our people and our customers.
We pride ourselves on working closely with local communities around our depots, including Heathrow, and now have a significant number of local people employed here, with plans to grow that further.
Andy Wright CEO - Sunbelt Rentals UK
Andy Wright continued: "It was great to demonstrate to Mr Kwarteng that with the right investment and long-term planning, businesses such as ourselves can have a real positive impact on the communities in which we operate."   
Following the visit Mr Kwarteng commented:
Fantastic to see Sunbelt Rentals on London Road. It's a great business which plays a vital part in our economy, supplying crucial equipment to construction businesses. It was an honour to be shown round as a constituency MP
Rt. Hon Kwasi Kwarteng MP
The Heathrow depot provides a base from which we can support under-represented community groups and develop strategic partnerships with social enterprises and charities to help improve the life chances of those that need it most. We are currently supporting several local schemes for HS2 as well as the Commonwealth Games 2022. To find out more about our commitment to Sustainability, visit Sustainability 2030 | Sunbelt Rentals.