Canterbury Cathedral is one of the oldest and most famous Christian structures in England. Dating back to 597, it forms part of a World Heritage Site and is the cathedral of the Archbishop of Canterbury. One million people visit the cathedral every year as worshippers, visitors and pilgrims. As part of a major £25 million restoration project known as The Canterbury Journey, the leaking roof above the Cathedral Nave will be replaced and a new Welcome Centre will be created. The works will also include restoration of the main entrance to the cathedral from the city - the Christ Church Gate.
To allow the works to take place, a huge scaffolding construction has been erected inside the cathedral. Scaffolders have built a 53 metre long safety deck above the Cathedral Nave as a platform both for the Cathedral's conservation team to work from and to catch any dislodged stone and plaster. To allow the restoration work to take place, Canterbury Cathedral Works Department required the use of a Passenger and Goods Hoist and a Goods Only Hoist for the duration of the five-year project.
Customer Name

Canterbury Cathedral

Project and Location

Canterbury Cathedral in Canterbury, Kent
Value

£100,000

Duration

5 years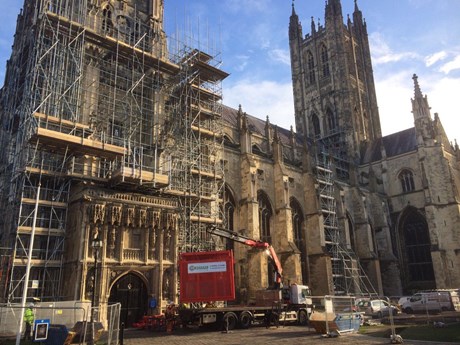 The Challenge
This was a highly challenging project, as the hoists needed to be installed without interfering with the listed building's base or structure.
The Solution
Sunbelt Rentals provided a steel foundation plate to allow the installation of the hoists to be carried out without interference to the structure. Delivery was made at 6am when no other work would be taking place. The hoists needed to be pushed through a low height arch in the cathedral and they were tied to the scaffolding. The hoists were manually moved under the archway.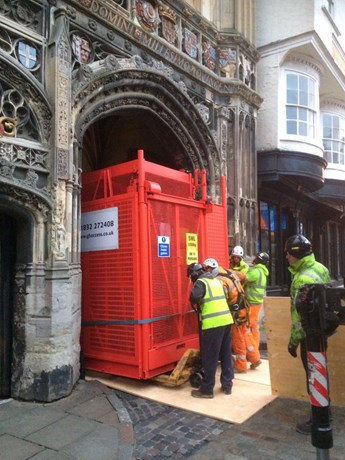 The Results
The equipment was delivered to Canterbury Cathedral and safely installed to allow hoisting processes to begin. The hoists are allowing the safe transportation of building materials and operatives, with the ability to stop at a number of levels.
Download PDF