Excavator Attachment Sales
Sales Contact 07720 678982
Excavator Attachment Sales
Are you looking to purchase rather than hire? Did you know we are the UK dealer for world leading manufacturers including Trevi Benne, Soosan, Antraquip & Taets. We hold a large UK stock of new equipment, allowing us to offer prompt delivery on many items.
Dealing directly with the manufacturer's means we take on bespoke requests, this relationship allows us to offer the latest innovations and engineer new products for both customer and hire fleet, leading the way in an ever-evolving market.
Don't want to buy new? No problem, we offer a huge range of refurbished equipment too.
Trevi Benne
Sunbelt Rentals are the UK distributor for Trevi Benne plant attachments. The Italian manufacturers are the largest manufacturers of their kind in Europe. Trevi Benne have been designing quality Demolition, Recycling, Forestry and Mining equipment for over 20 years.
The quality of the Trevi Benne product is second to none, with a wide range available through the Sunbelt Rentals UK hire fleet and the full range available for sale.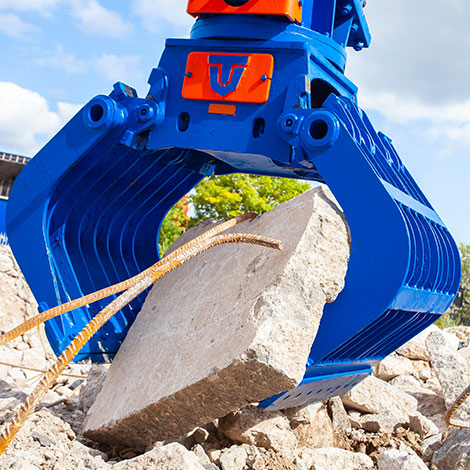 Soosan
Soosan are the third largest manufacturer of hydraulic attachments in the world and have proven themselves to be a leader in this field.
Their breakers are robust, reliable and easy to maintain, making them a firm favourite with demolition contractors, plant hire and construction companies.
Sunbelt Rentals are the Sole UK dealer for Soosan, with a large UK stock of breakers and parts we offer a quick turnaround on both sales and servicing.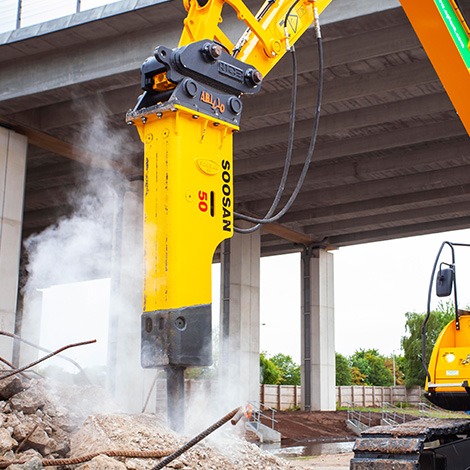 Antraquip
Antraquip are a pioneering designer and manufacturer of rock cutting solutions based in the USA.
Over the past 30 years they have proven themselves to be a world leader in this field, engineering ground-breaking products for tunnelling, mining and construction industries.
Innovation is at the heart of what makes Antraquip a world leader and we are proud to have worked alongside their engineering team to provide custom solutions for specialised projects here in the UK.
Sunbelt Rentals offer Antraquip's core range of products for both sales and hire, these include Rock Wheels, Trench cutters and Patch Planers.
Taets
Taets are without doubt the most reputable manufacturers of piling equipment anywhere in the World, their pile breakers offer the most advanced, efficient and time-saving system available for trimming concrete foundation piles.
The Taets Cropper gives a clean cut, with no cracks below cut-off level, leaving re-bar intact.
They range from the lighter weight square cropper system ideal for use on 7/8 ton excavators to the 380 links, the leading pile cropping system for piles in excess of 1200mm.
Download Brochure
To download the Sunbelt Rentals Plant Attachments brochure, please
Download Brochure