The Sensational Ladies of Plant Attachments
news 10 Mar 2021
Continuing our celebrations of the hard working women within Sunbelt Rentals, get an insight into 'the ladies of plant attachments' with Charlotte Evans - Senior Marketing Manager.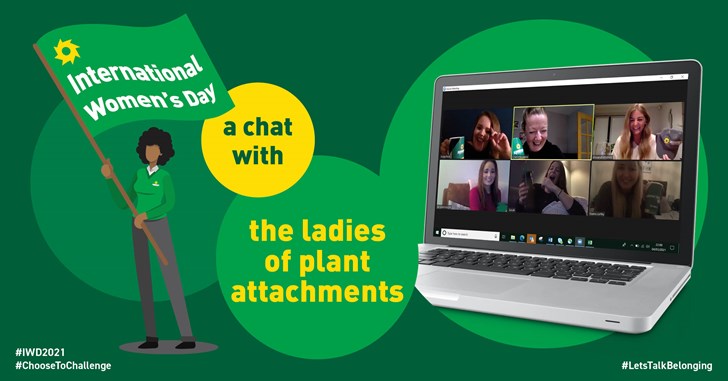 ---
It's no secret that the construction industry is a male dominated one. So, to celebrate International Women's Day we're focusing on some of our women who choose to challenge and break down gender stereotypes. These women don't just work within the construction industry, but are true experts in their chosen field.
However, with our Plant Attachments team having more than 70% of depot and operational based roles filled by women I couldn't pick just one.
So, at 8pm on your typical 'Lockdown Thursday' I'm joined (via the magic of Zoom) by five ladies; Josie Field, Alexandra Trunley, Joanna Scott, Lisa McCarthy, and Sarah Del-Bianco, Our objective? To talk about what made them choose a career in construction, the challenges they've faced along the way and what keeps them going on the toughest days?
As we settled down on our sofas with glass of wine in hand, discussions began around how they came to work within this traditionally male dominated industry? A career in construction or plant hire is not traditionally high on the agenda of many young females, so how did these five ladies all come to be here?
---
Josie began by regaling her ambitions of a career in law, "As a teenager I really wanted to be a Barrister, I must have liked the idea of arguing for a living! It's only when I realised you had to take sides and could find myself fighting to free a criminal that my ideas changed".
At 29, Josie is now a Depot Manager overseeing both London and South East locations for Plant Attachments. She's already spent 13 years working within the industry, having started her career on the hire desk at another organisation shortly after leaving school, but it wasn't always an industry she loved. "Before joining Sunbelt, I wanted out of the industry having had good and bad experiences in my eight years in hire. So I took a short break and started working as a Manager for a Recruitment Consultancy. But after just two years I realised how much I missed construction, the straight talking people, the challenges and the banter, so here I am".
---
Alex, also aged 29, joined the business almost seven years ago as a Hire Desk Assistant and is now the Depot Manager for the North West Team. She went onto explain her aspirations of traveling the world as a translator, which progressed by studying languages at college and working as an au pair in Paris for a Spanish family, before she found herself in construction. "In many ways my past helped prepare me for where I am now, you could argue the industry has its own language, albeit a technical one. But, if you're capable of learning a different language it's no real difference to picking up all the technical jargon that comes with plant hire and construction. When I joined, I had no idea what a dual flow circuit was!? Let alone what you'd do with a one inch flat faced female QRC!? I mean, I barely knew what an excavator was! There's no doubt there's a lot to learn, but that's no different to any job or industry.
When things don't sound right to me I now have the confidence to challenge them and I have a great team of male drivers who'll happily come to me for technical support on a daily basis.
Alexandra Trunley - Plant Attachments Depot Manager
Alex finished: I enjoy the confidence I have in my position from the knowledge I've gained along the way".
---
 Joanna openly admits she didn't know what she wanted to be when she 'grew up' and it wasn't until joining Plant Attachments eight years ago aged just 24, that she really found her calling. "It's an industry that you either love or hate, and I most definitely love it. The people, the challenges, every day is different.
It's hard work, don't get me wrong, but rewarding when you know you've managed to go above and beyond and find a solution for your customers or your colleagues
Joanna Scott - Operations Support Manager
Over the past eight years Joanna's career has progressed from Key Account Co-ordinator to Hire Manager and now Operations Support Manager. Her product knowledge is second to none and she's proud to be one of the longest serving members of the Plant Attachments team.
---
On the other hand Lisa is relatively new to the industry and comes from a completely different background, having worked as a Bridal Assistant before joining Sunbelt two years ago. Of all the ladies on this call Lisa had by far the most ambitious career aspirations. "When I was little I wanted to be Beyonce, so as you can see it's not completely gone to plan, but I'm only 27, there's still time… and when I get on the dance floor I AM Beyonce, so I'm ok with that for now".
I asked how the Bridal industry had helped prepare Lisa for the one she now finds herself in. "Customers in this industry are absolute kittens compared with an angry bride! If you can deal with bridezilla, you can handle anything".
---
After almost seven years in the Plant Attachments team Sarah can also be considered a 'veteran'. Joining as an Account Manager she went on to oversee day to day operations at the London (Iver) depot, but now enjoys her role as an Operations Support Manager where each day has a new challenge.
At 31 she's spent her whole career within the industry, starting out at Hewden. But prior to that, she dreamed of a career working with animals. "I joined Hewden as a Hire Controller over 10 years ago, once I realised seven years at veterinary school was a little out of my grasp. I was based at their Plant Depot in Dartford, but back then the perception of females in the industry was quite different, and being a woman came with stereotypical difficulties."
Sarah went onto explain more about the challenges she's faced. "I had to fight harder than male colleagues for my position, and to be taken seriously when it came to product knowledge. I moved from Hewden to another competitor where I worked for a brief period as an Event Sales Co-ordinator and again, didn't feel I fitted in as a female in the industry.
So joining the Plant Attachments team back in 2015 was a breath of fresh air and I really began to enjoy and move forward in my career.
Sarah Del-Bianco - Operations Support Manager
---
So, what's different here I asked? "I rarely think of myself as a woman in a man's industry" says Josie. "We are lucky to have, and have had business leaders who see us for our strengths and ability to do the role we're in. Gender, background or indeed age doesn't come into it and Kit McNiel, our Director knows we're all more than capable. He has our back and respects every member of the team, male or female".
So do the team find it an advantage or disadvantage being a female within the industry?
"Most definitely an advantage" states Joanna, "But I think that's because we now have so much knowledge between us we're quite a force to be reckoned with. And as Alex mentioned earlier with knowledge comes confidence in yourself and your abilities. I enjoy the daily challenges. Over the past eight years I have seen a step change in the industry's perception and acceptance of females in a wide range of roles. But, I still find it satisfying when you can tell the person on the phone thinks because you're female you're not going to be able to help them. Then before you know it, they're asking you questions about their excavator and not just the attachment they're looking to hire".
"Absolutely" Josie adds, "It's not long ago I took a call from a customer asking to speak to the Depot Manager because he needed technical help, I said I can help. He replied no love, its technical information I need, can I speak to the Depot Manager?'. I placed the receiver on the desk, cleared my throat, picked it back up, saying in a somewhat deeper voice, 'Hello Josie speaking, Depot Manager for Plant Attachments how may I help?' We ended up having a real laugh which is absolutely essential to our team, it's what keeps us going on a daily basis, the ability to laugh with customers and each other. But yes, there is a still some way to go before incidents like this no longer happen".
It's clear the team's ability to laugh with each other, support and trust each other is fundamental to their love of the industry. These five ladies and all the other wonderful women in the Plant Attachment team have the support and respect of their male colleagues, as well as the utmost support from the company's leader, Kit.
It is support like this that is fundamental to breaking down gender stereotypes within the industry and is attracting more and more females to take up a career in Plant Hire and Construction.
And there is no doubt these women are indeed experts in their chosen field. I can vouch for this first-hand having started my own career in the Plant Attachments team almost 10 years ago. Each and every one of them has helped me as both a colleague and as a friend.
Josie, Alex, Joanna, Lisa and Sarah, like so many other amazing women in Sunbelt and the wider industry choose to challenge gender stereotypes and bias on a daily basis. They will go to the ends of the earth to help each other and their customers. They work together, laugh together and their friendship goes beyond an industry, in which they truly own their place as an expert.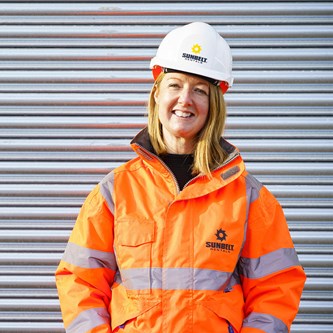 Charlotte Evans
Senior Marketing Manager at Sunbelt Rentals UK and I #choosetochallenge
Plant Attachments Range
View our full product offering of Plant Attachment Here.
Plant Attachments
More Stories Like This One