Smethwick Teach First Work Experience - An Insight into the World of Work
blog 14 Jul 2022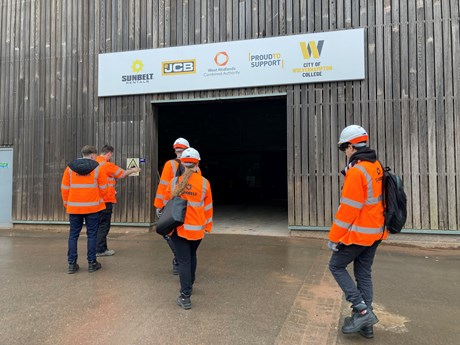 We work with the Teach First network of schools across England to enable students to receive a quality work experience placement within Sunbelt Rentals.
Teach First is a charity fighting to make our education system work for every child. It works with schools with high multiple indices of deprivation.  
The purpose of the work experience placement is to demystify careers within construction and rental, by profiling the plethora of job opportunities in operations and support functions across Sunbelt Rentals and through our client network.   At the same time, it gives Sunbelt Rentals employees an opportunity to volunteer as mentors to these students. Our long-term goal is to encourage students to apply for apprenticeships or jobs with us when they leave education. 
Providing quality work experience is doubly important to Sunbelt Rentals UK, because besides giving back to local communities, we also want to help create a talented workforce for ourselves for the future!
We believe that the earlier the interaction between business and students – whether that's work experience, internships, or school visits – the more likely an individual is to feel prepared for the world of work. 
As an employer in the construction and rental industry, we need to work very closely with schools, teachers, careers advisors, and parents to change the perception that careers in our industry are a 'muddy boots on a building site'. People tend to think of construction as practical manual jobs, rather than an industry where there are in fact lots of highly skilled jobs in all sorts of exciting disciplines.
The Construction industry has got a bit of a PR problem, in that besides lots of highly skilled jobs, very few people (especially young people) know about them. Jobs in construction – and at Sunbelt – are the best kept secret!  We are a FTSE 100 company, made up of 22 specialist business units that together make us the market leading business to work for in rental. We also have lots of conveniently located jobs, right across the UK in most major cities and towns.
A recent report compiled by CBI revealed that around half of young people feel their education has not prepared them for the world of work, at a time of great economic uncertainty and technological change. Teachers and schools deserve better support and business must play its part. 
Sunbelt's Teach First work experience programme is designed to inspire and motivate bright young pupils from schools in marginalised communities.
During the pandemic in October 2021, we launched our first virtual work experience programme with Teach First. Students from London schools gained an insight into jobs in operations and support functions, both in-house and through our customer network. At the same time, the programme gave our employees an opportunity to volunteer as mentors to the students. This helped the students understand the pivotal role we play as a key supplier on major infrastructure projects in the UK.
Following the success of the October 2021 virtual work experience programme, we invited five students from the Midlands area to join Sunbelt Rentals UK on a face-to-face week-long work experience in Spring 2022.
Over the course of one week In April 2022, five students aged 17/18 came from schools in the Midlands area to join us at Sunbelt's Smethwick Depot.
Their stories and reflections are captured on the two videos, first from the perspective of the students and then from the Sunbelt volunteers.
The programme was supported by 30 volunteers from Sunbelt Rentals, Wates, SES Engineering Services, the Birmingham Commonwealth Games 2022 Organising Committee, City of Wolverhampton College and West Midlands Combined Authority. The aim of the placement was for students to gain an understanding of the varied skills required in the world of work in the construction and rental industry.  
In addition to the internal sessions with 360 Solutions, Power, Customer Service and HR, we collaborated with Wates, Birmingham Commonwealth Games, Wolverhampton Plant College, and the West Midlands Combined Authority to deliver the workshops.
360 Solutions: an overview of Sunbelt Rentals UK rapid response to the national pandemic and the building of over 500 regional testing facilities for the NHS. The logistical planning of the test centre construction and how its deployment was organised. We also explored the digital systems involved e.g., Building Information Modelling (BIM).
Visit to the Sandwell Aquatic Centre – the sporting venue for the 2022 Commonwealth Games. The workshop was jointly delivered by Wates and Birmingham Commonwealth Games.
Visit to the Wolverhampton Plant College – An innovative live plant site delivering a range of programmes in construction plant operation including mini excavators, forward tipping dumpers and ride on rollers.
Overview of the different roles within the construction and rental industry e.g., working on large infrastructure and events projects. It included activities based on Powered Access equipment, including hands-on experience and workshops delivered by colleagues in the Power and Customer Service teams based at the Smethwick Depot.
The key takeaways for the students were fantastic and can be seen here, in their own words.
On reflection, whilst virtual work experience provided a solution at the time of the pandemic, it's not solely the way forward.  Students need to have a balance of virtual and face to face interactions, as this is how the world of work has changed. 
One of the main obstacles to career progress is a location of opportunities in a geographical area.  
Our next work experience programme will be held in Birmingham in April 2023.  This time it will be a hybrid delivery model, (part virtual and part face-to-face). We will invite students from the Midlands area to apply, so that they can see how our regional operations functions, as well as the varied roles that support major infrastructure projects like HS2 and the Commonwealth Games.
So, in summary, the benefit to us as employers is that we are helping to bring the next generation of talent into our industry and helping them to grow their careers.
The benefit to schools is that local business can provide a quality work experience programme for their students to meet the standard of the 21st Century workplace.
The benefit to society is that these young people will gain exciting, sustainable jobs which will help to grow the local economy in which they live and work.
We were thrilled that Shaun Hall, Senior Delivery Manager- Construction and Pre-Employment for West Midlands Combined Authority joined us to congratulate the students at the close of the programme, and very grateful to Andy Street, Mayor of the West Midlands, who took the time to wish our students well, saying: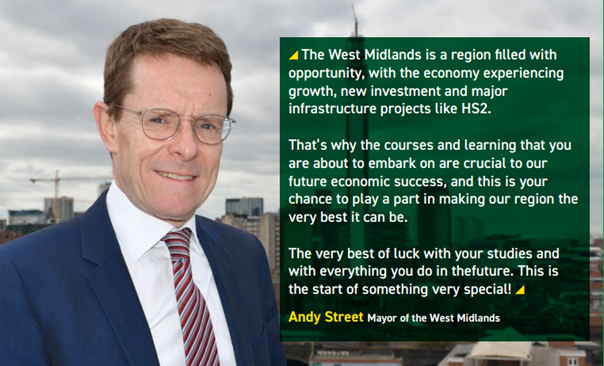 Swati Patel,
Social Impact Programmes Manager, Sunbelt Rentals UK