Barriers & Fencing
CROWD & PERIMETER SECURITY EXPERTS
SUNBELT RENTALS BARRIERS & FENCING
We supply a wide variety of fencing and barrier systems for a whole host of applications. From our free site survey and calculated solution, to installation, maintenance and recovery, you can be sure that our 50-years' experience will provide you with the safest and best value service in the market.
Pedestrian Crowd Control Barriers
These temporary barrier systems can add security to a variety of locations and help direct and control pedestrian traffic on site. Our steel barriers have angled feet for extra stability and are easy to install and fix together.
They are suitable for low to medium crowd control, are available with pedestrian access gates and come in a standard size of 2.3m long x 1.1m high.
Our team remastered the original crowd control barrier for improved stability, rigidity and longer life, offering a much safer and secure pedestrian experience. The centre of gravity is lower and the gauge of the material is higher, improving the barrier's wind resistance.
The introduction of plastic feet help keep the barrier in place whilst avoiding marking sensitive surfaces such as decorative concourses.
Benefits:
Increased wind resistance
Suitable for displaying branding
Increased safety of participants and spectators during mass participation events

Suitable for delicate surfaces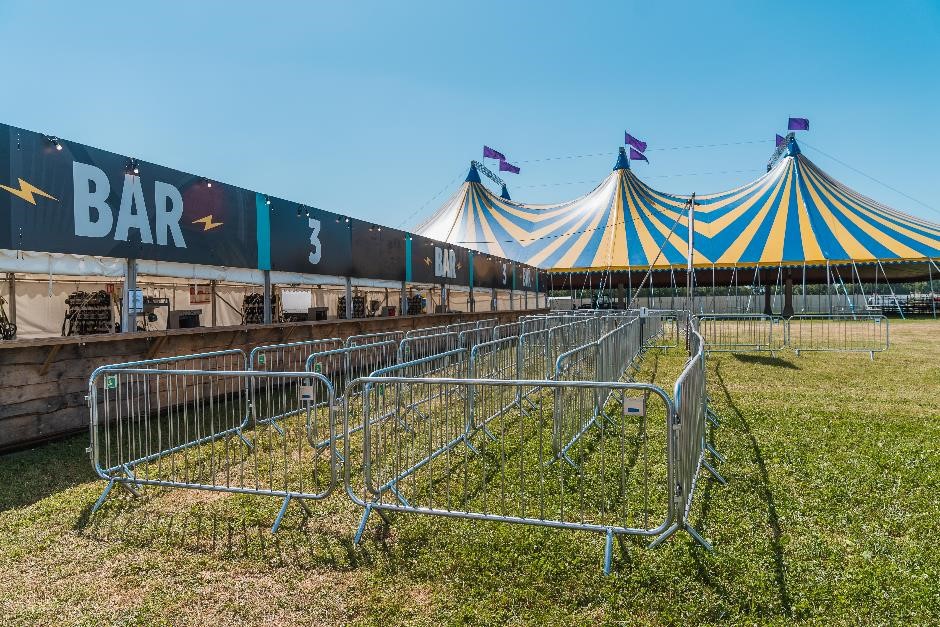 Police Barriers
The Police Barrier is a 1.5 metre steel temporary barrier system, suitable for high crowd control.
These barriers are of a welded, galvanized steel construction fitted with a steel mesh panel and the base is designed to prevent sliding.
The heavy duty barrier is ideal for use at demonstrations, football matches, pop concerts and any other event where high security is needed. It is particularly suitable for controlling the flow of people and heavy crowd surges.
They can also be used in specific configurations, such as a box line, to create high security, sterile zones and difficult to breach barrier lines.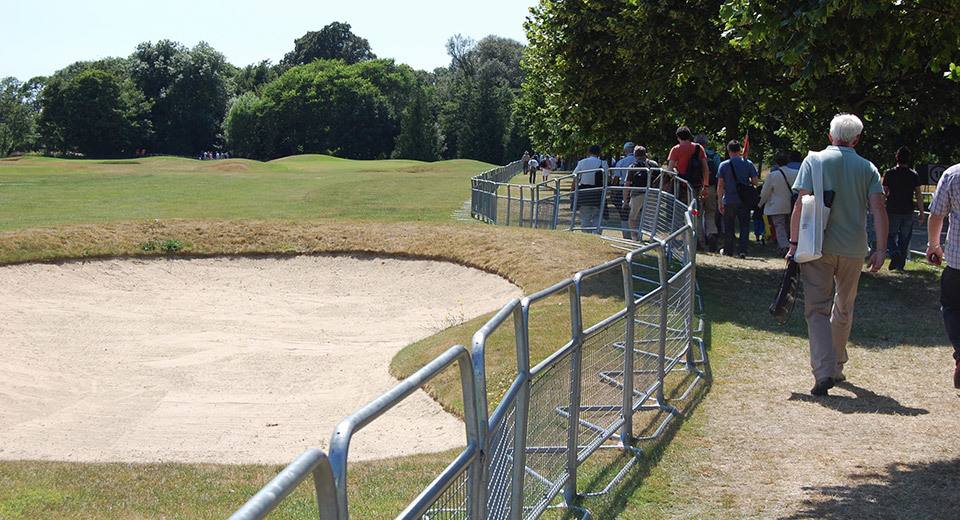 Concord/Angled Sports Barriers
The Concord Barrier is a 3 metre angled galvanised steel temporary barrier system, suitable for low to medium crowd control.
With a unique design, not only is crowd control safer and easier to manage, but also mass advertising opportunities are on offer for sponsors with the ability to interchange advertising panels.
The barrier offers a standalone, strong yet lightweight means of crowd protection that interlocks; additional safety is provided by its angled design. It is manufactured from galvanised tubular steel with Paladin anti-climb mesh infill, creating an attractive appearance even without an advertising panel.
The barriers are ideally suited for site enclosure, crowd control, tunnelling and general demarcation for shows and events, particularly at the start and finish of cycle and running races, as the angled design keeps spectators away from the athletes without affecting the viewers' enjoyment of the event. They are also cost effective as the design allows for rapid installation and dismantling.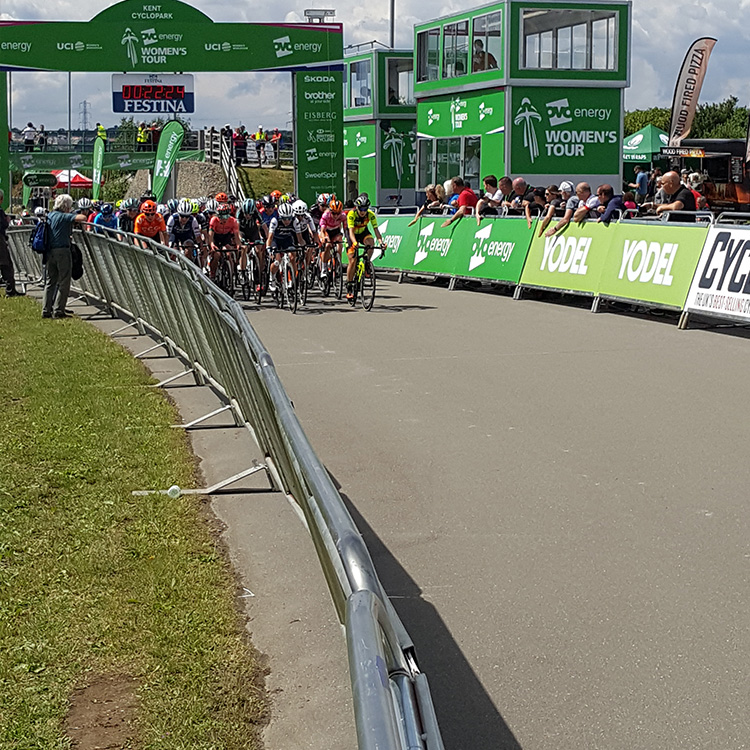 Fortress Fencing
The Fortress Fence is a 3 metre high, solid temporary fencing system, suitable for medium to high site security.
This formidable fence is an ideal solution for securing most locations and creating a safe compound.
At 3 metres high, it makes any intrusion difficult and the fence also comes with integral gates at 2.5 metres and 5 metres wide. Supports are used to hold the Fortress Fence in place at both ends, and these are then pinned to the ground.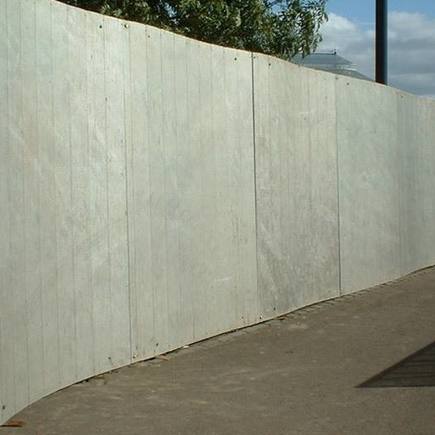 Super Fortress Fencing
The Super Fortress is a 3.66 metre high, solid aluminium temporary fencing system, suitable for very high site security.
This system was developed to combat the problem of festival "fence jumpers" and consists of flat, smooth aluminium planks, erected and secured using a captive joint system. Super Fortress fencing boasts high security dependence by utilising tamper proof internal fixings and integrated gates; additionally, it is available with optional overhang extensions which increase the height to 4.12 metres.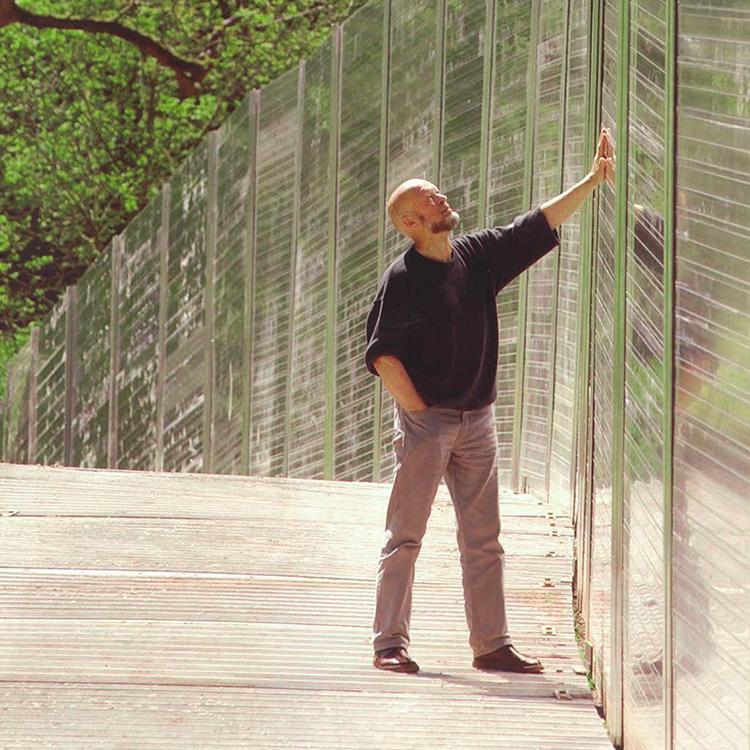 Storm Fencing
As well as the traditional 2m high light mesh fencing, we offer Storm-Fence. This is a no-dig, self-supporting system that is 100mph wind-resistant. Unlike the traditional mesh fence, Storm-Fence is virtually breach-proof and tested to destruction by the Metropolitan Police.
Key features:
No-ground strike, self-supporting
Resistant to high wind
Fast and easy to erect and recover
Anti-tamper fixings
Anti-climb with spiked tops
Powder coated
Bins can double as decorative planters
Heras/Mesh Fencing
Our traditional Heras/Mesh fencing is galvanized, with rubber feet – helping maintain its appearance and making sure it is simple to deploy. 
Pedestrian and vehicle gates are available, as are a range of screening materials to help blend the fencing into its environment, provide improved privacy or branding opportunities.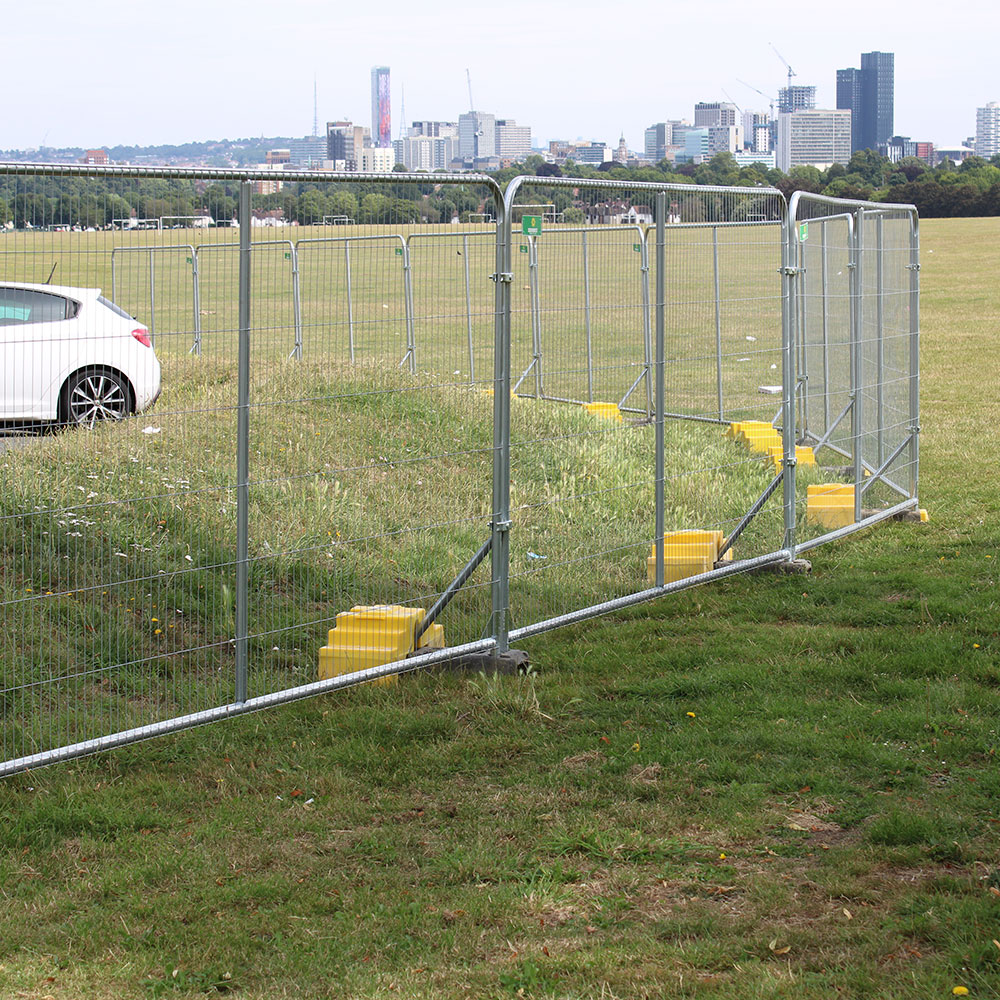 Acoustic Barriers
Noise pollution is something best kept to a minimum. Minimise noise from your site and help maintain the best possible relationships with local residents.
Our acoustic barriers are excellent for general noise control, with a BS EN rating of 28.2dB.
Designed to fit a 3.5m temporary fence panel, their patented velcro side connectors create seamless noise protection. The eyelets mean they can be easily suspended from site fencing, scaffolding and hoardings. This product is easily folded for transport and storage and can be branded with a message of your choice.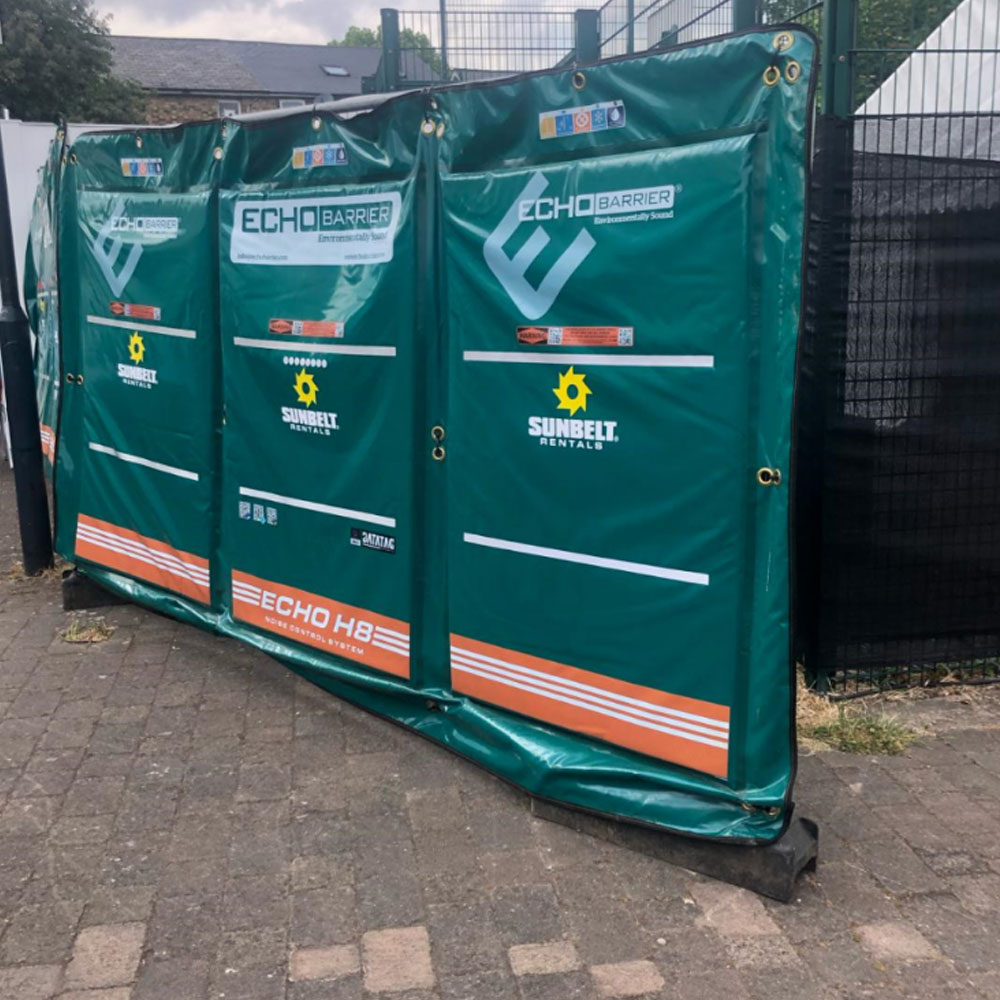 Chapter 8 Barriers
Chapter 8 barriers offer high visibility and conformance with traffic and street works safety standards, making them an obvious choice for directing traffic and keeping pedestrians safe on road works, construction & building sites.
Find your nearest Barriers & Fences depot
Our barriers and fences are available from depots nationwide, find your nearest here
Find a Barriers & Fences Depot