The Experts in Lighting
Lighting up your way
Sunbelt Rentals Lighting
We're committed to investing in sustainable equipment that can help our customers reduce their carbon footprint, whether it be through increase efficiency or utilising renewable and green energy.
And nowhere is this more evident than our extensive lighting fleet. Through significant investment in the latest eco-friendly technology we're proud to offer the UKs largest and most fuel efficient range of Tower Lights.
From the 'standard' Eco Light to our fully Solar Tower Lights, we have lighting solutions for every site, sector, budget or event.
So, whether you need one light or one hundred lights, we can supply. Contact our dedicated lighting team today to discuss your requirements.
Eco Tower Lights
Our Standard Eco Tower Light is a highly efficient fuel powered unit that can offer a whopping 72% reduction in running (fuel) costs and harmful emissions when compared with standard metal halide units.
Want to take it one step further? Then fill up with HVO fuel and you can reduce your environmental impact even further. HVO is compatible with a wide range of plant and equipment. If you'd like to explore how HVO can have a positive impact on your carbon footprint visit our dedicated HVO page.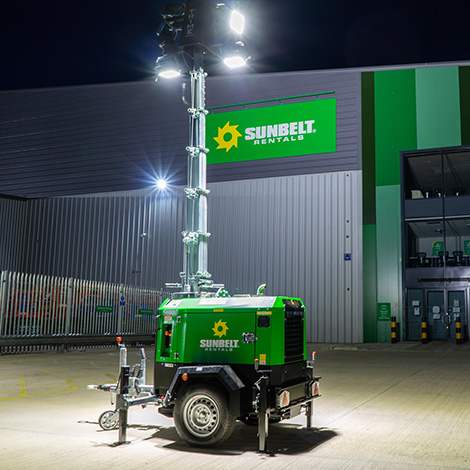 Hybrid Tower Lights
Our Self Charging Hybrid Tower Lights can take running costs down to as little as £30 per month, putting out up to 860 hours of light from a single tank of fuel.
The Hybrid Tower Light can help reduce your environmental impact through reducing carbon emissions by up to 86% when compared with old style metal halide lights. What's more, it can be run on HVO fuel to further reduce your carbon footprint.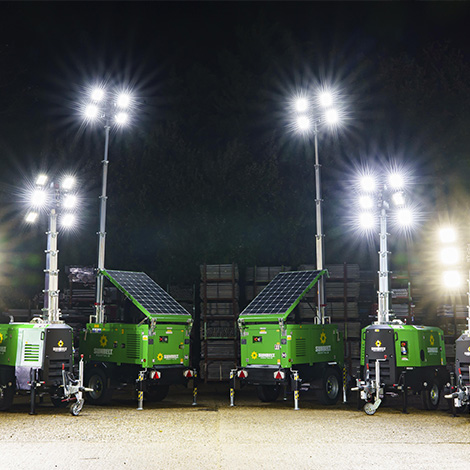 Solar Hybrid Tower Lights
Our Green Apple Award winning Solar Hybrid Tower lights have been manufactured exclusively for Sunbelt Rentals. They are the ultimate long lasting, sustainable lighting solution offering a 99% reduction in fuel costs when compared with old metal halide units.
The Solar Hybrid tower lights will give an average of 3000 hours from a single fuel tank, meaning they can run for months without the need to refuel. The lighting towers can also be controlled and monitored remotely via the on-board telematics system. Making them ideal for events, noise and environmentally sensitive sites and remote locations.
Our Solar Hybrids can also be run on HVO fuel to further reduce carbon emissions.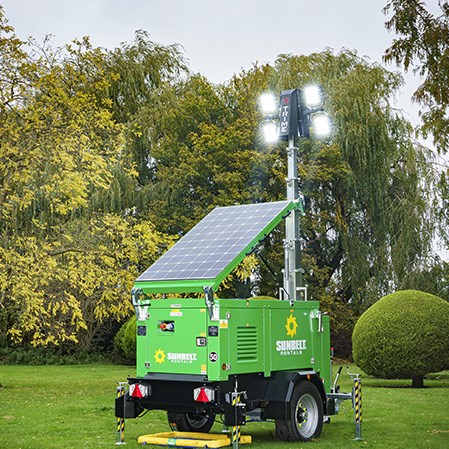 Solar Battery Tower Lights
Our ultimate eco-friendly fully Solar Lighting Tower is designed for noise and environmentally sensitive sites where temporary lighting is needed for longer periods of time. It can be set up and left to run 365 days a year with no noise, no emissions and no running costs. Its large solar panels are designed to work on even the darkest winter's day where ever you are in the UK.
So, if you need a long term temporary lighting solution and have sufficient space to accommodate the Solar Battery Tower Light there is no better, sustainable or more economical option.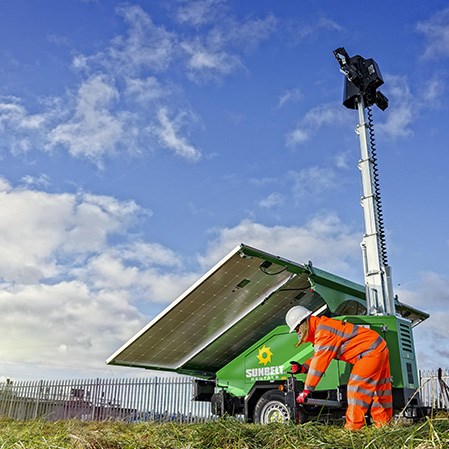 Portable Lighting
Our Tool Depots offer an extensive range of portable lighting, from handheld LED battery powered lights to festoon lighting and spot lights. The range is extensive, so our team are on hand to help identify the right lights for your site.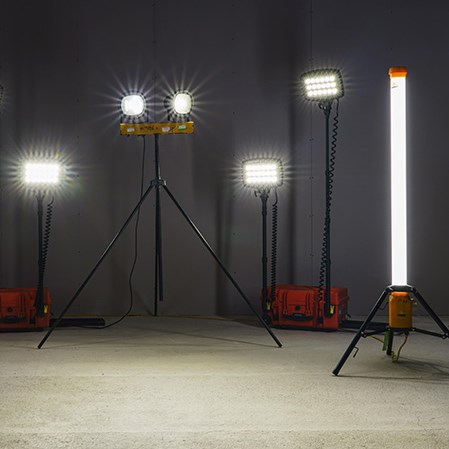 Telematics
All our modern Tower Lights are fitted with the latest telematics. Enabling you to view reports, monitor fuel levels and check locations. Some units can be controlled remotely and geo fences can also be set for added security. So, should your tower light be moved unexpectedly you'll be sent an alert and can track the unit. Speak to our team about telematics when ordering your tower lights.
Events Lighting
When hosting most outdoor events temporary lighting is essential. Our range of Self Charging and Solar Hybrid tower light units are particularly effective as they can operate silently throughout the night, they require little space and can run for weeks on a single tank of fuel. If you have more space to accommodate temporary lighting then our Solar Battery tower light will run 365 days a year with zero noise, zero emissions and zero running costs, making it the ultimate eco option.
We also offer Chain Lighting that can be connected to a single fuel source which can run up to 10 lights, all linked together via power cables. Offering a noise free, uninterrupted lighting supply.
If you are planning an event our Events Team can help source a range of products from Trakway to Barriers, Fencing, Plant, Power and Powered Access. Find out more about what we can offer the events sector.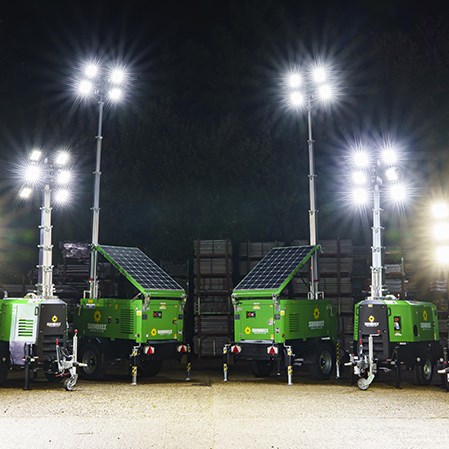 Rail Lighting
Our 7m X-Chain lights have been introduced to the fleet with the Rail market in mind. Up to 10 chain lights can be run from a single fuel source. They are sturdy, easy to manoeuvre (300kg per unit) and come with added safety features such as circuit breakers and a mast emergency brake, so in the event of cable failure the brake prevents the mast from falling. We also offer Battery Link Lights a compact unit that can be linked to power additional lights offering a totally noise and emission free lighting solution.
Our full range of Tower Lights can be used to support trackside, tunnel and night work across the Rail sector 365 days a year. Speak to a member of our Rail Team about your lighting needs.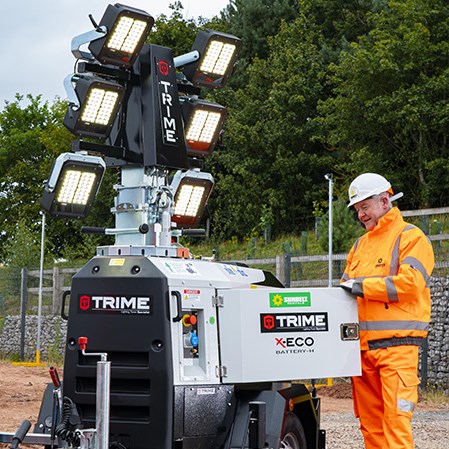 Industrial Lighting
As well as our range of ATEX portable industrial lighting our range of Tower Lights can also be used in industrial sites and applications. From X-Chain to Cube and Solar Units speak to our Industrial team about the best solutions for your site.