Lighting that doesn't cost the earth
news 12 Nov 2020
The running costs and emissions output of lighting towers has long branded the equipment some of the least eco-friendly on the rental market.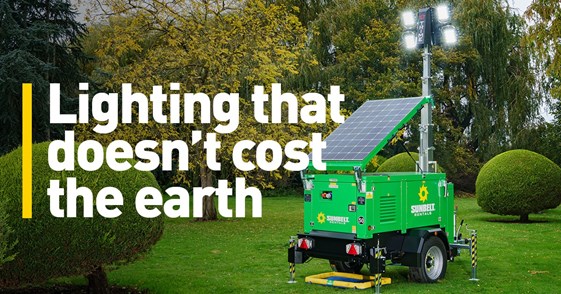 Lights are often left to run all night, even when they're not needed, burning thousands of litres of fuel. So with sustainability very much at the centre of our future investments we've introduced over 2000 new eco friendly lights into our fleet.
It's not just the rental cost that needs to be factored into lighting, the running costs can easily be greater than that of a car. You only need to look at our comparison chart to see the savings in black and white.
This year we are proud to bring two state of the art Hybrids to the rental market; the self-charging and the solar.
Hybrid Tower Lights
The Self Charging Hybrid can take fuel costs down to as little as £30 per month, running for up to 860 hours on a single tank.
This of course has an impressive environmental impact, reducing emissions by a whopping 86% when compared with the old industry standard Halide units.

Solar Tower Lights
Then there's our Green Apple award winning Solar-Hybrids. The ultimate long lasting, sustainable solution, designed exclusively for Sunbelt Rentals.
Offering a 99% reduction in fuel costs when compared with old style units. This intelligent piece of equipment features a fold out solar panel, which powers the unit whilst simultaneously charging the back-up battery.
For days with less natural light, there's a back up fuel source, giving up to 3000 hours run time on a single tank.
And as with all our new tower lights, there's a range of additional features including stabilizers, telematics, remote control capabilities, safety sensors and lockable control panels.
As a company we are committed to sourcing and investing in innovative and sustainable solutions that have a positive impact on our customers, our people and the environment.  
So this winter we're proud to offer the widest and most economical choice of tower lights, that don't cost the earth.