Derek McDade - Scotlands Lifting Expert
news 31 Mar 2021
Sunbelt Rentals caught up with our Scotland lifting expert Derek McDade on his experience within the lifting  industry and what life at Sunbelt Rentals is really like.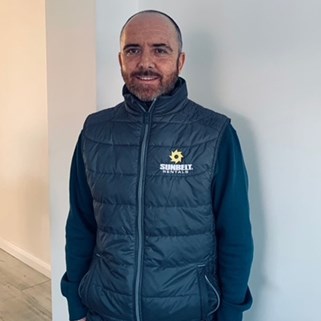 How long have you been with Sunbelt Rentals?
"I joined the lifting team in Scotland just over 2 years ago."
And where did you work before?
"Well you can say I've been about a long time in the Scottish lifting hire industry, starting my career at Speedy almost 15 years ago, then onto GAP as a general manager and finally Martin Plant Hire where I started up their lifting division, all before joining Sunbelt (FLG Services at the time)."
What was your first ever job?
"I started my career at SGB Youngmans, a large manufacturer of access equipment. I stayed with them for 11 years and worked my way from the sales desk to a field sales rep. It was a great starting block for a career in equipment sales and hire for the construction industry."
How did you get into lifting equipment?
"I wanted to challenge myself and expand my knowledge, so when an opportunity arose at Speedy Hire to join the lifting team I took it. By this time I had really broad experience in tool, access and equipment hire so it was a great building block to move into lifting.
I enjoyed (and still do enjoy) the technical side of lifting, designing lift plans and bespoke solutions for customers.
I enjoy speaking with customers, understating the task and building a safe solution that can work for them.
Derek McDade - Scotland Lifting Expert
What's been your biggest (work) challenge to date?
"Without doubt, the INEOS shutdowns have been by far my biggest (career) challenge to date.
With many Industrial shut downs there's often little time to prepare and the latest one saw the team and I prepare over 270 pieces of equipment in record time all working within the strict restrictions brought on by Covid-19. All equipment has to be certified and compliant it requires a lot of organisation and attention to detail in order to successfully meet the strict deadlines set by INEOS."
What's your favourite thing about working for Sunbelt Rentals?
"The people. Without a shadow of doubt it's the people and culture that make it for me. I believe the key to a successful team is trust and good communication and I can say without doubt I have that in mine. I'm proud to have recently been able to nominate two of my colleagues, James Boyce & Lewis Behai for the Sunbelt 'Hall of fame' awards for exceptional work. Jamie was nominated for innovating a lifting beam solution at the Weir gates project in Glasgow and Lewis was awarded for his teamwork and outstanding customer service."  
Ok, so enough of the work chat now, can we find out a bit more about you? … What do you have for breakfast on a Sunday?
"The wife makes a great boiled egg, with chipotle sauce… it's absolutely smashing on a Sunday morning!"
What are your hobbies and passions? 
"Football… but best not mention the colour. I also coach an under 16s team, play 5 aside and I enjoy getting the road bike out on a weekend."
Derek went on: "But, my biggest passion is guitar (I've played for 15 years) and can belt out a fantastic rendition of "Shout" by Tears for Fears."
If you can go on holiday anywhere in the world tomorrow where are you going?
"I would love to revisit Dubai! I took a trip there in 2017 and stood on the top of the Burj Khalifa, the world's tallest building! It'd be great to go back."
When the pub opens – what's the first thing you're ordering?
"An extra cold Guinness with a Burger and chips!"
Derek Also wanted to pay a special tribute to his wife & son saying:
"my son was unfortunately diagnosed with a Kidney failure in November 2019. My Heroic wife donated a Kidney to him and they are both recovering well. I would like to thank Sunbelt for their kindness and support in these tough times for me and my family. Throughout the time I have been off, I have received nothing but support and kind words from the Sunbelt team and from the company as a whole which I appreciate greatly.
 I am currently training to complete a charity ride of 40 miles in the summer with all donations going to Kidney research and NHS organisations with the aim to give back to the amazing workers who supported my family."
Derek McDade - Scotland Lifting Expert
---
Our Scotland Experts
Meet our solutions experts in Scotland here.
Scotland
Lifting Solutions
View our range of lifting products here.
Lifting
More Stories Like This One