Scott Holmes - Scotland Plant Expert
news 01 Apr 2021
Sunbelt Rentals caught up with our Scotland Plant expert Scott Holmes on his experience within the Plant industry and what life at Sunbelt Rentals is really like.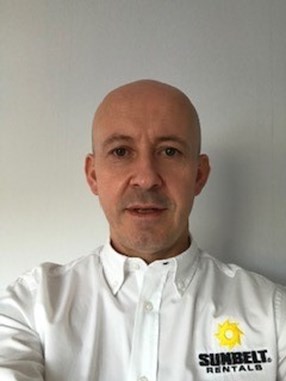 How long have you been with Sunbelt Rentals?
"I'm Sunbelt Rentals veteran, and have been here for over 9 years! In my time I've progressed from a Sales Executive to Sales Manager and now I'm a Regional Account Manager."
And where did you work before?
"I worked in operations for a groundworks company for 5 years before joining Sunbelt."
What was your first ever job?
"Paper and milk! Starting blocks of many a career! I started as a paperboy at the tender age of 8. Then I became a milk boy throughout high school before getting my first fulltime job as a cutter in the textile industry".
How did you get into Plant Sales?
"Having worked with a variety of plant and tools hire companies while in the groundworks sector, I joined Sunbelt Rentals Tool Hire business and went on to build my knowledge of plant and other business units."
What's been your biggest work challenge to date?
"It has to be the work we do with the events market. We provide the full set-up for large festivals such as "TRNSMT" with a very short turnaround. This usually requires our full range of products and servicing from powered access and lifting all the way to lighting and trackway. The logistics of pulling it all together are huge!"
What's your favourite thing about working for Sunbelt Rentals?
I really enjoy meeting new people and building new work relationships. Every day is different.
Scott Holmes - Scotland Plant Expert
What do you have for breakfast on a Sunday?
"I like to call it "A piece and sausage" which is just a sausage sandwich!"
And what about sports and hobbies?
"Playing and watching football! I play with my pals and love watching the mighty Partick Thistle. I also love to go swimming with my kids!"
If you can go on holiday anywhere in the world tomorrow where are you going?
"It's got to be Berlin, I love it there and I've been 5 times! I enjoy all of the history and of course the German beer!"
When the pub opens – what's the first thing you're ordering? 
"A cold pint of Peroni"
Scott Holmes - Plant Expert 
Plant Hire
View our range of plant hire equipment here.
Plant
Our Scotland Experts
Meet our solutions experts in Scotland here.
Scotland
More Stories Like This One