Scotland Plant & Tools Expert Derek Theman
news 01 Apr 2021
Sunbelt Rentals caught up with our Scotland Plant & Tool expert Derek Theman on his experience within the  industry and what life at Sunbelt Rentals is really like.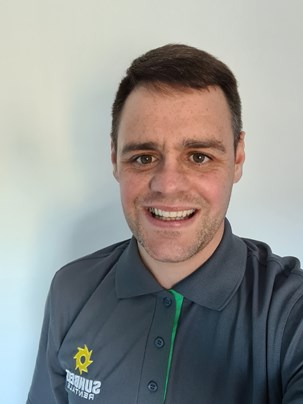 How long have you been with Sunbelt Rentals?
"I joined the North West Scotland Team around a year ago and I'm based out of the Inverness depot."
And where did you work before? 
"I started my sales journey working for a building materials distributor supplying to the construction industry for around 2 years. I then moved onto a kitchen wholesaler for a short while before joining the plant hire industry being a Sales Manager at GAP for around 3 years."
What was your first ever job?
"Delivering papers! I was a paperboy when I was younger, working 7 days a week! I then became a cleaner at my local Tesco's before landing my first office job working in the IT department at Capgemini for over 6 years!"
How did you get into Plant & Tools equipment?
When working on a sales desk I really wanted to move into field sales because I enjoy building a relationship with the customer
Derek Theman - Plant and Tools Expert
Derek Continued: "When the opportunity arose at GAP, I took it wanting to take on a new challenge and develop my career. I now really enjoy working in the industry."
What's been your biggest work challenge to date?
"Having joined Sunbelt Rentals just before the pandemic hit and then going through the rebrand, it was challenging to reach out to customers who I would normally be able to visit face to face while at a new company, with a new name."
What's your favourite thing about working for Sunbelt Rentals?
"I like the trust we have to set, pursue and execute our own tasks. Having freedom is very motivating. And I'd like to add job security as well, Sunbelt have looked after their employees greatly over the pandemic."
Ok, so enough of the work chat now, can we find out a bit more about you? … What do you have for breakfast on a Sunday?
"I simply like a bowl of granola but I do occasionally treat myself to a bacon and black pudding piece."
What are your hobbies and passions? 
"Running! Got a real bug for it a few years ago. I also like watching football… but I won't say the colour!"
If you can go on holiday anywhere in the world tomorrow where are you going?
"I would like to go back to Mexico for the beer and the tequila. With that said, I'm not a huge fan of the heat!"
When the pub opens – what's the first thing you're ordering?
"A Cold pint of Fosters. Eating is cheating!" 
Derek Theman - Plant & Tools Expert 
---
Plant Hire
Discover our range of plant hire equipment here.
Plant
Tool Hire
Discover our range of Tool hire solutions here.
Tools
Our Scotland Experts
Meet our solutions experts in Scotland here.
Scotland
More Stories Like This One