Colin Merry - Scotland Plant, Tools & Powered Access Expert
news 01 Apr 2021
Sunbelt Rentals caught up with Scotland Plant, Tools & Powered Access expert Colin Merry on his experience within the industry and what life at Sunbelt Rentals is really like.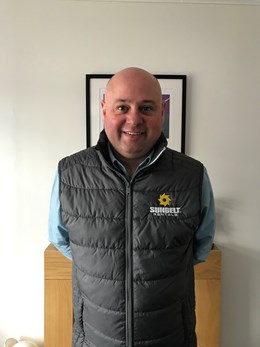 How long have you been with Sunbelt Rentals?
"I have spent 2 and half brilliant years at our Kilmarnock Service Centre."
Where did you work before?
"I've been in the Scottish hire industry for over 10 years now, starting at HSS where I progressed from being a Sales Executive to a Branch Manager and then eventually an Area Manager for Scotland before joining Sunbelt Rentals."
 What was your first ever job?
"Laying bricks! I started my working career as an apprentice Bricklayer. It wasn't the best idea with the Scottish winter weather, I was quick to jump into the van to warm up!"
 How did you get into Plant, Tools & Powered Access?
"I learned about the Tool industry at HSS and then grew my knowledge in Plant and Powered Access when joining Sunbelt Rentals."
I enjoy the technical aspect of Powered Access as my expertise can provide the best solution to customers on a site survey.
Colin Merry - Plant, Tools and Powered Access Expert
What's been your biggest work challenge to date?
"Definitely the emergency response work we deal with. I carry out a lot of emergency work for Rail contractors who require our service 24/7 to keep their projects running smoothly. Just recently we had a landslip go onto the railway which we had to clear through the night. I enjoy the challenge and providing the solution."
 What's your favourite thing about working for Sunbelt Rentals?
"The support we have had through the Covid-19 pandemic has been incredible from Sunbelt Rentals and I have felt secure in my position."
What do you have for breakfast on a Sunday?
"I aim to eat healthy in the week but I have to enjoy my full fry up on a Sunday!"
Do you play any sports or have any hobbies?
"I have played golf from being 12 years old but I have to say my main hobby is venturing out on my Ducatti motorbike, I absolutely love going out on the weekends riding the Scottish A-Roads! Safely of course!"
 If you can go on holiday anywhere in the world tomorrow, where are you going?
"The family have a home on the Costa del Sol which I love to visit."
When the pub opens, what's the first thing you're ordering?
"My local pub does great food so I would be having prawns for starter, a nice steak for main and a cold pint of Guinness to wash it down!"
Colin Merry - Plant, Tools & Powered Access Expert
---
More Stories Like This One